Whidbey Island
Got a fishing update to send us? If you've been fishing and want others to know what's happening, please send an email to us at info@whidbeylocal.com and we will post your fishing update. Feel free to send photos of anything you've caught and where it was caught. Thanks!

We have added a link to the Washington State Sport Fishing Rules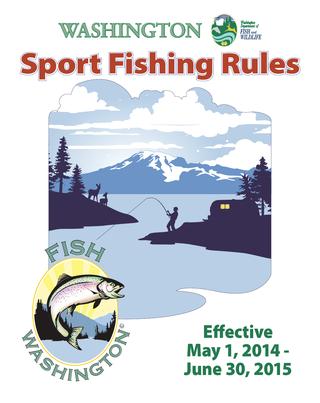 Click on Cover to read

Published by the Seattle Times

---
LATEST UPDATE
---
Here is the latest fishing report from Dave Graybill, longtime Eastern Washington outdoor radio host and angler:
October 5th, 2014

Posted by Mark Yuasa (Seattle Times)

I have returned from a fantastic trip to the Oregon coast. I was fishing with my friend Richard Robinson, who lives in Rockaway Beach, and was joined by my other buddy Dennis Beich, retired Director of Region 2 with the Department of Fish and Wildlife. All of us had been on the tuna fishing trip....

MORE HERE
---
Coast opens on good note for hatchery kings, but rough water lately making it tough
June 4th, 2014

Posted by Mark Yuasa (Seattle Times)
The coastal hatchery king fishery opened Saturday with the top fishing happening off Ilwaco and Westport.
"The fish were around (last weekend) at both Ilwaco where anglers averaged 0.8 fish per rod, and Westport where they averaged 0.6 fish per rod," said Wendy Beeghly, a state Fish and Wildlife coastal salmon biologist. "A number of folks limited at Ilwaco, and some got nothing."
"The good news is the mark rate (hatchery chinook with a missing adipose fin) was 80 percent from dockside interviews," Beeghly said. "I saw some of the guys fishing north (of Ilwaco near the Lighthouse). At Westport most of the smaller boats were fishing closer to shore (off Ocean Shores) since that's where the fish were hanging out, but it was hard for the charters to fish in that close."
Beeghly says not a single chinook was checked at La Push, and just a handful were caught at Neah Bay where angler effort was really slim.
Between Monday and Wednesday, the big ocean swells and rough wind chop have kept most boats in the marinas.
"The ocean conditions were atrocious and there was no effort at Westport due to the big well and a nice wind chop to go with it," Beeghly said. "The swells were closely spaced together and each swell was nine feet at nine seconds aprt (on Tuesday). The long term weather forecast looks much better."
All coastal ports are open daily through June 13 for hatchery-marked Chinook, and the full summer salmon fishery begins June 14.
---
Bass Fishing With Topwater Lures
Submitted by The Fishin' Club, written by Hawk Myczack
Hi, my name is Hawk Myczack, creator of the

Cedar Basseater

. I grew up fishing for the dinner table. The love of fishing stayed with me and still is a huge part of my life today. I got into bass fishing when I was around twenty. I was living on the Tennessee River below Pickwick Dam. These waters are rich in all three species of Black Bass. After joining a bass club and buying hundreds of lures, I decided to join my woodworking skills and knowledge of fishing together. I did some research and figured out what I needed to make a lure and got started. I already knew that topwater lures were the logical choice with the buoyancy of wood. I chose Western Cedar because of the straight grain and very light material. One of my goals in making my own lure was to have the end product extremely durable and capable of withstanding lots of abuse. To do that I needed to add weight, the light weight cedar was perfect. Oversized eye hooks and two coats of marine grade epoxy go into the assembly process. So, not only are the eye hooks oversized, but they are epoxied right into the wood. All of this adds weight but gives you a very good casting durable lure. The first lure was made almost thirty years ago and it is still in good shape. The first one was a popper. That was my favorite lure at the time so it seemed to be a good choice.
I got the lure done and it performed as hoped. I did not catch a fish on it right away, but I will never forget the first one I did catch on it. The bass club had a tournament that morning and I pulled up to my first spot and fish were there but I could not get a bite on all of my favorite lures. I remembered my new popper and tied it on and caught one on the first cast and the second. I caught three more to give me a limit with a three plus pound kicker fish. I won the tournament and got big fish honors. It was during a tough time of year to fish, most competitors did not even catch a keeper fish. The subtle difference in the action between the wooden popper versus the plastic popper are enough to entice strikes. The buoyancy is different, especially with the bigger hardware and weight of the epoxy. I really like the way the wooden topwater lures perform. Two more topwater lures have been added over the years, the prop bait and the spook style walking bait. All lures come in standard sizes but can be custom ordered in any size. Seven inch poppers have been made as well as two inch. Give us the specifications and we will build you a lure. All lures continue to have oversized eye hooks and two coats of epoxy.
All lures have a total of six coats of epoxy, paint and top coat. To top it all off, each lure comes with Mustad Triple Grip hooks. These hooks are awesome. Super sharp and they do not let go. They are

Kevin VanDam

's hook of choice, only one of the greatest bass fisherman ever. So, not only are our lures very durable, they have the best hooks and hardware you can get. My personal favorite now is the Myczack Magic Minnow. All the lures catch fish great and work when the conditions are favorable. I have just grown to love the side to side action of the walking bait. It performs awesomely and has caught hundreds of fish for me. I moved to Washington state last July. I have not had the opportunity to catch a fish on one of my lures here but it is coming any day. I have heard of a few places bass are present that I am planning on trying. Some colors to entice Salmon are on the menu too. I have really enjoyed the Salmon and Trout fishing here. I have started tying some flies to compliment the hair minnows and add another item to the lineup.
Visit our website,

www.hawklures.com

. All of our lures and colors are posted there. Try a Hawk Lure and good fishing to all.
---
A short natural history of Orcinus orca
The orca, or killer whale, is a wondrous and impressive creature by any measure. For millions of years there has not been a predator in the sea that can touch

Orcinus orca

, the largest member of the dolphin family. And yet, there is no recorded case of a free-ranging orca ever harming a human. Even when orca mothers are violently pushed away with sharp poles so their young can be wrestled into nets and loaded onto trucks, they have never attacked a human being except in captivity. When seen in movies like Free Willy, or doing tricks at marine parks, it is easy to see that they often show quick responsiveness, even affection toward humans. Having little else to do in captive situations, they often initiate playful interactions and invent creative behaviors.
When encountered in their natural marine environment, however, their behavior is much different, much less interested in human affairs. Though always mindful of boats large and small, they tend to simply continue traveling, foraging or socializing with one another, thoroughly engaged in the complex social life of their families. Occasionally, however, some may pass surprisingly close to a boat as if to inspect the passengers as they glide with masterful ease through these inland waters.
Until field studies began 40 years ago, very little was known about the lifestyles or abilities of these powerful and elusive animals. As a species, orcas have the widest global range of any mammal except humans and may be seen in all types of marine ecosystems, but their highly varied communities, unpredictable movements and behaviors, and the fact that they spend about 95% of their time under water have made them difficult to study. Each orca community worldwide maintains its own repertoire of behaviors, including diet and family patterns, as well as its own vocabulary of vocalizations.
Today, thanks to the dedication of whale researchers, a picture is beginning to form of the highly refined adaptations and social sophistication of this remarkable species.
The Southern Resident Orca Community
Dr. Michael Bigg, who pioneered field research on orcas in the early 1970's, designated the 80 or so orcas he found in southern BC and Washington the "Southern resident community" to distinguish them from the 120+ members (now over 250) of a different orca community found in northern BC and Alaskan waters. The three Southern resident pods, known as J, K and L pods, usually travel, forage and socialize throughout the inland waters of the Salish Sea (Puget Sound, the San Juan Islands, and Georgia Strait) from late spring through late summer. Throughout their travels they focus on finding chinook salmon, which provide about 80% of their diet. During fall and early winter they tend to look for chum salmon in Admiralty Inlet and Puget Sound.
The Southern Resident community is an extended family, like a clan, that is distinct and separate from all other orca populations. Both male and female offspring remain near their mothers throughout their lives. No other mammal known to science maintains lifetime contact between mothers and offspring of both genders. Also unlike all other mammals except humans, orca females may survive up to five decades beyond their reproductive years, which begin at around 14 years of age and continue until their late 30s or early 40s.
From October through June, K and L pods tend to head to coastal waters along the continental shelf between central California and SE Alaska, while J pod often reappears in the inland waters. All three pods sometimes visit lower Puget Sound during fall months. They are capable of swimming at speeds of 30 mph and usually swim from 75 to 100 miles every 24 hours. In late 2013 the Southern Residents were comprised of just 80 members.
Traveling in multi-generational pod groupings centered around elder females, called matrilines, they are believed to be led by elder matriarchs. The Southern Resident clan is made up of approximately 12 post-reproductive females (over 40 years old), 26 adult females (12-40 years old), 15 mature or adolescent males (over 12 years old), 10 juvenile females (under 12 years old), 15 juvenile males (under 12 years old), and 7 juveniles of unknown gender.
Each individual can be identified by its unique fin shape, markings and color patterns and can be identified by sight or photograph. Using photo-identification methods, each has been identified with a specific alphanumeric designation, such as J2 or L12, and in that way the movements and behavior of each member and each matriline can be studied over many decades. After newborns have survived their first year they are also given more familiar-sounding names, such as "Luna" or "Samish." When Southern resident pods join together after a separation of a few days or a few months, they often engage in ritualized "greeting" behavior, in which formations of each pod face one another for several minutes, then gradually merge into active groups, each consisting of members of different pods, followed by intense underwater vocalizations and spectacular "play" behavior.
The new

Langley Whale Center

will open March 1 to describe and celebrate the natural history of local orcas and the "Saratoga grays," a small group of gray whales, that feed on sand shrimp and other invertebrates buried in the mudflats of Saratoga Passage and Possession Sound. The entryway will feature a 16-foot blue whale jawbone. The Langley Whale Center offers free admission.
Other Links of interest