Whidbey Island
Got a fishing update to send us? If you've been fishing and want others to know what's happening, please send an email to us at info@whidbeylocal.com and we will post your fishing update. Feel free to send photos of anything you've caught and where it was caught. Thanks!

LATEST UPDATE
Updated November 9, 2013 (Idstud)
Went fishing with some friends today out in area 9 today. I heard that Useless Bay had some fish hanging around from the guys at Johns sporting goods in Everett. I tried plugs coho killers in cookies and cream, red racer, squid skirts of assorted colors, herring strips and a cut plug herring. Tried for crabs in Useless Bay with no luck then moved them to possession and got 3. Trolled the west side of possession with no luck either. We marked fish and saw one caught in Useless Bay. Also saw some dolphin swimming around possession. I rated it a 2 because we did catch some shakers and if I was fishing in a lake for kokanee those would have been some nice keepers. I don't know but I guess they're not really in yet. I have never fished out in the salt this late. ~ Idstud
---




---
Updated October 14, 2013 (tommonroe)
We left the dock in Everett a little before 8AM in heavy fog. Just past the entrance to the channel there were commercial crab pots all over the place, they do not have anything standing up; only laying flat on the water so are very hard to see with only about 20' visibility in front of the boat. Anyway having to run only about 8 miles per hour we did not get lines in the water just past Mukilteo until 9AM. First fish caught at 35' and then nothing for the next hour or so till we hit the Shipwreck, then managed to get 3 nice ones by noon. Downriggers at 70-80' with red racer flasher, white hoochie with herring strip. If you go out in the fog watch out for those damn crabpots
---
Updated October 5, 2013 (TJ4701)

Yikes.....after continuous catching on 10/4, thought taking my wife, son, and his friend out would be an easy way to get 8 fish in the boat. However, the coho left as fast as they arrived! Fishing from 7:30-2, we had one true hit and zero fish. We fished 3 poles from 60-100 feet, used bait, squids, coho killers, ace hi, etc......nada. Changed depths, colors, etc all day, nothing helped.

The only thing that made it bearable was the weather. With a bunch of boats out there, watched saw one fish caught around us the entire day...and that one got off at the boat!!! Soooooo different from the day before when you could not keep them off the lines.

Spoke with 3 friends who went out on 10/6 using the same techniques.....no fish. Said they saw 3 fish caught the entire day....hope this is not the end of the run.
---


Updated October 03, 2013 (VelociWedge)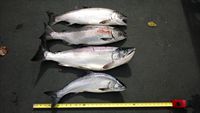 Fabulous day on the water (or should I say, couple'o'hours?!)... lovely weather, nice and calm, no fog. Had lines in the water around 7:15 AM and limited by 9:15 AM.

First fish on was a hefty one at around 12lbs and 24+ inches long. Put up a good fight! Second round was a double and that's where we got our smallest Coho of the day. But the lines were twisted in the net and it spent a little too much time out of the water for me to want to release. Still a decent fish. Topped it off with what we thought was a shaker and ended up being our second largest of the day.

All caught 60-80 feet, closer to shore than mid-channel, with Ace Hi-Fly's and Purple Haze hoochies + herring strips. And I think we were split evenly on the purple flasher and the red racer UV flasher.

Yay fish dinner!
---
Updated September 29, 2013 (Stansjoy)
Don't fish much on a Sunday, but my youngest son, Wes, and I had promised ourselves to get together this Fall. With full time college and a busy work schedule, Sunday was only day available. Caught the 6:00 AM ferry at Mukilteo and headed for Fort Casey... been very, very good to me. On the beach by 7:15... very difficult conditions. Wind gusting above 30 mph, heavy surf... we were the only fishermen on the beach. We began casting chartreuse rotators with mini-hootchies with a bit of salmon hammer Smelly Jelly. At 8:00 Wes's rod doubled over and "Fish On!... he beached a beautiful wild hen silver (5.6# on my digital scale at the truck, after bleeding). While he was tending to his fish, I missed two... the wind put such a bend in my line, that there was too much slack to set the hook. At about 9:00, Wes was fighting another silver, this time a 15" jack, which was released to go find his momma. Fifteen minutes later he was into another and beached a big (8.2#) wild buck. Wes was casting braided line and it seemed to cut through the wind better than my mono. I had another fish on, and nearly had it beached when the hook popped off. At about 10:00 a strong south to north current developed out front... time to go to a plug-cut herring under a float. Second cast, about half way through the drift, a fish exploded out of the water just behind my float... I turned to Wes, who was watching and laughed at the closeness of the fish... then my arm was nearly wrenched from it's socket as the fish headed for Port Townsend. Several explosive jumps out of the water and finally able to beach another beautiful wild hen silver (6.2#). While Wes was bleeding my fish, two more casts, and then, at the end of the second drift, float down, fish on... I beached a hatchery hen of 4.8#. We were done at 10:30 and headed home.
One of the greatest days fishing in my life, and what a joy to share it with my son. The Good Lord certainly smiled upon us as we braved the elements to enjoy His Creation.
Saw only two other fishermen further down the beach, don't know how they were doing. No boats on a wild, rough Puget Sound. Enjoyed watching a bunch of sea lions, several approached rather close and were barking at us. On the way back to the ferry, I was surprised at the lack of fishermen on the beaches... the strong south winds seemed to have pushed the fish in close to the shoreline, and easy pickings for those who were out. PTL!
---
Updated September 26, 2013 (Kokanee1)
First time out in the salt for coho this year. So glad we went. Like other reports for today action was great. Started around 7:00 on the east side of possession bar. Shortly in to our first pass all 3 rods go off and we get 2 in the net. Reset and over the next hour or so my friend lost 4 fish. During that time I hook another one and get it to the boat and loose it as the hooks got caught in the net as the fish jumps out. Dang. Pick up another double then a single around 10:00. Not much action after that. So we ended up about 5 for 10 with a couple other short bites. Apple core squid with green spots was the best but ace hi fly also caught a couple.
By Kodacachers
---
Updated September 17, 2013 (Barchaser)
Dropped the downriggers at 7AM at the Shipwreck, 2 rods. Had our limit of 4 Silvers at 10:30. Flashers/squid/salted herring strip. Troll fast 3mph+. Pretty deep, got one at 70, one at 80 and two at 100. Moved around some. fished out in 600-700 FOW but also fished in pretty close off Picnic Pt 200-250. About equal in fish. They seem to be scattered. 2 wild, 2 hatchery. This run may last awhile. These fish weren't that mature.. fairly small egg skeins and milt sacks. Two of our fish were in areas where nobody else was fishing. We lit up the squids with a 35MM camera flash, I think it helps on darker days. A lot of guys were fishing way over near east side of Possession, we never made it over there, didn't need to.
---
Admiralty Inlet fishing Report for September 10th, 2013 by Mike Carey
The fog was thick – and so were the fish!

JoAnn and I launched from the Edmonds sling at 6:15 along with a half dozen other boats. My plan had been to run over to Possession and fish the tide change, but the fog lay that plan to rest. I didn't want to run 3.5 miles in thick fog, even with GPS. So instead, we motored out to around 450 feet deep area and began trolling south. HT was 8:20am today. Winds were light and the water was very comfortable. I love end of summer coho fishing in Puget Sound!

We ran two rigs – both magnum green flashers and one with a magnum green glow hoochie, the other with a magnum pearl glow hoochie. Both had herring strips brined in Nate's Bait herring brine, chartreuse color, plus a couple scents I added of my own (secret, sorry!)

The first rod was set at 57 feet on the downrigger and we were trolling around 3.3 mph. Before I could even get to the second rod the first rod doubled over and it was "fish on!". I battled in a very nice 9 lb. hooknose silver and just like that the skunk was out of the boat. This was on the green hoochie. Re-baited, dropped the gear down, and BAMM before I could get to the second rod we again had "fish on!". This one JoAnn reeled in, a nice 5 pound hen.

Now, this is pretty cool I must say, but I did want to get some underwater footage, so the third time I lowered the other rod first with GoPro in tow, down to 48 feet deep. BAMM! Fish on! Ridiculously easy fishing out there today. Coho number 3 in the cooler, another 5 pound hen. OK, so we've been fishing all of 40 minutes and have three coho in the cooler. Obviously gonna be a 5 star day if this keeps up. I decided to go out of coho mode and into humpy mode. Out come the white flashers and pink hoochies, and troll speed is dropped to 1.6-1.8. It doesn't take too long before we have our first pink salmon. Action continues until 9am when a loll occurs. We are one fish shy of a pink limit, and one fish shy of a coho limit. I'm beginning to think maybe we should go in and be happy with a half dozen fish in the cooler and have a full day ahead to putz around. "No" JoAnn says, lets stay out until 10:30. Well, OK, twist my arm.

The fog remains thick and the ferry fog horn has been our constant companion all morning. I have my GPS so I know we are south of the ferry route, but even so, it's kind of eerie. Plus, boats are coming in and out of the fog all around us. I have no idea how others are doing. I assume other anglers must be having similar action, but when we pass by one boat he seemed pretty surprised that we had six in the boat. Not shortly after, another hot bit develops at 10am. First, the 50 foot deep rod goes off. This is a big fish, and it isn't a pink. I battle him to the surface and we have a huge hooknose silver. He actually comes rather docile to the net and we have our biggest fish of the day, weighing 11.3 pounds. Caught on very small size 1 hooks with a small pink hoochie and a blade in front. Just as were getting this fish secured the other rigger rod EXPLODES and line goes peeling off. Another silver, which JoAnn catches and is safely released. Rods down and again – BAMM – another at 57 feet deep. This time it's a pink and our day is done at 10:40am.

Four coho and four humpies. Unreal! Interesting to me, my prior trips targeting humpies were pretty dismal to say the least. I have no idea why it was different this time. JoAnn says it must be the herring soak. I did have them soaking for three days. I don't know…

Location - we stayed in an area just south of the ferry route, in 350-600 feet deep water, and trolled a roughly quarter mile circular location. I have marked the hotspot.

I did not imagine the action would be so fast and furious. I hope you get a chance to hit the salt for some of these chrome coho and remaining humpies that are still around.
---


North Sound: Coho fishing has been good on the west side of Whidbey Island. The Whidbey Island Coho Derby is scheduled for Sept. 7.
Westport: Guide John Keizer said he fished with former NFL players Robby Tobeck and Mike Pawlawski, who also hosts "Familiar Waters" on the Outdoor Channel, over the weekend and did well landing kings and hatchery coho from the north beach of Ocean Shores. They used Fish Flash and green brined herring on divers. They also caught 15 tuna.
---
Huge run of pink salmon is coming
Originally published Saturday, July 27, 2013 at 5:12 PM
Anglers will soon be tickled pink with delight as more than 6.2 million pink salmon will surge into Puget Sound.
By Mark Yuasa

, Seattle Times staff reporter
Anglers will soon be tickled pink with delight as more than 6.2 million pink salmon will surge into Puget Sound.
"In no time it will be pinkapalooza time in Puget Sound, and expectations are for a pretty darn good fishery," said Steve Thiesfeld, the state Fish and Wildlife Puget Sound salmon manager. "It is amazing how much is going on this summer with a lot of fish to be caught."
For the past two weeks, anglers in the Strait of Juan de Fuca from Neah Bay to Port Angeles have been scoring big numbers of pinks, and now it is game on for local bank and boat anglers.
"We're already having some encouraging early signs of pinks showing up earlier than we traditionally see," Thiesfeld said. "I saw a report the pinks were showing up all the way down to Seattle."
The pink run in marine areas of Puget Sound tend to peak by early-to-mid August, and then river anglers will start to catch them by late August through October.
This summer's forecast is up more than 1.2 million pinks from the 2011 return, and they are the most abundant and smallest of the five Pacific salmon species.
Another 8.9 million pinks are expected back in the Fraser River in Canada, which will also boost catches in the Strait of Juan de Fuca and San Juan Islands.
Pinks only return in odd-numbered years, and are commonly referred to as "humpies" for a hump that forms on the back of male fish near spawning time.
While most other salmon species have dwindled, the pinks for some unknown reason have skyrocketed, and colonized in other Puget Sound rivers where they've never existed, such as the Green River.
The Green is expecting more than 1.3 million this summer. A little more than a decade ago, the pinks established themselves in the Green, and by 2009 more than 3 million returned.
Other rivers with strong runs are Nisqually, 764,937; Skagit about 1.2 million; Stillaguamish, 409,700; Snohomish, 988,621; Hood Canal, 55,314; Nooksack, 154,075; and Puyallup, more than 1.2 million.
Pinks average about 5 pounds, and the state freshwater record is 15.40 pounds caught Oct. 11, 2007 in the Stillaguamish River by Adam Stewart. The saltwater state record is 11.56 pounds, caught Aug. 25, 2001 off Possession Point in North Puget Sound by Jeff Bergman.
The huge number means that in all marine areas of Puget Sound, anglers will be able to keep up to four pinks daily.
"It should pick up right about now, and in the next 10 days it will be on fire," said Mike Chamberlain, owner of Ted's Sports Center in Lynnwood.
Because pinks' mouths are rather soft, anglers should not yank or jerk hard on the rod to set the hook. Just keep the line snug and reel them in gently.
You don't need any high-tech gear to catch them, and usually a light salmon fishing rod with a spinning reel using 6- to 10-pound test line will get the job done.
Pinks are attracted to any type of pink or bright green colored jig, marabou fly, hootchie (plastic squid), lure, Dick Nite-type spoons and spinner.
The standard setup for saltwater boat anglers is a white dodger with pink hootchie or squid trolled very slowly. Anglers also catch them on traditional bait such as a cut-plug herring.
Pinks taste great as long as they are bled immediately after being caught, and placed on ice. The meat quality falls off the boards once they enter freshwater.
---
Let's Go Fishing!
By Mike Mayes
Washington State is a great place for fishing. With 7,500 lakes and thousands of miles of shoreline, fishing opportunities are abundant. What about freshwater fishing on Whidbey Island? Lone Lake, Deer Lake and Goss Lake on the south end all have great fishing, public access and ADA outhouses. In fact, Lone Lake is touted as the best "Big Trout" lake in Western Washington. So, what are you waiting for? Grab your gear and meet me at the lake.
Great fishing close to home sounds perfect, unless you are an angler with a disability. Unfortunately, for 56 million Americans it's not that easy to just "walk down to the lake". While walking to the lake is one thing, fishing that lake is a whole different issue. Currently, the lakes on Whidbey Island are the norm for Washington State; ADA outhouses and a boat launch ramp without any dock, pier, jetty or other area for use by an angler with a disability. In the future, Whidbey Island lakes will be the exception to the rule and an example of accessibility thanks to a discussion that started between two friends a little over a year ago.
In April 2012, the two friends, Ralph and Mike, founded Fishing Access Network (FAN) (

www.fishingaccessnetwork.org

) a veteran operated non-profit with the goal of providing veterans and others with disabilities the opportunity to experience the calming and healing qualities of fishing.
Fishing Access Network Mission
Create the opportunity to fish lakes where provisions for the disabled are limited or non-existent.

Provide outdoor recreation for veterans, children and adults with disabilities.

Coordinate with and support other organizations with common interests.
"ONE LAKE AT A TIME"
To execute the mission, a fishing platform would be required. An extensive web search for a wheelchair accessible boat ensued. The results, not a single wheelchair accessible boat was being built commercially in the US. Not to be deterred, Ralph and Mike designed a pontoon boat specifically for wheelchair access.
By Memorial Day weekend, 2012, a scratch built scale model was on display at Freeland Ace Hardware, the 1st major financial contributor to FAN. Thanks, Diane.
June was busy. Ken and Kim Kramer became the "Host Property" for construction and moorage on Lone Lake. The Veterans Resource Center introduced FAN to Congressman Rick Larsen. A group of The Fishn' Club members signed up as volunteers. Construction began in earnest.
In July, Holmes Harbor Rod and Gun Club (

www.hhrodandgun.com

) made a major contribution. As the boat construction progressed, FAN became the Washington State Chapter of Fishing Has No Boundaries (

www.fhnbinc.org

) a 26 year old 27 chapter strong program for anglers with disabilities and a resource for adaptive fishing gear. Notice was received that the boat had been accepted for display at the September 2012 Wooden Boat Festival in nearby Port Townsend and quickly needed to be named for the program printing deadline. "Accessible" was the choice.
August was panic month. Short on cash and the Wooden Boat Festival just weeks away, the boat needed hand rails and a ramp. Nichols Brothers Boat Builders came to the rescue with the donation of all the aluminum and fabrication work in less than a week. The laminated wood handrails and (a surprise) the FAN sign were the handiwork of Ken Price (

www.scwoodworkingloft.com

) an advocate and advisor for FAN from the very beginning.
Needing some finishing touches, "Accessible" made her debut at the Wooden Boat Festival on a borrowed trailer, and just in time. During the Festival the USCG Recreational Boat Compliance Officer unofficially inspected and passed "Accessible". This was good news and opened the door for FAN's application for a Manufacturer Identification Code from the USCG. The application was approved in October.
October was time to test, test and test. No disappointments or issues. Congressman Rick Larsen, who had seen the model in June, got to walk the deck of "Accessible" and asked "How can I help?" He and his staff have been very helpful and continue to be. The big surprise was a call from Eric Wilkinson at KING5 News who wanted to do a story on FAN. A call was made to Mike and Ernie at the Northwest Chapter of Paralyzed Veterans of America (NWPVA) and a date was set. Everyone hoped for good weather in November.
The day before the KING5 visit it rained and rained and rained. It was windy, cloudy and threatening rain the morning KING5 and the guys from the NWPVA were scheduled to arrive at Lone Lake. Ralph and Mike were waiting at the launch ramp with "Accessible" wondering if the weather would hold when suddenly the wind stopped and the Sun broke thru the clouds. Was it Divine intervention? Check out the video on the FAN website and decide for yourself. Ernie, the Director of NWPVA brought a friend, Gary, who hadn't been fishing on a lake since his injury 20 years ago. It was a great day to be on the lake. The rain returned with a vengeance the following day.
With the season over, "Accessible" was stowed for the winter. With the input from Ernie and others at NWPVA, some minor design changes were planned for the next boat to accommodate the size and weight (500-700#) of anglers in electric wheelchairs. The NWPVA Board of Directors made a generous donation to FAN.
After being stowed safely for the winter, "Accessible" is back in the water at Lone Lake and ready for the season. Boat #2 is in the works. FAN volunteers, mostly from the Fishn' Club, are taking operation training/check rides. The big news is that the 1st Annual Fishing Access Network Chapter of Fishing Has No Boundaries "Day at the Lake" for anglers with disabilities is scheduled for June 22, 2013 at Goss Lake. Event information for sponsors, participants and volunteers will be posted on Fishing Access Network FaceBook page, the Whidbey Weekly or see Mike at Freeland Ace Hardware.
FAQ
Who can use the boat? Anyone with a disability may fish aboard "Accessible".
Who operates the boat? Our volunteers will operate the boat for you.
What does it cost? No Charge. Donations are greatly appreciated.
Is a fishing license required? No.
Is a reservation required? Yes.
Contact Information
Fishing Access Network
1627 Stewart Rd, Freeland, WA 98249
Phone (360)579-4490
---
Marine Area 9 (Admiralty Inlet) runs from the Partridge Point/Point Wilson line south and east to the Apple Cove Point-Edwards Point Line. Resident and migratory salmon are the main draw (and some of the best salmon fishing in Puget Sound) but lingcod, halibut and other bottomfish as well as crab and shrimp are plentiful. Top areas include Mid Chanel Bank, Point No Point, Useless Bay, Possession bar, Shipwreck (on the border with Area 8-2) and Edmonds. Shore bound anglers can have success at Point Wilson, Point No Point, Bush Point, Meadowdale Beach Picnic Point and the fishing piers at Kingston and Edmonds. Chinook and Coho abound and during odd years huge schools of Pinks. Resident Chinook (blackmouth) and Coho can be caught whenever in season. Migratory fish (and generally much larger!) headed to central and south sound rivers are abundant July through September and into October.

There are several boat launches serving Area 9 both from the east and west. East side launches include Whidbey Island launches (Deception Pass, Bush Point, Mutiny Bay, Indian Point and Possession Beach), Edmonds sling launch, Eddie Vine (in Area 10), Mukilteo and Everett (in Area 8-2). West side launches include Kingston and Port Townsend. Be careful, some launches are subject to big wind and waves.