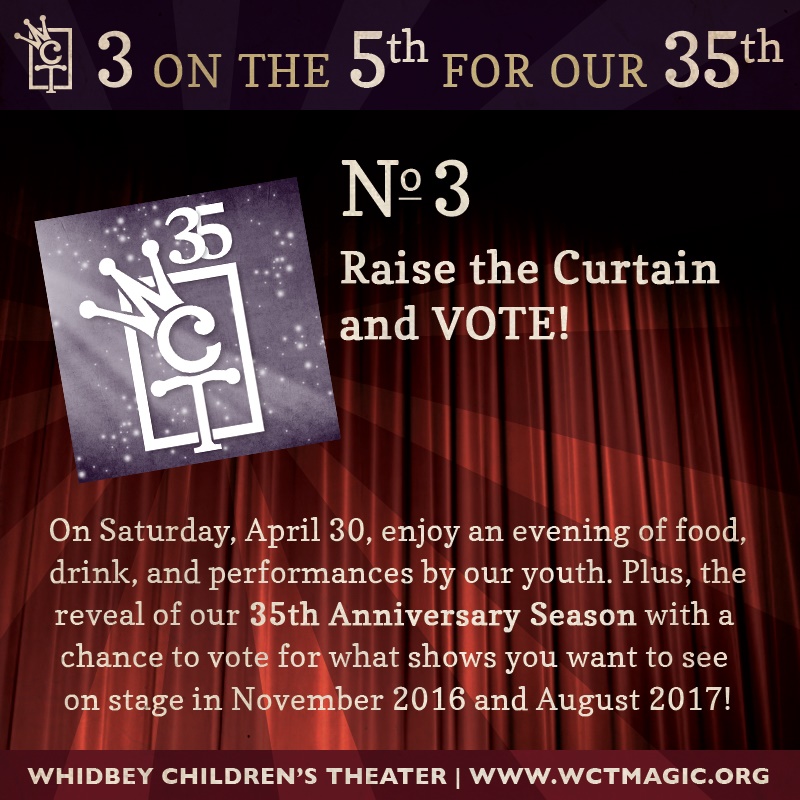 ​
On April 30, 2016 Whidbey Children's Theater will host a Raise the Curtain fundraiser, announcing the productions of their 35th Anniversary Season… with a twist. Patrons will enjoy an evening of food and drink, with performances by WCT actors. In addition, attendees will have the opportunity to VOTE by donation on the first and last shows of the season!
Based on what community members are most excited to see on the Whidbey Children's Theater stage, they can donate to one of two titles for the November 2016 and August 2017 slots of WCT's 35th Anniversary Season.
Prospective shows will be announced on February 1st, at which time Online Voting will be available at www.wctmagic.org. Online Voting will close on Friday, April 22nd. The final round of voting will occur in person at WCT's Raise the Curtain, the evening of Saturday, April 30.
The shows which have raised the most money will be selected and revealed along with the rest of WCT's 35th Anniversary Season.
Stay tuned for further details and information on WCT's Raise the Curtain event!
Whidbey Children's Theater is a 501c3 non-profit arts organization providing training for youth in the performing arts for 35 years.