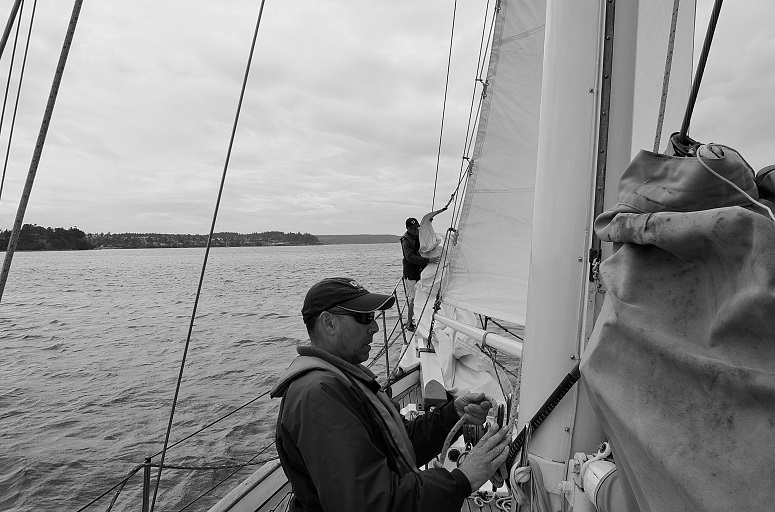 Captain Mark Saia
Island County Museum Exhibit Opening and Open House: Whidbey's Maritime Heritage
Schooner Suva - the Best Boat
Thursday, January 21, 5:30-7:00pm
Coupeville - Coupeville historian, Lee James will lead an Open House event and brief program by sharing new information about Schooner Suva's original owner, Frank Pratt, and the role he played in yacht design and construction. Captain Mark Saia, founder of the Coupeville Maritime Heritage Foundation, will conclude with updates about "CMHF", the projects underway to upgrade portions of the vessel, and how the community can join the organization … or just go sailing.
Museum staff plan that the Suva exhibit will be the first in a series of Island County Maritime Heritage talks and exhibits. Museum Director, Rick Castellano said "Maritime Heritage is really what our history is about – from Native canoes to modern boats, this is how people got here and were able to interact with other communities in the Salish Sea region. The Suva exhibit is a great opportunity to christen a new, ongoing series of maritime historical programming".
This exhibit is built around two of Suva's tenders: a 1925 all-teak tender – the original, found to still be on Whidbey Island, and a colorful lap-strake sailing dingy that is carried aboard Suva today. Photos of the Pratt family and crew are shown along with a video of the vessel's recent hull survey. One of Suva's original wrought-iron spikes used to fasten underwater planking is part of the exhibit.

Research suggests that Frank Pratt built a "best boat" in large part because he selected Ted Geary, Seattle's premier naval architect.
Enlarged photographs of notes in Frank Pratt's naval architecture books and newspaper articles of Pratt's own deliberations as to what constitutes a "best boat" are featured. Notes in books and news accounts suggest that Pratt was intimately involved in the design and selection of materials for several yachts he commissioned.
The Suva -- Pratt's second and final two-masted sailboat -- was arguably the best cruising sailboat of her type on the Sound when she was launched in 1925.
In 2015, The Coupeville Maritime Heritage Foundation, working closely with the Island County Historical Society was founded to assure Suva would come home to Coupeville, for at least another 90 years of her life.
The exhibit kick-off will illustrate how the Suva became a best-boat, built to last for generations by a world-class owner, a premier West-coast naval architect, and a Hong Kong ship yard that had ready access to Burmese teak and skilled wooden boat crafters.
The exhibit will be in place through March 25, 2016. The event and exhibit are sponsored by the Coupeville Maritime Heritage Foundation and the Island County Museum, and is open to the public, free of charge, this evening. Light refreshments will be served.
For information, please call 360-678-3310.