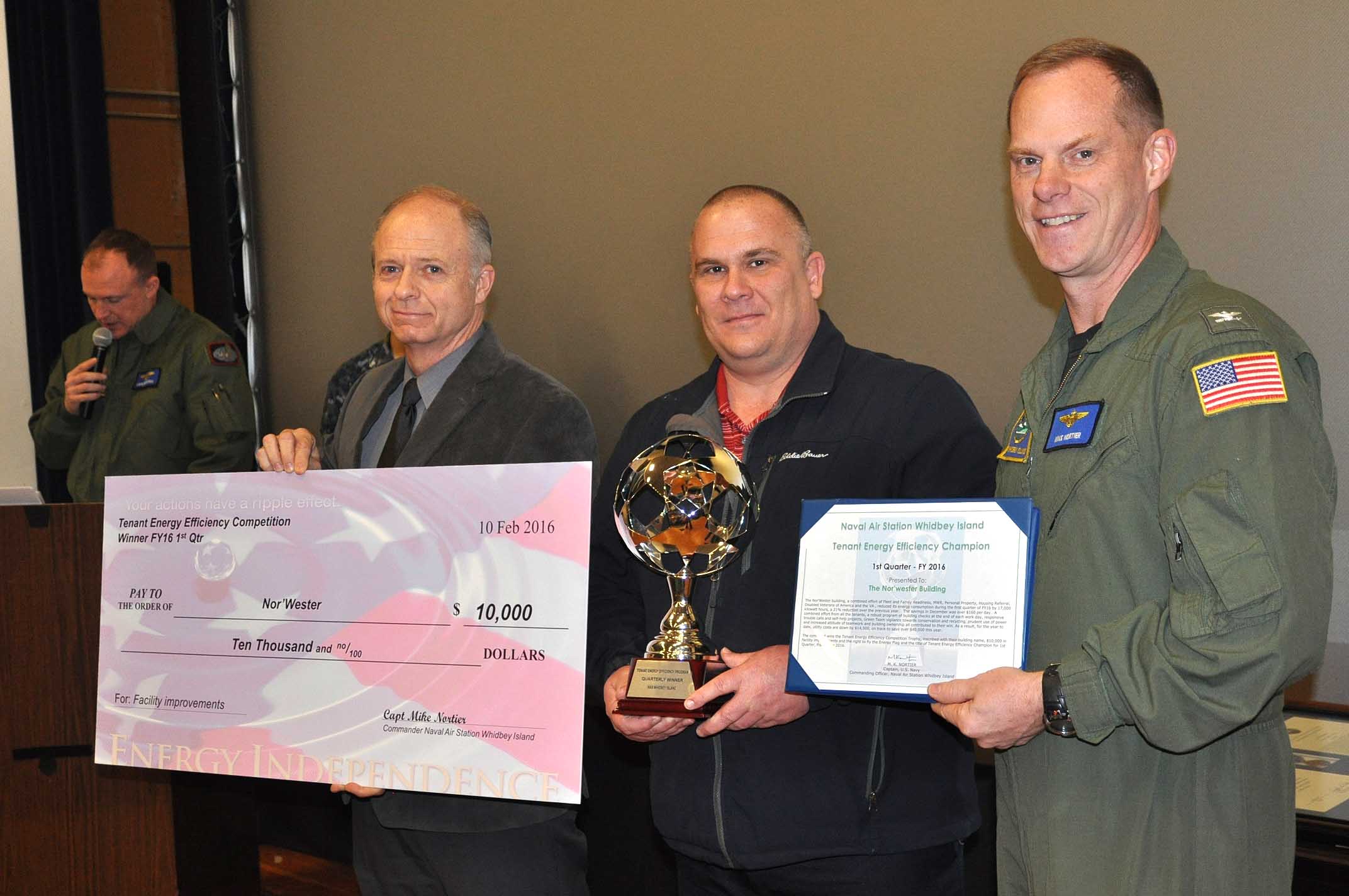 Capt. Mike Nortier, outgoing NAS Whidbey Island Commanding Officer, congratulates Fleet and Family Readiness Center director Wayne Short, Fleet & Family Readiness Director, (holding Energy Efficiency Trophy) and James Reynolds, FFRC Building Manager, with a $10,000 Facility Improvements Big Check during awards quarters Feb. 10, 2016 at the base Skywarrior Theater. (U. S. Navy photo by Marcie West)
NAVAL AIR STATION WHIDBEY ISLAND, Wash.—NAS Whidbey Island Fleet and Family Readiness Center (FFSC), (Nor'Wester) located on Ault Field, was selected as the base site that earned the title of Tenant Energy Efficiency Champion for 1st Quarter, Fiscal Year 2016.
"Energy efficiency efforts by the staff at the Nor'Wester to win the competition and the facility improvements award shows their dedication to those they support," said Chris Taylor the installation manager on the base. "The facility improvements award will further improve the FFSC's ability to support Sailors."
The overall energy reduction initiative was a combined effort of Fleet and Family support programs as well as the Disabled Veterans of America and the Veteran's Administration who are all located in the Nor'Wester. They reduced energy consumption during this year's first quarter by 17,000 kilowatt hours, a 21 percent reduction over the previous year, saved over $160 a day in December.
According to Taylor, the award was the result of a comprehensive approach. "This was the result of a combined effort involving a robust program of building checks at the end of each work day, responsive trouble calls, self-help projects, vigilance toward conservation and recycling, prudent use of power and increased attitude of teamwork and building ownership," Taylor said.
"As a result, utility costs are down by $14,500 thus far, and on track to save over $40,000 this year. The savings improvements are especially sweet because those savings directly support sailors and their families here."