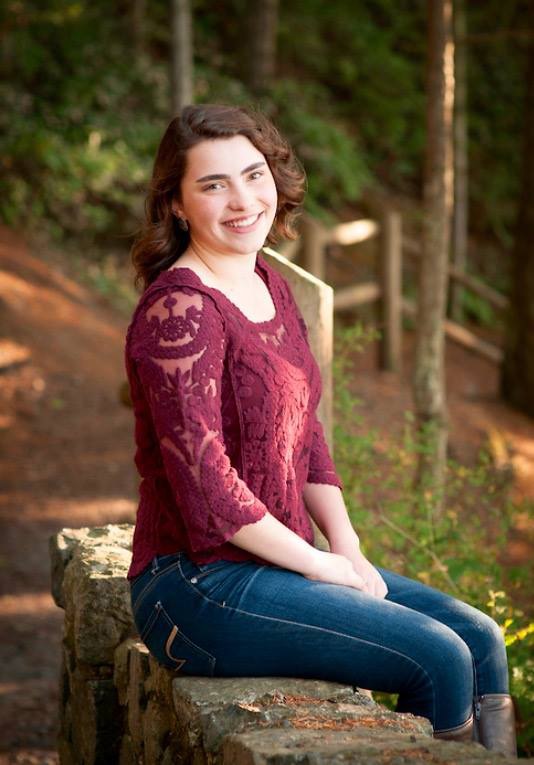 Samantha Martin
MOUNT VERNON/OAK HARBOR, Wash. — Skagit Valley College (SVC) students, Kevin Felt (Mount Vernon) and Samantha Martin (Oak Harbor), were named to the 2016 All-Washington Academic Team. Both were honored at the 21st annual ceremony that was held at South Puget Sound Community College on March 24th.
With more than 300 people in attendance, the ceremony provided an opportunity for community and technical college students to be recognized for their academic achievements and community involvement. This year's team was made up of 66 students representing 34 community and technical colleges. Many legislators, college trustees, and family members also attended the celebration. Governor Jay Inslee provided the keynote address to honor the team for their achievements.

During the ceremony, each student received a medallion from his/her college president. Kevin and Samantha received their medallion from SVC President Dr. Tom Keegan.

Samantha Martin is 17 years old and attends SVC's Whidbey Island Campus through the Running Start program. She is majoring in Psychology and takes initiative in all aspects of her education. In addition, Samantha is the Student Government President and Vice-President of the Phi Theta Kappa, all while maintaining a 3.88 GPA.

This June, Samantha will graduate with her associate's degree. Her long-term educational plan includes a Ph.D. in Psychology with a focus on neuroscience and a minor in nutrition. "Attending Skagit Valley College has been one of the most influential and beneficial experiences in my life thus far," she said. "SVC offers a small and intimate learning environment and the tight-knit community on campus fully embraces students and encourages student success."

Kevin Felt
Kevin Felt is 21 years old and is majoring in Molecular Biology/Biochemistry at SVC's Mount Vernon Campus. After graduating from SVC in June, Kevin will transfer to the University of Washington where he will study Molecular Biology and Biochemistry and pursue a bachelor of science and a Ph.D. He maintains a 3.87 GPA. "I appreciate the time I've spent at SVC because it offers me a legitimate, robust education at an affordable cost," said Kevin. "I am just now turning 21 years old and I've come to the conclusion that SVC has been a very wise decision for beginning my undergraduate education."
KeyBank of Washington has served as a major sponsor of the All-Washington Academic Team for 21 years. KeyBank has helped make $250 scholarships available to each member of the
All-Washington Academic Team.
The All-Washington Academic Team has become the showcase for Washington's community and technical colleges because it honors the academic high achievers, the men and women who have demonstrated a commitment to success in the classroom and in the communities where they live. In addition, it demonstrates the state's commitment to scholarship and community service on the part of those attending the state's public community and technical colleges.
Phi Theta Kappa, the international honor society for two-year colleges, symbolizes excellence in higher education and a commitment to students. Phi Theta Kappa has recognized and encouraged scholarship among two-year college students for 91 years by providing stimulation and enrichment while promoting the academic integrity of the associate degree program. For these reasons, the American Association of Community Colleges has designated Phi Theta Kappa as the official honor society for two-year colleges.
The All-Washington Academic Team program is sponsored by: Washington Association of Community and Technical Colleges, Washington State Association of College Trustees, State Board for Community and Technical Colleges, and Phi Theta Kappa.
Scholarship sponsors are: KeyBank of Washington, Washington State Employees Credit Union, and Washington State Association of College Trustees.