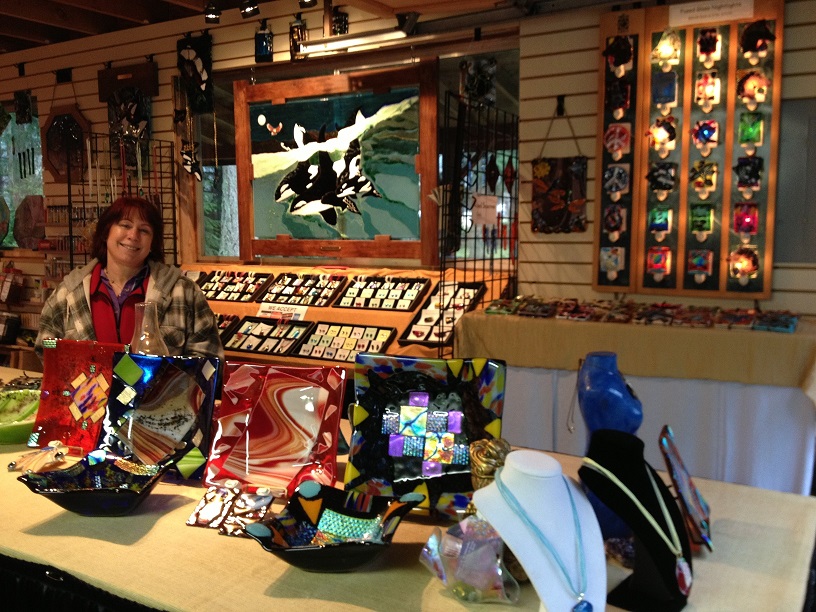 By Carolyn Tamler
Sherren Anderson remembered collecting paperweights as a child. But, it took many years for her childhood passion to work its way into her adult world. Today, Sherren's Glassworks in Clinton displays a broad array of her artistry with glass, everything from $14 coasters to a $3,800 fused glass orca whale panel. The orca panel is Sherren's tribute to the three Orca pods that live in the Salish Sea.
Prior to become a glassworks artisan, Sherren had been employed at many different jobs, most recently as a school bus driver for the Snohomish School District and as a Mary Kay consultant. Her husband, Scott, was employed at Kimberly Clark in Everett and is now a Boeing employee at their Everett plant doing plane interiors.
Sherren and Scott realized they wanted to live in a more rural place on a large piece of property. Sherren had often visited her parents in Greenbank on Whidbey Island, and she knew that the island offered the rural space they wanted at prices they could afford.

A realtor showed them a five-acre property in Clinton she thought fit their needs; then she showed them seven others, which helped them confirm that the first one was what they really wanted. Their Clinton home today includes Sherren's glass studio, as well as two charming chicken coups that where 25 "girls" and two duck boys (who are looking for girlfriends) reside. Sherren says, "I love being outside here, no matter what the weather."

While maintaining his Boeing job, Scott manages to take care of all of the necessary construction projects including the chicken coops (Scott responded to the need for the "girls" to have a larger home), the garden shed, raised beds for vegetables and flowers, and whatever future projects may be needed. Sherren added, "He is super supportive of everything I'm doing."

While still living in Snohomish, Sherren decided to visit Covenant Art Glass in Everett. She said that first visit 13 years ago had a lifelong impact on her: "I was inspired." She began visiting Covenant Glass regularly and taking classes.

Soon, she was creating her own glass pieces and in 2002, she opened her stained glass studio in Clinton. In the spring of 2006, she took a class on fusing glass from Covenant Art Glass and learned a "whole new world of expression." She still visits Covenant Art Glass frequently and says that the owners, Stan and Colleen Price, are always great about responding to her questions.
Scott bought her a glass fusing kiln for Christmas in 2006. In 2007 she changed the name of her studio to Sherren's Glassworks to represent all of the different glass processes she now employs. Her glassworks include large stained glass pictures, serving pieces, decorative plates and bowls, nightlights, wall pieces, wind chimes, jewelry, garden art stakes and more. She is always looking for new creative ideas to expand her offerings and can work with customers to make customized pieces. Responding to the demand, Sherren is now making Seahawk pieces for local fans. "I am always exploring and expanding what I do." She soon will be adding fused bracelets to her jewelry line and new garden art for the spring and summer.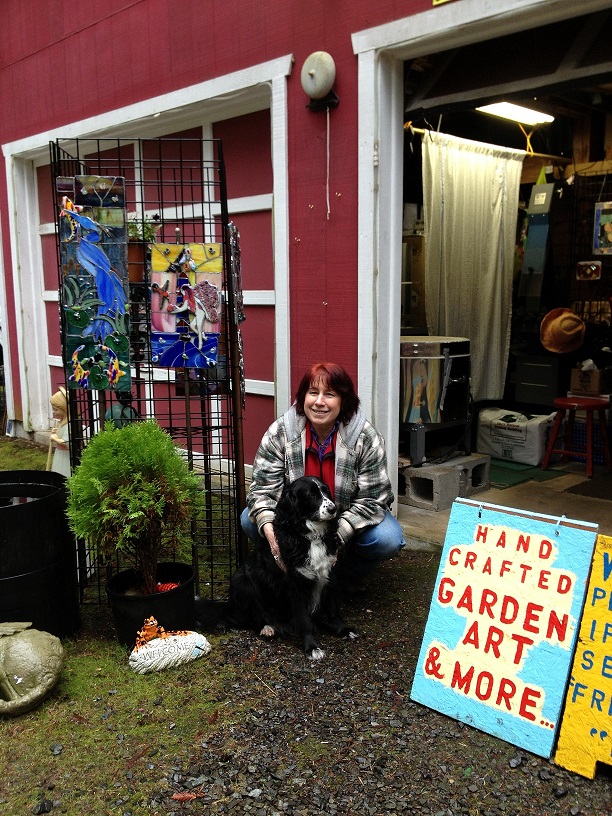 Sherren's Glassworks is open Thursday - Sunday from 10:00 a.m. to 5:00 p.m., but she is often working in her studio at other times and can welcome people who want to stop by; call ahead to be sure she is there: 360-341-2372.
"Most people see my sandwich board signs on the road and drop by to take a look…especially if the weather is nice." When the weather gets drier and warmer, she puts up a large outdoor canopy and places a selection of her glass items out on display.
Sherren sums up her feelings about her work: "Melting glass has opened up a whole new world of creative expression for me. I love bringing joy to people through my glass art. Glass art is only limited by the imagination of the artist."
Sherren's Glassworks studio is at 6713 Cultus Bay Road in Clinton. The website is https://www.artsicle.com/sherren-anderson