Would you know what to do in the event of a disaster?
After a major disaster, first responders such as fire, ambulance, and police will be overwhelmed with the requests for assistance from the community, and that help may not come as quickly as desired. Mitigating factors also add into the delay of response from emergency personnel, especially in Island County, such as communications failures, damages to road and premise, and response time of the volunteer first responders. It is in this time that neighbors reach out to one another to help keep their families safe.
CERT, or Community Emergency Response Team, is a program that educates people of all ages and abilities about disaster preparedness. The program addresses hazards that may impact the local community with training in basic disaster skills such as fire safety, light search and rescue, basic first aid for disasters, and working within a team. Participants receive hands on practice along with the training, and through out the year, CERT members have access to programs for continual skill training. This gives a proactive trained response, rather than a feeling of fight/flight or hopelessness in the face of overwhelming odds. In any stressful situation, people default to the strongest level of personal training or experience they have had, whether that is a program such as CERT or erroneous practices gleaned from a trendy movie.
In 1985 Mexico City was hit with an 8.1 earthquake that devastated the city. Without training, neighborhood citizens were credited with over 700 rescues. However, the citizens were untrained, and of the 300 deceased, 100 deaths were from those volunteers. Based on situations such as this, Los Angeles decided to take a more proactive approach to their citizens before the city was struck by another critical earthquake. The city sent a team to Japan where the practice of training the citizens to help as responders is common. From there, CERT was developed. Not only did CERT serve to provide basic emergency actions, but it decreased panic, and gave the people confidence in a situation that left many feeling powerless to act and react positively.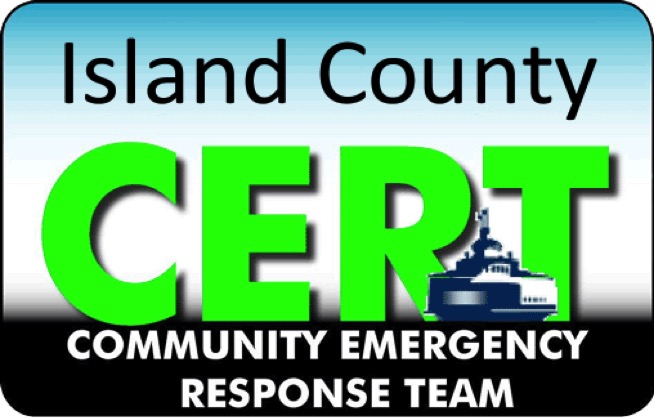 The CERT course enables a person of any age or ability to render aid to their neighbors until first responders arrive, be it a few hours or days. Trained CERT responders size up home, community, or workplace. Responders reduce potential damage by turning off utilities if needed, suppress small fires, aid in evacuation, and assist other residents. Additional duties include the gathering of information to aid professional emergency personnel in evaluating and responding to neighborhoods. Trained CERT responders do not respond to emergencies out of their local neighborhood or workplace; nor do the CERT members do medical aid, fire suppression, or search & rescue beyond their training.
The 20-hour CERT course covers six topics.
Fire Safety
First aid & Triage
Light Search and Rescue
Disaster Psychology
Terrorism
Disaster Drills
There are still CERT courses available in Island County for 2016. To register contact CERTislandCoordinator@gmail.com
August 19-21 855 E Whidbey Ave, Oak Harbor
September 9-11 1164 Race Road, Coupeville
October 14-16 Country Club Fire Station #2, Camano Island