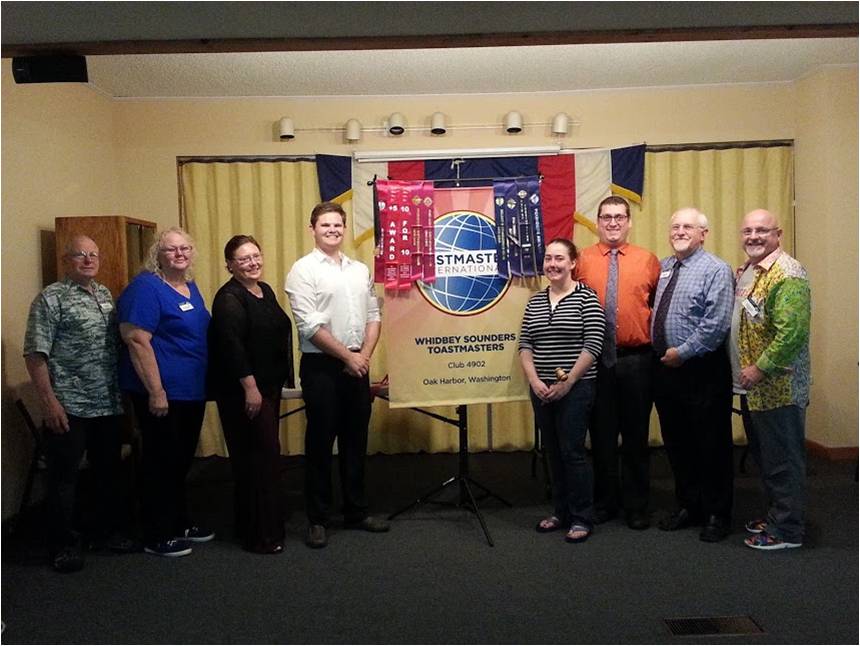 From left to right: Hector Powell, Janis Powell, Tammi Moses, Benjamin Cox, Teresa Coe, Aaron Taggert, Jim Jolly, and JR Russell.
Oak Harbor, WA – June 28, 2016, Whidbey Sounders Toastmasters Club held annual officer installation at VFW. The ceremony began with the outgoing officers being severally presented with service pins distinguishing their service to the club. Effective July 1, the new board members assume their leadership positions as follows: Teresa Coe, President; Aaron Taggert, VP Education; JR Russell, VP Membership; Benjamin Cox, VP Public Relations; Jim Jolly, Immediate Past President; Tammi Moses, Secretary; Janis Powell, Treasurer; and Hector Powell, Sergeant at Arms.
"Whidbey Sounders Toastmasters Club provides a supportive and positive environment where members have the opportunity to develop their communication and leadership skills," says Teresa Coe, incoming President and Area 13 Director.

The Whidbey Sounders Toastmasters Club 4902 meets on the 2nd, 4th, and 5th Tuesdays of each month at 6:30pm in the banquet room of VFW at 3037 Goldie Rd, Oak Harbor, WA 98277. All meetings are open to the general public. Please come a little early and enter through the left/south side of the building. We would love to see you join us anytime.
About Toastmasters International
Toastmasters International is a worldwide nonprofit educational organization that empowers individuals to become more effective communicators and leaders. Headquartered in Rancho Santa Margarita, Calif., the organization's membership exceeds 332,000 in more than 15,400 clubs in 135 countries. Since 1924, Toastmasters International has helped people from diverse backgrounds become more confident speakers, communicators and leaders.
For information about their local Toastmasters club, please visit http://whidbeysounders.toastmastersclubs.org/
Find us on facebook at http://www.facebook.com/whidbeysounders