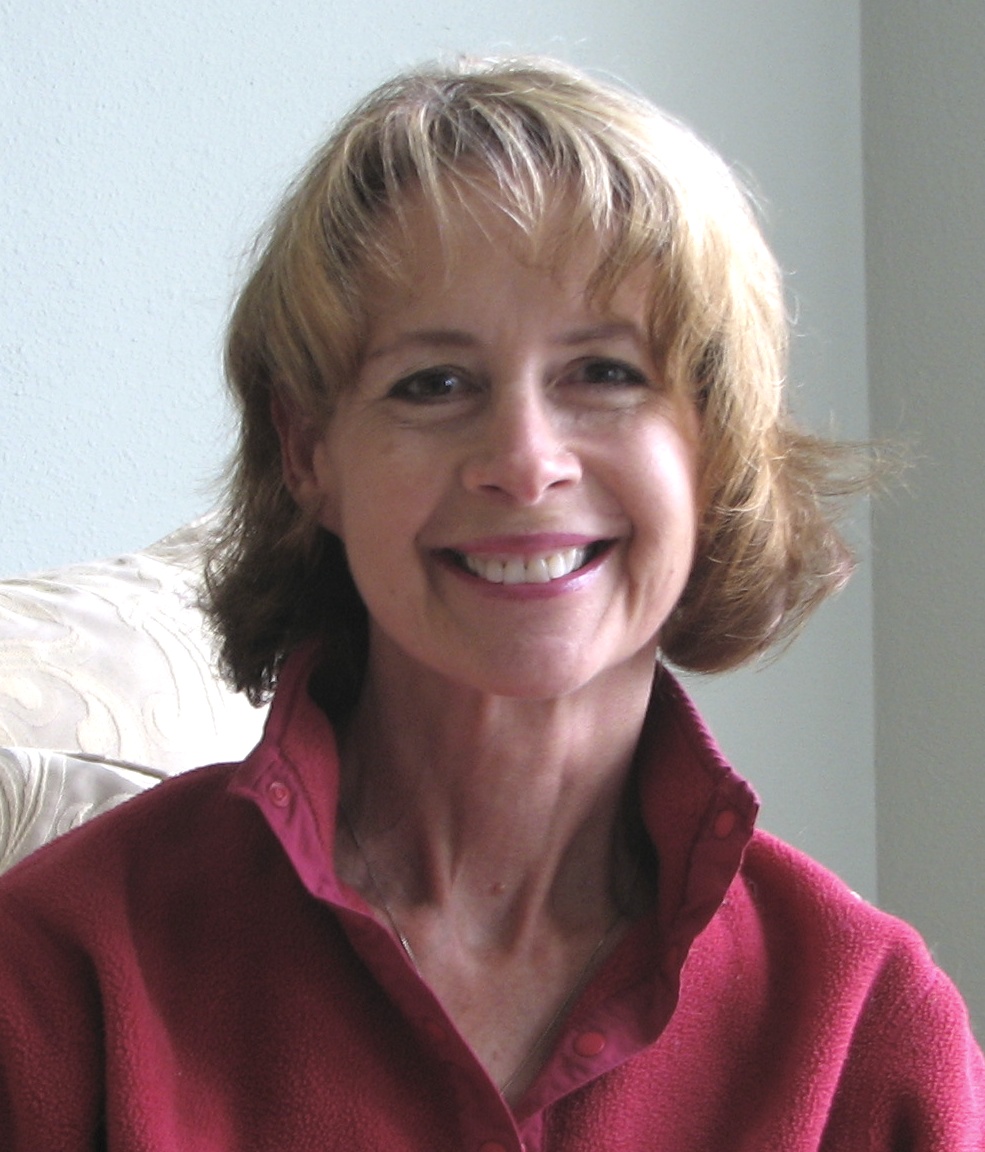 Bobbi Bradley
By Carolyn Tamler

Bobbi Bradley notes, "Most of my students never picked up a paint brush before they came to my landscape oil painting class." Yet, amazingly, most students produce a beautiful painting after just one session with her. She uses a wet-on-wet technique that was developed by Bob Ross. Bobbi is officially a Certified Bob Ross Instructor.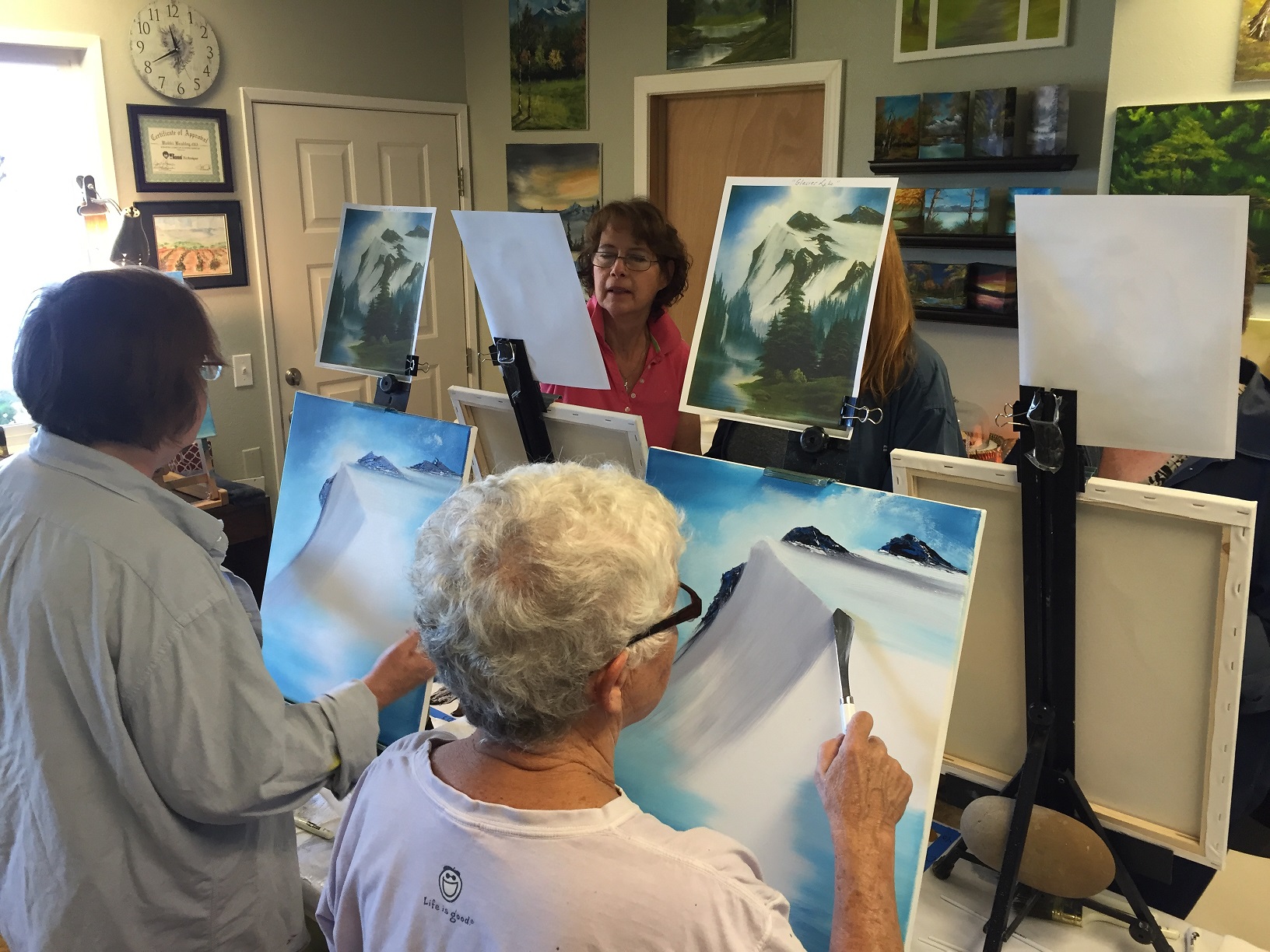 Like so many people who come to Whidbey, she is now following an occupation totally different from where she started. She had been a meeting and conference planner in the California, working with the medical industry. Bobbi and her husband, Chris, decided they wanted to move to a more quiet rural area and begin planning for retirement. Her husband found a job in Oak Harbor, and Bobbi maintained her own meeting and conference planning business for a few more years.
They settled in Coupeville and Bobbi thought more about exploring the possibility of her artistic interests. She watched a Bob Ross presentation on public television, saw him do a landscape painting in just 22 minutes and became sold on the concept. She traveled to New Smyrna Beach, Florida, took his classes and became certified in the Bob Ross method.

Five years ago she started her own "PaintwithBobbi.com" in her home studio at 1608 NE Parker Road in Coupeville. She has taught the Bob Ross method to over 150 people, most of whom have never held an art paint brush, but can create beautiful landscape paintings with just one class.
Her students have included all ages, from primary school students to people in their 80's. Some of her students take just one class; some come once a month. She currently is teaching one class a week that is 3-1/2 to 4 hours long, and she limits the class to no more than four people. The class fee includes a 16 X 20 canvas, and all the oil paints and use of brushes that will be needed. Each student leaves the class with a completed oil painting and a smiling face. Bobbi says, "I have a passion to share my gift of what I learned."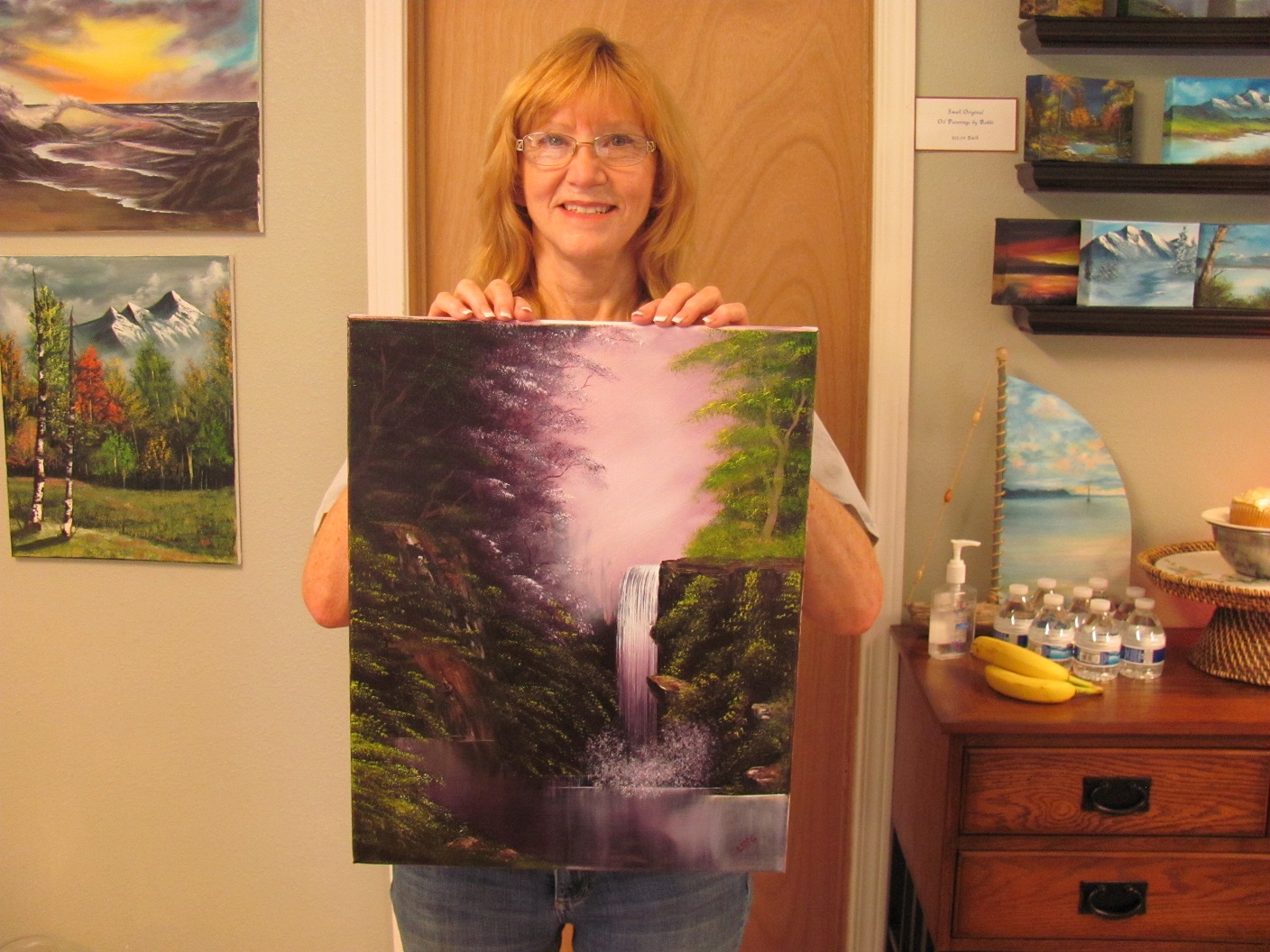 She encourages her students to go outside and look at the colors in nature. She provides some homemade cookies to make the class even more friendly.
---
Testimonials from Bobbi Bradley's Paint With Bobbi Class
If you like oil painting, Bob Ross, or haven't painted in years this class is for you. My girlfriend and I had a wonderful time. Bobbi is very friendly and a great instructor. E. Thompson
My husband signed us up for this class for my birthday since we both love Bob Ross. This was the best class I could even imagine! Bobbi made everything so comfortable, with tea, coffee and treats, as well as such a relaxed way of teaching. N. Boice
I had a great time learning the Bob Ross wet-on-wet technique from Bobbi. Even though I had never done any oil painting before, I came home with a great painting & lots of fun memories. L. Ruth
Bobbi has a relaxed, attentive teaching style and spends time working with each student individually. Students learn the techniques of handling the paints and brushes and become familiar with the progressive steps involved with each painting. Even with no previous experience, you will walk away with a beautiful completed painting. .L. Farmington
---
For current classes, please visit the website: www.paintwithbobbi.com, or you can email her with questions: bobbi.l.bradley@gmail.com, or you can give her a call: 360-279-9284.