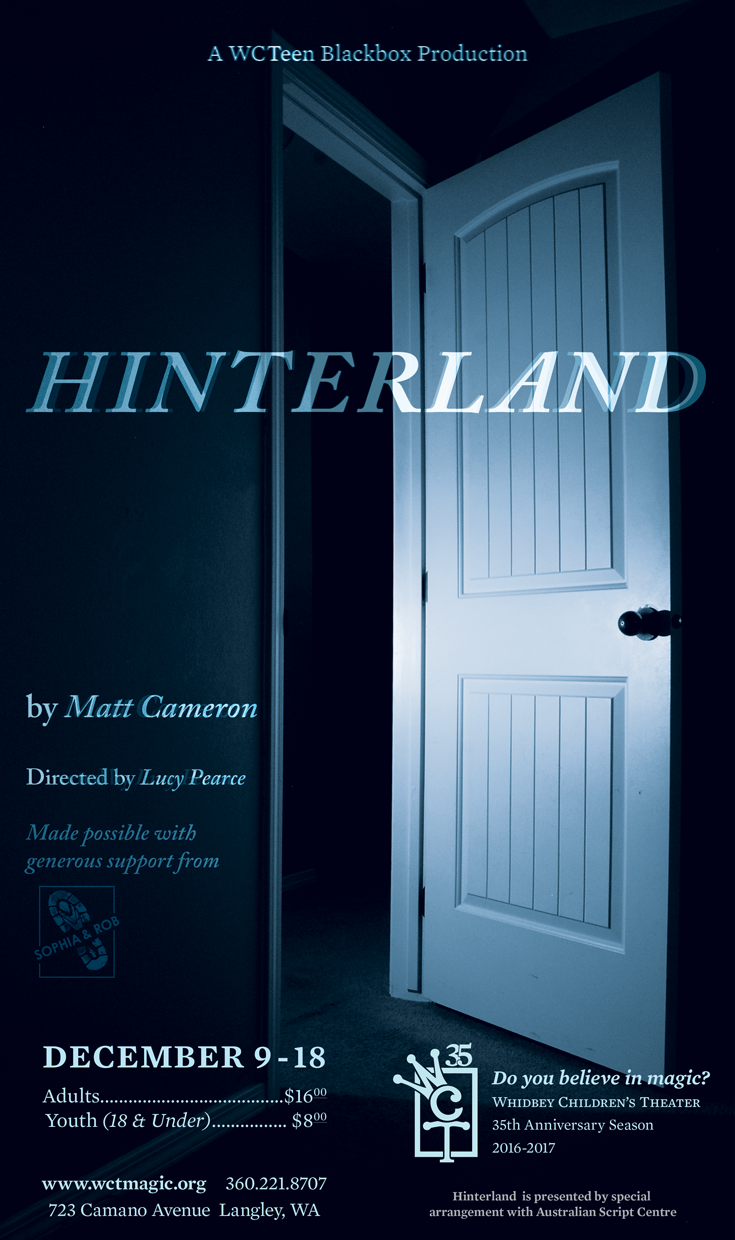 Whidbey Children's Theater is proud to announce Hinterland, by Matt Cameron, the first WCTeen Blackbox production of their 35th Anniversary Season, Do You Believe in Magic?
Hinterland, directed by Lucy Pearce (local credits include Island Shakespeare Festival, WICA, and Proof at WCT) opens in the WCTeen Blackbox on Friday, December 9th and continues for two weekends through Sunday, December 18th, with matinees at 2:00 pm each Sunday and evening shows on Friday and Saturdays at 7:00 pm. Audience members are encouraged to get tickets early, as seating is limited, and arrive to the theater by 6:45 as there is no late seating.
Commissioned by Melbourne Theatre Company and Nominated for a New South Wales Premier's Literary Awared, Hinterland is an exceptionally witty and dark satire drawing inspiration from European absurdist theatre.
Afraid of the dark and plagued by power failure, Henry Quealy is living in the shadow of terror. Returning one day from his job as a door-to-door salesman selling doors, Henry discovers a hitherto hidden portal in the wall of his home. The government declares Henry a shadow of his former self — literally — and he is taken away through the mystery door. Hinterland is a satirical comedy about the divided self and the paranoia of the insular state.
This production is recommended for audiences ages 12 and up. Tickets are available through the WCT website at www.wctmagic.org or through BrownPaperTickets at http://hinterlandwct.bpt.me/
Hinterland is made possible with generous support from Sophia Goode & Rob Hawkins
Whidbey Children's Theater is a registered 501(c)3 non-profit arts organization providing education for youth through the performing arts for 35 years.
Street: 723 Camano Avenue, Langley WA 98260 | Mailing: PO Box 1493, Langley WA 98260
Phone: 360.221.8707 | Email: contact@wctmagic.org | Website | Facebook | Instagram