By Carolyn Tamler

The 2016-17 winter edition of Washington Tasting Room magazine has a prominent feature article on "Art of the Blend" by John Vitale. And, prominently included in this article is a contribution from Virginia Bloom, co-owner with her husband Ken, of Blooms Winery and Tasting Room on Whidbey Island.
The interview with Virginia Bloom was included with several top winemakers in the state. Blooms' "Poetic" was one of the Top Picks for Proprietary Blends for the State of Washington in 2016. The magazine editor described the Poetic blend as "Powerful, poised and balanced, with remarkable depth and structure to the concentrated flavors of black fruit, boysenberry and black currant with hints of coffee." He continues "Generous spice notes and ample tannins stay sharply focused on the grand finale finish."
Earlier this year Blooms was recognized in the fall issue of Wine Press Northwest magazine, when four of Blooms red wines were chosen in a special article about "Best Affordable Reds". Wines included were all priced at $30 or less, and came from Oregon, Washington and Idaho. Twelve judges sampled the wines, and Blooms Winery received "Excellent" ratings on their 2013 Charmant, 2012 Melange, and the 2012 Syrah and a "Recommended" rating on the 2014 Merlot.
Ken and Virginia Bloom have been creating high quality hand-crafted wine since 1998. They were commercially licensed In 2003.. Since 2008, Blooms Winery has been awarded six Double Gold Medals, five Gold Medals, 20 Silver Medals and numerous Bronze Medals.
All their wines are made on Whidbey Island. Most grapes are sourced from the Rattlesnake Hills area in the Yakima Valley. A dozen trips back and forth each year with their truck and trailer brings the ripened grapes back to the facility in Freeland for processing, fermenting, aging, blending and bottling.
Virginia and Ken have become full time vintners, and one or both of them are at the winery facility in Freeland or the tasting room most days. They are happy producing and selling about 1,200 cases of wine a year. Their wines are distributed primarily on Whidbey at grocery stores and restaurants, as well as their tasting room in Bayview. The tasting room is a well-recognized community meeting place and venue for local artists and musicians.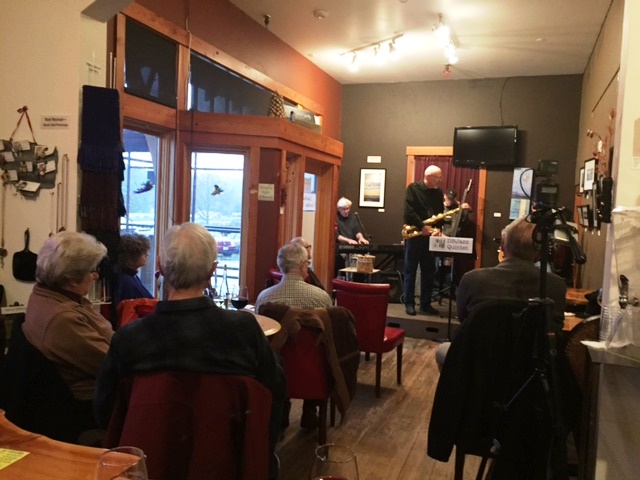 Blooms Winery currently offers 19 varieties and blends, and their award winning handcrafted wines have attained both national and international recognition.
Current hours are Monday through Thursday, 1:00 – 6:00 p.m.; Friday, 1:00 to 8:00 p.m.; Saturday, 11:00 a.m. – 6 p.m.; and Sunday, noon to 6:00 p.m. Open mike is the second and fourth Friday of each month. Sunday afternoons from 3:00 to 5:00 p.m. feature local musicians, singers and songwriters, with some additional Friday and Saturday shows added.
To check out the latest news on their wines or the entertainment offered at Blooms Winery, visit their website: http://www.bloomswinery.com/ or their Facebook page.