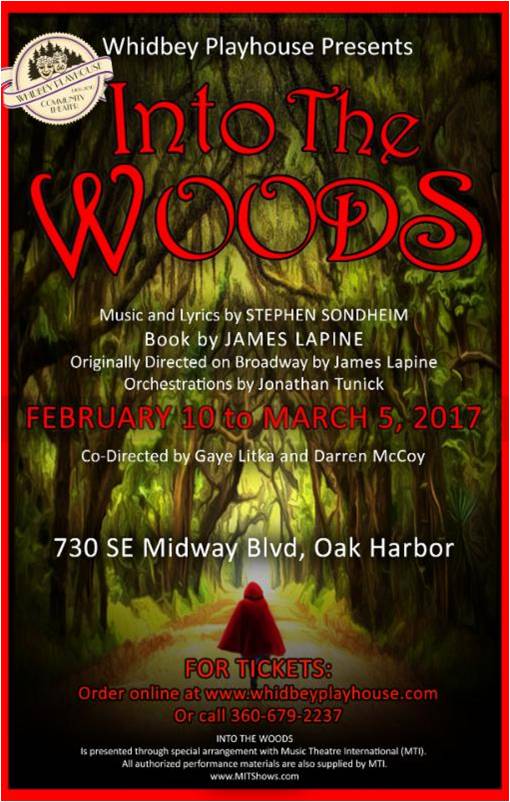 Oak Harbor
Stephen Sondheim's Into the Woods will open February 10 and run until March 5, 2017, on the Whidbey Playhouse stage in Oak Harbor. This storybook fantasy is a musical journey with an original story based on several Brothers Grimm fairy tales. A childless baker and his wife set out on a mission to begin a family but must break a Witch's curse. Their travels bring them to interact with characters from Little Red Riding Hood, Jack & the Beanstalk, Rapunzel, Cinderella and more. The show is a delightful romp with a dose of reality thrown in the mix that makes one question happily ever after.
Gaye Litka and Darren McCoy direct this spellbinding production with a keen sense of storytelling. The formidable cast features talented performers that bring the storybook tales to life. Featured as the Baker and his Wife are, respectively, Karl Borja and Eva Nelson with Heather Good as Cinderella, Dianna Wilcox as Little Red Riding Hood, Abby Thuet as the Witch, Ethan Webb as Jack ( of the Beanstalk verse) and Cynthia Kleppang as his mother. Andrew Huggins is the Wolf who weaves within the story and challenges trespassers in the "wood." Our "charming" princes are Doug Langrock and Kenyon Sirak, Rapunzel will be played by Christina Queeno, and Ron Wohl will tie it all together as the Narrator. Amanda McCartney will portray Cinderella's Stepmother, and the role of the stepsisters will be brought to life by Amy Garrett and Emily Hoyt. Other characters who animate the stage are portrayed by Becky LeMay, Sabrina Loomis, Tyler O'Dell, Heather Steiner, and Susie Thompson.
Into the Woods producer Sue Riney says the tall tale-telling that comes with a show like Into the Woods is something special. "The cast of Into the Woods is an all-star cast. So many uniquely talented performers devote so much time to tell these fun, inspiring and sometimes heartbreaking stories. With Gaye and Darren's direction, and the magical set technical director Jim Riney is creating, all of it comes together to spin a great, golden musical yarn.
Tickets are $20 each and can be purchased online at www.whidbeyplayhouse.com, by calling the Playhouse box office at 360-679-2237, or by visiting the Playhouse box office at 730 SE Midway Blvd.