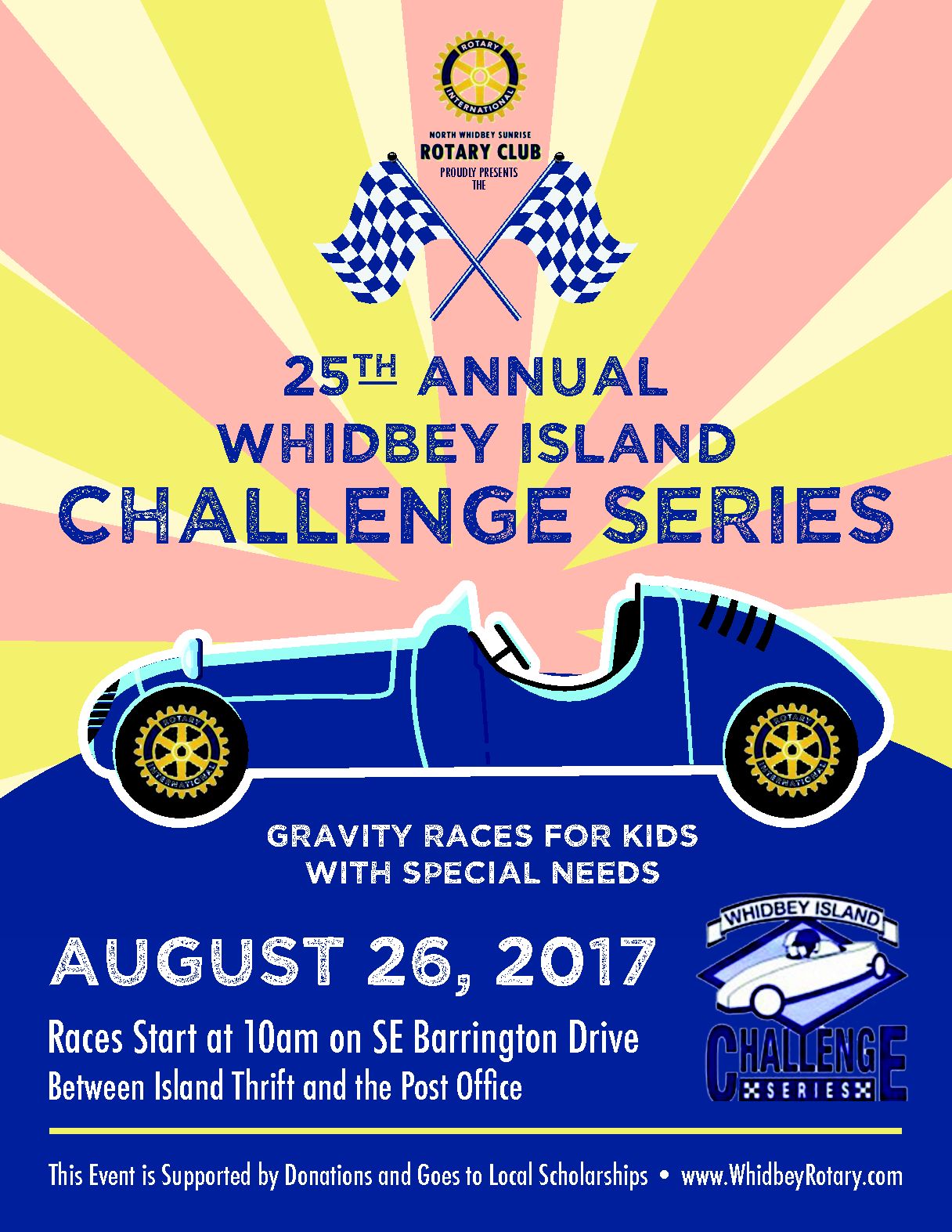 The Rotary Club of North Whidbey Island Sunrise is hosting the 25th Annual Challenge Series Race on Saturday, August 26, 2017 from 10 am to noon on SE Barrington Drive
This Soapbox Derby type race is in support of the physically and mentally challenged youth in our community. The event allows participants to experience the fun and thrills of a Soapbox Derby race.
The race cars are 7' long and 29" wide and each car holds 2 children. The driver is an appropriately trained 10-13 year old volunteer; the co-driver is a special needs child. A snack stand with coffee and food items is available onsite for participants, their families and the roaring crowd during the races.
At the race two youth climb into the seat of a customized Soapbox Derby car which has been thoroughly checked out in an extensive safety check program prior to the race. With the slam of the starting gate, the car's wheels begin to turn and they are off for ride to delight everyone. The cars, propelled by gravity, race down a blocked-off street. The OHHS Cheering Squad urge them on while the crowd goes wild! They safely come to a stop with the onboard brakes applied by the volunteer child. What an exhilarating thrill for drivers and passengers! Now, let's go again!
You can help volunteer or attend the event to cheer them on! Everyone wins at the end of the day! Contact Challenge Series Coordinator at islandgirl.jan@gmail.com to volunteer! We need course monitors, strong bodies to help with moving the cars, kid wranglers, and lots of audience to cheer on the racers, other positions available, just ask!
The Challenge Day Race is an annual event. It would not be possible without the vision of longtime Issaquah resident Leo Finnegan. Leo, the father of an adult son with a disability, brought the idea of continuing this type of race which Puget Power originally offered. This is our 25th year of presenting this opportunity to our fair city and we have only just begun!
Check out these articles regarding Leo: http://www.issaquah360.com/leo-finnegan/
https://the-constituent.com/honoring-leo-finnegan-by-representative-david-g-reichert/speech/50177
If you have questions or concerns please contact me at powelljan@hotmail.com
or cell 360-672-0059 or contact Don at 360-914-7697