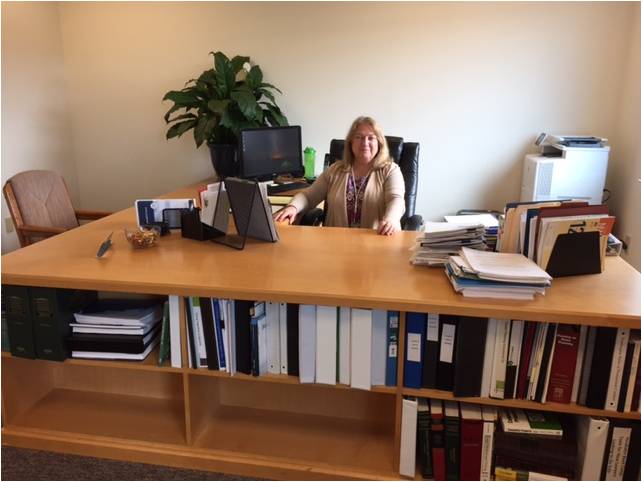 By Carolyn Tamler

On September 1st, Deborah Holbert established her law practice at 5575 Harbor Avenue in Freeland, completing a goal she has pursued for many years.
Deborah was born and raised in Sonora, California. She graduated from the University of California, Davis in 1980 with a degree in Economics, and worked in the U.S. Forest Service and private industry for many years.
Deborah's husband Doug, whom she met and married in Sonora, found a job in Island County shortly after graduating from college, and the Holberts moved to Whidbey Island. Deborah commuted to Bellevue for her job with an environmental and engineering consulting firm.

She decided she didn't want to do the commute anymore and chose to open a flower shop in downtown Langley. The business was sold in 2001.
After working as an economist and a shop owner, Deborah decided to follow a dream she had nurtured for many years. She enrolled in Concord Law School an on-line university based in California. She graduated in 2008.
Because the school was not accredited in Washington, she had to follow a different path to earn her state license. She enrolled in an apprentice program that required her to work for an attorney willing to provide the support she needed. Ken O'Mhuan agreed to mentor her at his law office in Freeland.
After two years working with Ken, she was qualified to take the Washington State Bar exam, which she passed on her first try in July 2011. She was formally sworn in on November 4, 2011. At that time, she became an Associate of the Ken O'Mhuan firm and the business name was changed to Whidbey Law Group.
Deborah began thinking about creating her own practice this past year. She wanted to continue to work in Freeland, where she had established her client relationships. This was also the kind of place where she wanted her business. "I always knew I was going to be a small town lawyer instead of working in a large corporate office" she says.
Deborah wants her practice to become known for her commitment to help people with their legal concerns in any way she can. She notes that while many law firms will only accept a job f they can handle every aspect of the case, she is willing to work with her clients in whatever way they choose. She says, "Sometimes, I will be paid to simply review a transaction or read over a contract."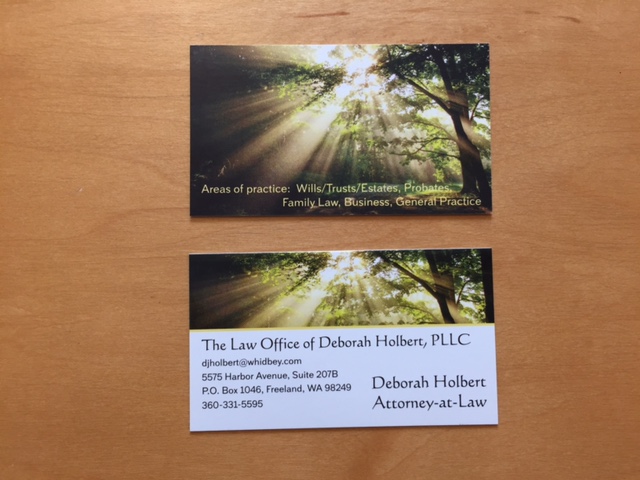 Her location on the second floor of a newer building at 5575 Harbor Avenue in Freeland (Suite 207B) has an elevator for elderly and/or disabled clients. She likes its central location, and she loves the light that comes into her office. She provides a free initial consultation, and she notes that her rates are based upon "what I could afford to pay if I were hiring someone else."
She encourages anyone who thinks they may need legal advice to make an appointment and come by and talk with her about it: 360-331-5595.