By Carolyn Tamler

After nearly 10 years as the owners of one of the Galleries at Greenbank, Rob and Victory Schouten learned about the availability of a special building in Downtown Langley at the corner of 1st and Anthes. Rob drove into Langley to check out the possibilities, and there was a parking spot right in front of the building, a portent of the future.
Rob Schouten was the first business owner to contact the landlord who asked, "What do you feel you can bring to Langley?" Rob told him that he could create a vibrant gallery that would attract locals as well as tourists, and he could turn the unused garden next to the building into a sculpture garden. Rob notes, "The Landlord had several others who wanted the space, but he chose us." The Schoutens moved into the new location and opened the doors of the Rob Schouten Gallery in Langley in May 2017.
Rob grew up in Rotterdam in the Netherlands and got a degree in graphic design from the School for Graphic Arts in Utrecht. At the beginning of his third year at the school, he became friends with some American students who invited him to visit their country. His visit to the states turned into a four-month adventure from Maryland (where his friends lived) to a hitchhiking trip around the country that took him to several national parks and major cities on the west coast, including Seattle.
When he returned to school in the Netherlands and completed his degree, he had difficulty finding a creative and challenging job, so he decided to return to the United States for a year. He began by visiting the friends in Maryland and was invited to go out to Seattle with them. In Seattle, he found a job at Pike Place Market selling pottery for the holiday season. He also met lots of artists who were running successful small businesses, and he decided that this type of business really appealed to him.

Rob got a business license from the City of Seattle and began selling drawings and prints at Pike Place Market in 1980. He started painting watercolors.
In 1983 he quit the Market and moved to Whidbey Island, but continued making his living selling paintings in galleries in Washington and California. Rob was the featured artist in the inaugural exhibition of the Childers/Proctor Gallery in Langley in 1984.
Rob met his wife, Victory, in 1987 and they were married a year later. In order for Victory to move up to Whidbey and not have to commute for a job, they started Great Path Publishing, a small company selling greeting cards of Rob's work and eventually that of a number of other artists. At one time, they were selling cards to 300 stores in the United States and had a European distributor as well. A deck of divination cards written by Lynn V. Andrews and featuring 45 of Rob's images called "the Power Deck" was published by HarperCollins and distributed worldwide in 1991. He soon had an international reputation.
When the tack shop at the Greenbank Farm went out of business in 2007, the space remained vacant for nearly a year. The Schoutens approached the Farm's board with their gallery plan in April of 2008, and just a month later they opened the Rob Schouten Gallery. The Gallery was one of the three Galleries in Greenbank until they decided to make their current move.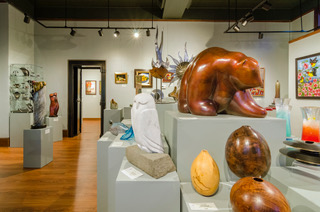 Interior shot by Kim Tinuviel
Now established in Langley, the Schoutens are continuing their business strategy. Rob explains: "We offer high quality art in an attractive setting at excellent prices. Visitors to our gallery come away with the impression of having found an amazing find." He adds, "All the visitors to our gallery are treated with friendly, personal attention that makes their visit a memorable experience."
To see the artists currently on display at Rob Schouten Gallery, visit the website: www.robschoutengallery.com/ or their Facebook page.