---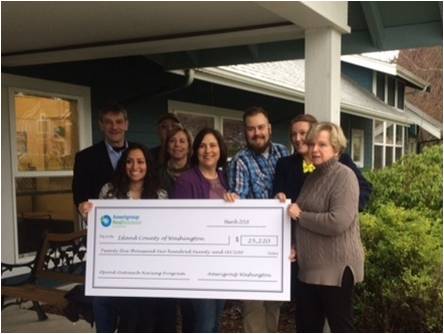 In attendance for the Amerigroup check presentation were (left to right): Commissioner Richard M. Hannold; Leeza Lorence, Amerigroup; Dennis Phillips, Opioid Outreach Coordinator; Colleen Keefe, Communicable Disease Coordinator; Commissioner Helen Price Johnson; Skye Newkirk, HS Mental Health Specialist; Commissioner Jill Johnson; Suzanne Turner, Community and Family Health Director
One year ago this month, Island County organized an Opioid Outreach Team. The pilot program was designed to reach out to addicts and help those who wished to help themselves. The team is comprised of a Sheriffs Deputy, a Human Services representative who specializes in addiction issues, and an Island County Public Health Nurse. The deputy and human services employees are funded through a North Sound Behavioral Health grant and Amerigroup funded the public health nurses. The initial grant award from Amerigroup was for $16,000 as it was a pilot program and the costs were estimated. The team is assigned to both Camano and South Whidbey with the desire to expand to North Whidbey.
In July of 2017, Amerigroup presented an additional award of $7,500 to Island County to fund Narcan kits, for the community. Narcan is also known as Naxolone, which is an agent to counteract the effects of an opioid overdose.
The program has proven to be successful and today, Leeza Lorence, Community Relations Representative at Amerigroup committed for another year of partnership with Island County. Leeza presented the County with a check for $25,220 to fund the Public Health Nurse expenses for the coming year.
I wish to send my deepest appreciation and gratitude to Leeza, and all those at Amerigroup for their concern, commitment and desire to assist us in our battle against the disease of addiction.
To learn more about the Opioid Outreach Program you can visit the Human Services website (click here) or call 360-499-5552.
---
If you have any ideas and/or feedback, please e-mail me at district3@co.island.wa.us.
Kind regards,
Richard M. Hannold
Island County Commissioner - District 3
(360) 679-7354
PO Box 5000
Coupeville, WA 98239