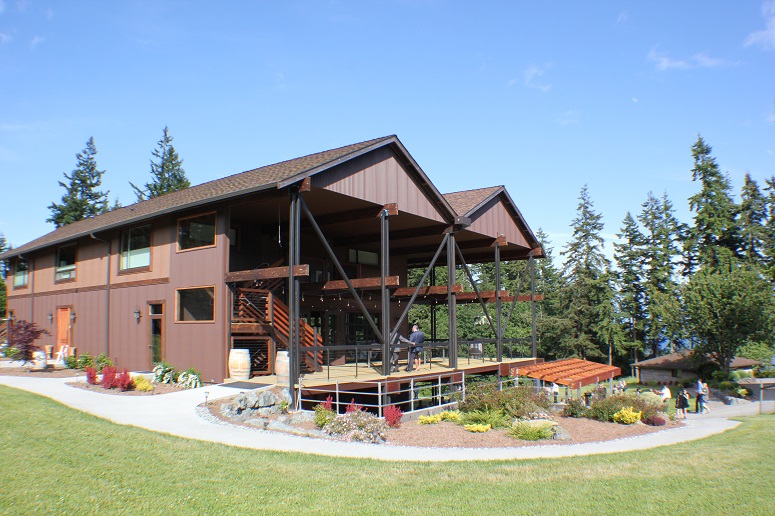 By Carolyn Tamler
When Rita and Carl Comfort bought their 22-acre property in Langley in 2006, they knew they were buying something that would be a legacy for their children to inherit. The primary goal of the Comforts was to build a business that would sustain the farm. They also wanted to be a strong contributing member of their community.
There already were vineyards there, but they soon expanded the quality and quantity of the grapes being grown. Over the years, they have expanded their wines, using estate grapes and WA state red grapes, many of which have won awards, including their estate Sparkling.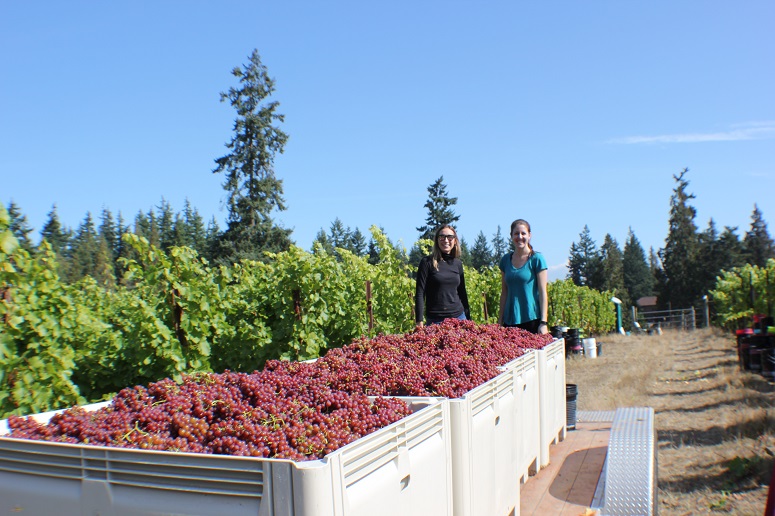 Today, Comforts of Whidbey is well on its way to rewarding the hard work done by Rita and Carl, fulfilling their vision for what their business and their property would be.
The original winery and tasting room opened in 2010 and was in their garage. In 2016, the Comforts completed a new building, which housed the winery, tasting room, event space and their six room Bed and Breakfast (with breakfast made by Rita using the eggs from their chickens).
They are pleased that even with this new addition to the farm, they have maintained a beautiful greenbelt for the community to enjoy.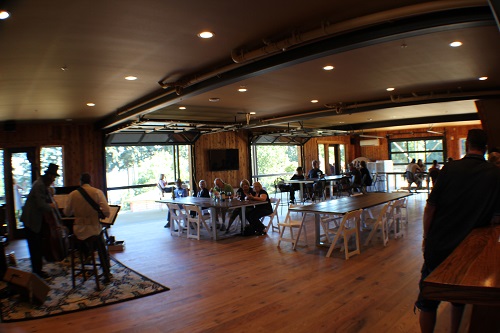 Carl and Rita married 33 years ago after meeting while they were both in the military in New Jersey. Over the years, they lived in many places, including Turkey and Australia, but the Comforts decided they wanted to have their two children grow up on Whidbey where Carl had spent his youth and his family has lived for over 100 years. They moved here, and with the help of a little Whidbey magic, they found and were able to purchase their farm property. Today, their 24 year old son, Zach is a full-time employee at the winery, and their 26-year old daughter, Victoria, lives in Seattle, does all of the design work for the website and marketing materials (and often works on weekends in the tasting room).
They are proud of what they are creating. Rita comments, "We have built something that will help bring tourists to our island, as well as something that is an active contributor to the community." They help local charities by providing the use of their facility throughout the year. They also engage the community with their annual grape harvest. Carl says, "We couldn't do this without the help from our community."
Rita notes that she and Carl have divided up the energy that drives the place. Carl is the visionary who sees the way the business can grow and prosper. Rita is the self-described "work horse." She manages the tasting room, the B & B (which is for adults only), the animals on the farm (chickens, cows, alpacas and their guard llama), and coordinates and helps plan the events. Rita also grows vegetables in her garden that often end up in the breakfast menus.
All eight white wines and their one Pinot Noir are "estate" grown and produced in the new winery. Including the two new, award winning, estate sparkling wines. Their red wines are produced on site from fruit grown in Eastern Washington.
They invite people to visit and enjoy a "farm experience", a wine tasting, see the grapes growing and hear their story of how the wines are produced. If time permits, take a tour of the property.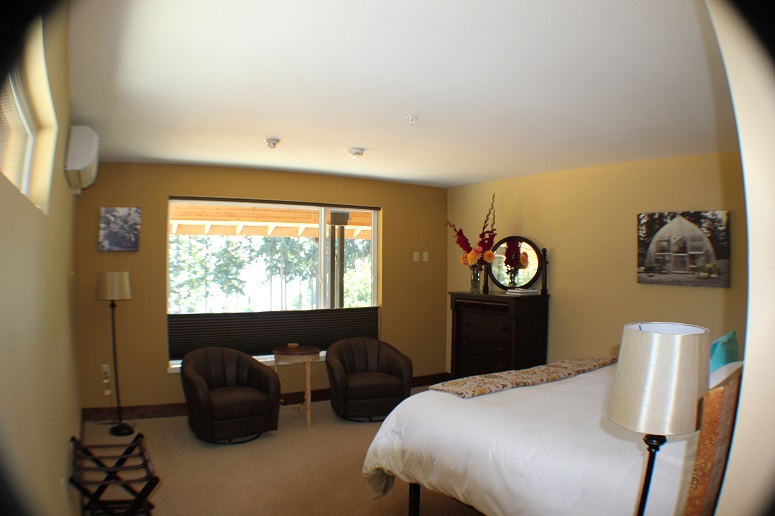 The Tasting Room is currently open Friday, Saturday and Sunday, and seasonally on Thursday and Monday. The farm is located at 5219 View Road in Langley. Contact Comfort's on Whidbey at comfortsofwhidbey@gmail.com, or give them a call at 360-969-2961. To learn more, visit their website: comfortsofwhidbey.com.