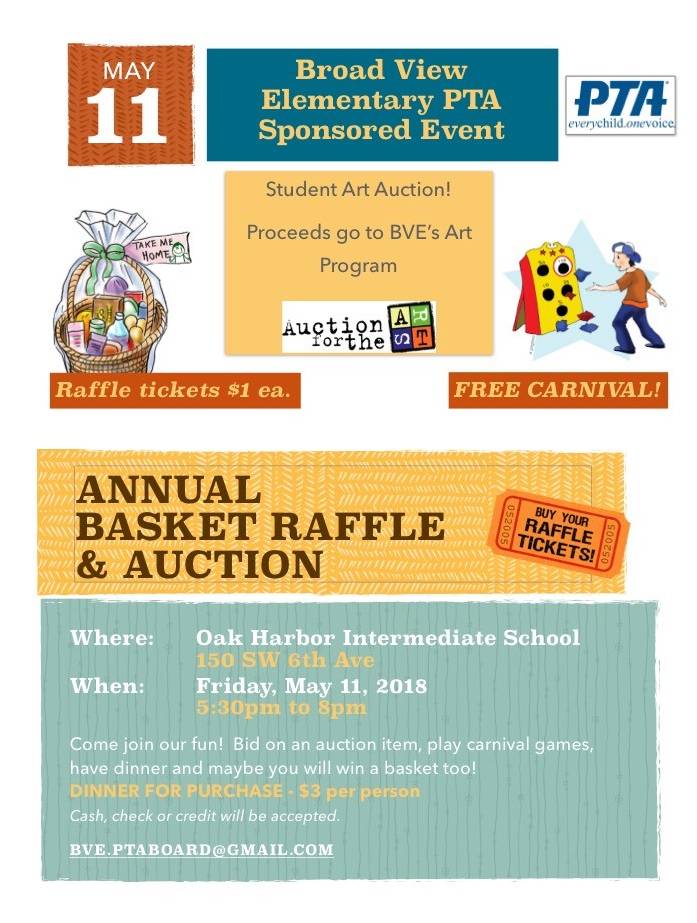 My name is Raeanne Leonard, and I am with Photography by Raeanne. I am also PTA President with Broad View Elementary. The Broad View Elementary PTA is preparing for our biggest annual fundraiser on Friday, May 11th: The Annual Basket Raffle. I am proud to be a part of this event and encourage Oak Harbor's business community to join us, whether as a donor or visitor.
It is a fun event for children, parents and the community. We host many games, a raffle, an auction, concessions and entertainment. We need your help to make this event a great success, again, because the proceeds from the Basket Raffle funds field trips, teacher allocation funds, our after-school enrichment program, other student/family events and supplies/equipment for the school. Our goal is to earn $6000!
Again, this year we will host both a silent auction and a live Art Auction, featuring painted furniture pieces by Broad View students. Please consider donating a gift basket for our basket-raffle; a new item; an original craft, a service, a gift-certificate, a special talent or experience for our auction. We kindly accept a wide range of offered donations from tickets to a game or play- to jars of jam- to a basket of kids' craft supplies- to a bowling party- to hand-painted gift cards. We also happily accept cash or check donations made out to BVE PTA.
To donate, please contact me, or bring your donation to the address below by May 5th, 2017.


Raeanne Leonard
Broad View Elementary PTA
473 SW Fairhaven Drive
Oak Harbor, WA 98277
(847) 287-4763
raeanne.mccarty@yahoo.com


We accept donations in person too, if you care to give the gift to a committee member. We are a non-profit organization dedicated to enriching the lives of our students, staff and community of Broad View Elementary in Oak Harbor.

For more information or opportunities to volunteer at the event, please contact Raeanne Leonard at (847) 287-4763 or email leonard.raeanne@gmail.com. Thank you kindly for taking time to read our letter and considering a donation. We appreciate your help and support. And if this year is not the best for you, consider next year. We look forward to seeing you at the Oak Harbor Intermediate School on May 11th. Mark your calendars now!

Sincerely, Raeanne Leonard, PTA President
Broad View Elementary PTA