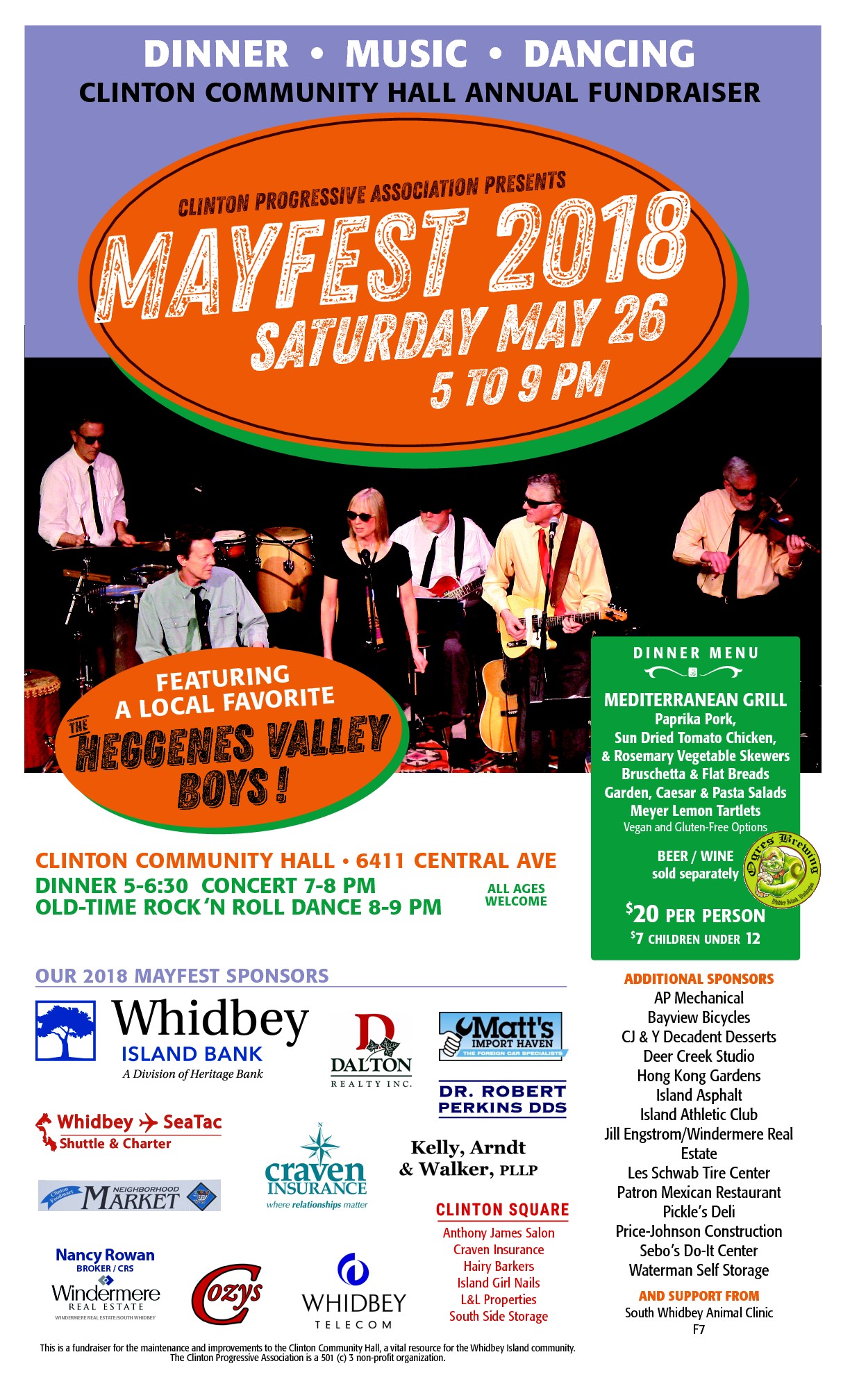 MAYFEST 2018: Saturday May 26th from 5:00 – 9:00 p.m.
Dinner will be served from 5:00 - 6:30 pm. The concert begins at 7:00 p.m.; music and dancing from 8:00 – 9:00 p.m.
Cost for everything: $20 per person; $7 for children under 12. All ages welcome
Clinton Community Hall, 6411 Central Ave in Clinton
For over a century, the Clinton Community Hall has been the gathering place for South Whidbey friends and neighbors. On Saturday May 26th community members and supporters of the Hall will be celebrating Mayfest 2018. This is the Community Hall's signature annual fundraiser, and it's going to be another evening of festive food, music and dancing.
Mayfest is known for featuring local chef's and this year is no different. A Mediterranean Grill Menu will be prepared by local Chef Chris Patterson. The menu includes: Paprika Rubbed Pork, Sun-Dried Tomato Chicken & Rosemary Vegetable Skewers, Bruschetta & Flat Breads, Garden, Caesar & Pasta Salads, Meyer Lemon Tartlets. There will be veegan and gluten-Free Options. OGRES Brewing, a Clinton brewer, will be selling their beer and locally made wine separately.
The Heggenes Valley Boys will perform their unique brand of locally inspired lyrics and music in concert from 7:00 – 8:00 p.m. At 8:00 p.m. they will provide the music for dancing to old-time Rock 'n Roll. For many years the band has generously donated their time and talent to support the Clinton Community Hall.
Local businesses will be providing a variety of local items and gift certificates for goods and services including bagels from The Bagel Factory, tastings from Whidbey Distillery, chocolates from Mona's and a Whidbey Island baseball cap!
Bring your family and friends to celebrate Mayfest at the Clinton Community Hall - located at 6411 Central Ave in Clinton.
Check out the community sponsors on the Clinton Community Hall website: www.ClintonCommunityHall.org.