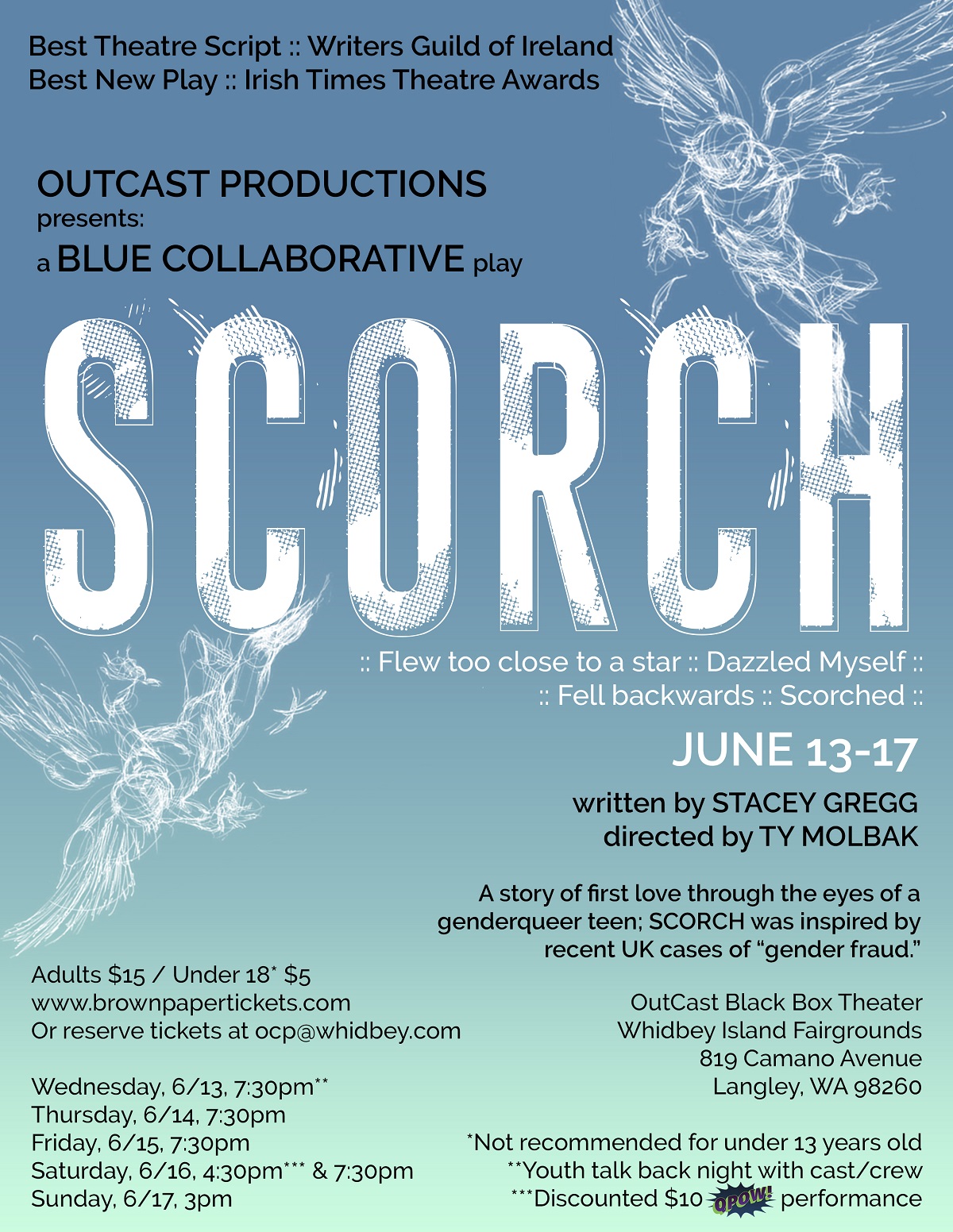 Scorch, by Stacey Gregg, is at Outcast Productions, June 13th – 17th. The play, which has been awarded "Best New Play" by the Irish Times Theatre Awards, and "Best Theater Script" by the Writers Guild of Ireland ZeBBie Award, is the product of a partnership of Outcast Productions with Blue Collaborative, a New York based theater and film production team.
The play for a solo performer follows a teenager named Kes who, though female at birth, has a developing identification with male characters in video games and movies. When Kes meets Jules online, and the latter believes that Kes is a boy, the two start a relationship. As Jules discovers the truth about Kes, it unleashes a whirlwind of confusion for Kes, and indeed everyone else.
A story of first love through the eyes of a genderqueer teen; Scorch was inspired by recent UK cases of "gender fraud."
The play is directed by Ty Molbak, who has spent considerable time on Whidbey, mostly in the summers, and was involved with the Whidbey Children's Theater. He is currently finishing his BFA in Theater at Rutgers and in the process has formed Blue Collaborative this year.
Scorch plays at the Outcast Productions theater at the Whidbey Island Fairgrounds, Wednesday, Thursday, Friday and Saturday, June 13 – 16 at 7:30 p.m.; matinees are on Saturday, June 16th at 4:30 p.m. (with special $10 Queen Pride discounts), and Saturday, June 17th at 3:00 p.m. Prices are: Adults, $15; and Under 18, $5 (the show is not recommended for under 13 years of age). The Wednesday performance includes a youth talk back night with cast and crew.
Order on line from www.brownpapertickets.com, or email Outcast Productions at ocp@whidbey.com to reserve tickets and pay at the door by cash or check.