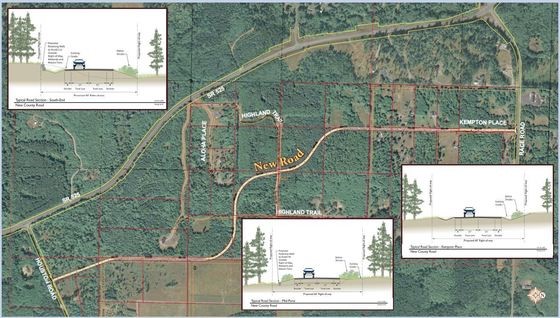 Island County Public Works has begun construction on a new road, named Oakes Rd, between Race Rd. and Houston Rd. that will serve as an emergency route should SR 525 become blocked by an accident or other incident. Work is expected to be completed by Spring 2019.
The project also includes off-site mitigation improvements to reclaim a wetland previously used as a farmed wet meadow and most recently as a stockyard within the Saratoga Woods Park, to its previous condition as a wetland.
---
Upcoming Event - Public Open House
You are invited to attend a project open house on information about Oakes Road. We encourage you to drop in to learn more about the project and ask questions. County Staff and the Contractor will be available to discuss the project with you.
WHEN: Wednesday, June 27th - 5:00 p.m. to 7:00 p.m.
WHERE: Central Whidbey Fire Station
1164 Race Rd, Coupeville
---
For more information contact Pete Seybert, Construction Engineer
PeteS@co.island.wa.us
(360) 679-7331
South Whidbey Prefix (360) 321-5111 x 7331