Featured Artists for August
Artworks Gallery is featuring ArtistsJudith Burns and Gaylen Whiteman for the month of August. A Second Saturday reception will be held at the gallery August 11 from 2:00 to 5:00 p.m. There will be light snacks and beverages and live music by guitarist Quinn Fitzpatrick. Artworks Gallery artists will be on hand to greet visitors during the reception.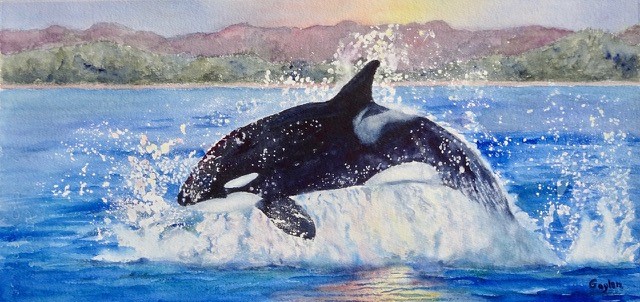 Leap of Faith, Watercolor by Gaylen Whiteman
Burns, who works in acrylics and mixed media is featuring an exhibit inspired by Music, Art and Literature. The collection is titled, "A Civilization is remembered by its Culture". Judith says she enjoys recreating places she has visited for performances.

Harbor Dawn, Watercolor by Gaylen Whiteman
Gaylen paints in watercolors, oils and acrylics and is presenting her images of animals and sunsets. She calls her exhibit "All things bright and beautiful, All creatures great and small." Gaylen says "When you look at my art, I hope you are inspired to wonder, contemplate and appreciate life."
Lost in time (Carnegie Hall)

Acrylic by Judith Burns

Foyer at MoMA (New York)

acrylic by Judith Burns
Artworks Gallery is located on Greenbank Farm on Whidbey Island.
For more information, visit the web site: artworkswhidbey.com or call 360.222.3010.
Open Monday - Friday 11-5
Saturday & Sunday 10-5