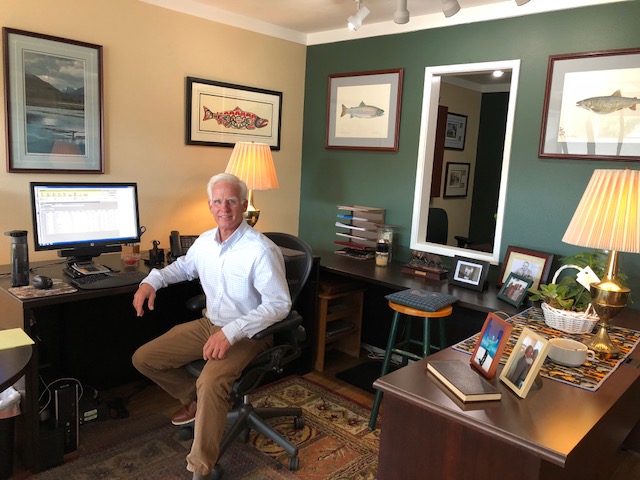 By Carolyn Tamler
Kevin Lungren, a representative for Edward Jones since 2012, says "I've found my spot." He opened his new office in Freeland at the end of December 2017, and believes this new location is perfect, both professionally and personally.
Professionally, Kevin was with Edward Jones in Clinton before moving to Freeland. His route to becoming an Edward Jones representative meandered a bit before he arrived where he is now. Although he pursued a different career path for several years, he had been a private investor since his college days. He adds, "I always wanted to be a financial advisor."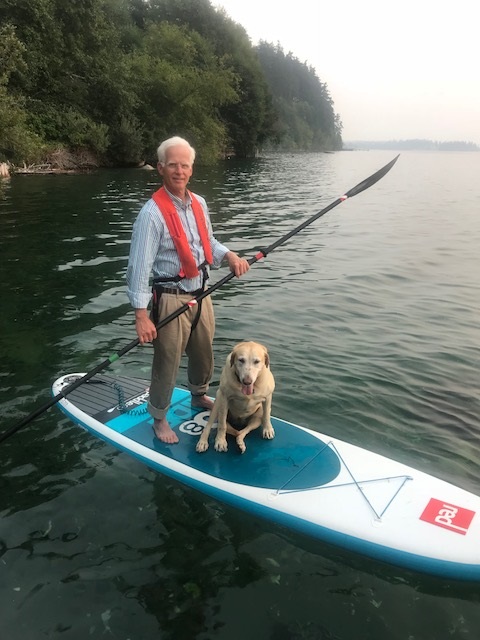 In his early 50's, he decided to follow through on his college goals of becoming a financial advisor. He notes that Edward Jones hires less than 7% of the applicants and then gives them a six-month training program. As an Edward Jones representative he is a member of a partnership; the company is not publically traded. He is proud that "The company encourages all of its representatives to focus on doing what's right for the client."
Kevin and his wife, Mary Jane, are both originally from Indiana. He was an English major in college and had a career working with high tech medical devices for many years after his graduation. The Lungrens did a lot of traveling before they made their move from the Midwest to the Seattle area in 1981. Initially they lived in Bellevue where Kevin continued to work with high tech devices, while Mary Jane pursued a career in dentistry and began practicing in 1988.
The Lungrens agreed that while the Seattle Area was nice, they really wanted to live in a more rural area. They spent time traveling around the Northwest, and after several visits to Whidbey Island, decided this was where they wanted to live and raise a family. Their three children were born on Whidbey and graduated from South Whidbey High School (SWHS) before leaving the island for different college destinations.
Kevin says that he did a variety of jobs before settling on being a financial advisor. "I am so glad to be following my passion; I love teaching people about the ways they can manage their investment savings."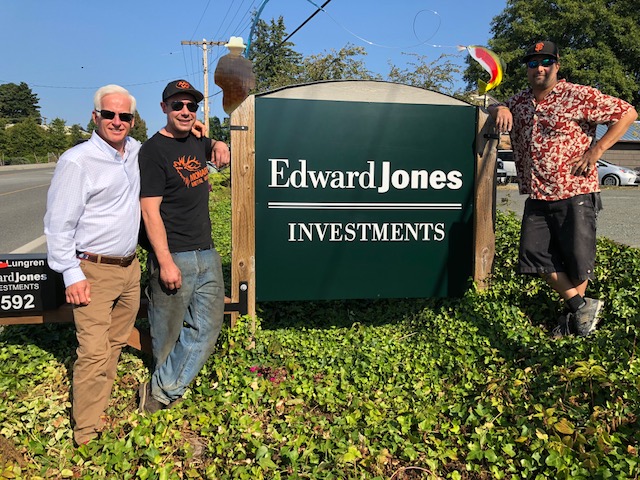 As anyone who knows Kevin will attest, he is a classic energizer bunny. In addition to fishing, traveling and climbing mountains, some of his recent and current community activities include: Working to benefit Friends of Friends; President of the local fishing club; chosen as Mr. South Whidbey in 2016; Board member for 10 years for Hearts & Hammers; six years on the Trinity Lutheran Church council; sponsored "Comedy of Errors" for Island Shakespeare Festival; was a Board member for Whidbey Childrens Theater; and worked with his wife as a dental assistant in Haiti.
Still, he has goals: "Even though I have climbed several mountains, this Edward Jones office in Freeland is a new mountaintop for me." He thrives on helping people improve their lives and the lives of their families.
Besides fishing and being involved with his family and the community, Kevin loves riding his paddle board from his Freeland home to his office.
At the entrance on Main Street, there is an Edward Jones business sign decorated with a beautiful metal sculpture (with a fishing theme, of course), designed by EZ Rider (with Kevin's inspiration) with the metal work by Ben Brager. The sign honors Kevin's membership and the membership of his two sign creators in the Whidbey Island Fishin' Club.
Stop by the office at 1592 Main Street in Freeland (across from Payless) to meet Kevin and his friendly office staff, Branch Office Administrators Michelle Hezel and Jenny Staats.
To make an appointment, call (360) 341-4556.