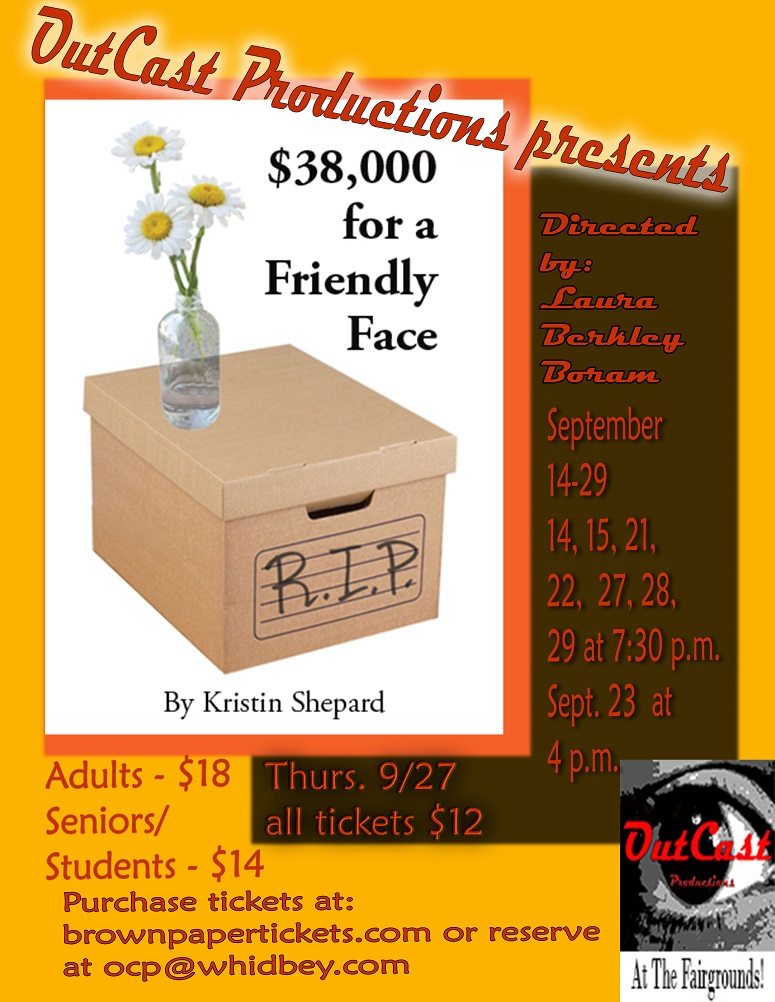 A comedy in a funeral home? $38,000 for a Friendly Face, Outcast Productions latest show, describes the experience of Matt, who has just begun a funeral home business and is trying his best to provide good service.
This heartfelt comedy recounts the story of two estranged daughters who travel to a funeral home in a small town to plan for the celebration of life for their unpleasant mother.
The women of the Last Supper Committee are preparing food for the event. A young woman arrives with just three flowers for the service. It soon becomes apparent that no one else will be coming. As the mourning proceeds, relationships deteriorate. $38,000 for a Friendly Face takes a humorous look at what matters most in relationships, in families, friendships, and in celebrations of life.
The play by Kristin Shepard is directed by Laura Berkley Boram. Performances are September 14, 15, 21, 22, 27 28 and 29 at 7:30 p.m.; there will be a 4:00 p.m. performance on September 23. Doors open 30 minutes prior to the performance.
Tickets are $14 for students and seniors and $18 for adults; on Thursday, September 27, all tickets are $12.
Tickets may be purchased on line at www.brownpapertickets.com/event/3596080 using a credit card; or you can email Outcast Productions for a reservation and pay for tickets at the door by cash or check by emailing ocp@whidbey.com.
For more information about Outcast Productions, visit their website: http://www.outcastproductions.net/