Sunday, September 23, 2018 at 3pm
Whidbey Island Center for the Arts | 565 Camano Avenue | Langley, WA
Tickets ($30-$55) available online at www.wicaonline.org by calling 360.221.8268, or in person at the box office.
More information at www.djangofestnw.com
"perhaps the most precise and soulful classical guitarist of his generation." – NPR (Vieaux)
---
Langley, WA – On Sunday, September 23, 2018 at 3pm, Grammy-winning classical guitarist Jason Vieaux joins forces with Grammy-winning violinist Evan Price at the 18th annual DjangoFest Northwest at Whidbey Island Center for the Arts (565 Camano Avenue). DjangoFest Northwest presents five days of concerts and workshops, featuring dozens of world-class artists and thousands of attendees, making it the largest festival of Gypsy Jazz in North America.
This program of original works and arrangements for violin and guitar includes Pat Metheny's Antonia (arr. Vieaux); Duke Ellington's In a Sentimental Mood (arr. Price/Vieaux); Astor Piazzolla's "Bordel" and "Nightclub" from History of the Tango; Evan Price's Lullaby; Price and Vieaux's jointly composed Dialogue 1; Sergio Assad's Violetas Azuis; and Jonathan Alford's Marcha (arr. Price). In addition, Jason Vieaux and Evan Price will each perform a solo work: Antonio Carlos Jobim's A Felicidade (arr. Dyens) for guitar and Django Reinhardt's Improvisation No. 2 (arr. Price) for violin. The Adrien Moignard Trio (with Mathieu Chatelain and Jeremie Arranger) performs a set on this concert, too.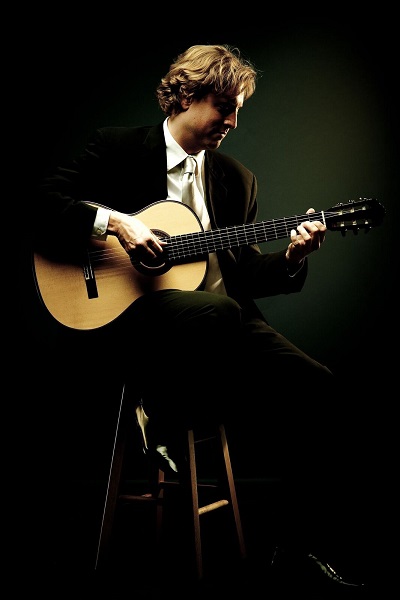 Grammy-winner Jason Vieaux, "among the elite of today's classical guitarists" (Gramophone), is the guitarist that goes beyond the classical. NPR describes Vieaux as, "perhaps the most precise and soulful classical guitarist of his generation." Among his extensive discography is the 2015 Grammy Award winning CD for Best Classical Instrumental Solo, Play, from which the track "Zapateado" was also chosen as one of NPR's "50 Favorite Songs of 2014 (So Far)".
Vieaux has earned a reputation for putting his expressiveness and virtuosity at the service of a remarkably wide range of music, and his schedule of performing, teaching, and recording commitments is distinguished throughout the U.S. and abroad.
Jason Vieaux has performed as concerto soloist with over 100 orchestras, including Cleveland, Toronto, Houston, San Diego, Buffalo, Auckland Philharmonia, and Orchestra of St. Luke's. Recent highlights include performances at Caramoor Festival as Artist-in-Residence, Chamber Music Society of Lincoln Center, Philadelphia Chamber Music Society, Curtis Presents, Phillips Collection, National Gallery of Art, Buenos Aires' Teatro Colon, Amsterdam's Concertgebouw, New York's 92Y, and Ravinia Festival.
Recent and upcoming chamber music collaborators include the Escher Quartet; Grammy-winning mezzo-soprano Sasha Cooke; violinists Anne Akiko Meyers, Kristin Lee, and Tessa Lark; acclaimed harpist Yolanda Kondonassis; and accordion/bandoneon virtuoso Julien Labro. Vieaux's passion for new music has fostered premieres of works by Jonathan Leshnoff, Avner Dorman, Jeff Beal, Dan Visconti, David Ludwig, Vivian Fung, José Luis Merlin, and more. Jason recently premiered Visconti's "Living Language" Guitar Concerto with the California Symphony and recorded Leshnoff's Guitar Concerto live with the Nashville Symphony for a release on Naxos Records.
Vieaux's recordings slated for release in 2018 include a new album with the Escher Quartet featuring Boccherini's Guitar Quintet and Aaron Jay Kernis' 100 Greatest Dance Hits (Azica) and Jeff Beal's "Six Sixteen" Guitar Concerto with the Norrköping Symphony Orchestra (BIS). In addition to his Grammy-winning 2015 solo release Play, his previous albums include Infusion (Azica) with accordionist/bandoneonist Julien Labro; Ginastera's Guitar Sonata, on Ginastera: One Hundred (Oberlin Music) produced by harpist Yolanda Kondonassis; Together (Azica), a duo album with Kondonassis; a recording of Astor Piazzolla's music with Julien Labro and A Far Cry Chamber Orchestra; Bach: Works for Lute, Vol. 1; Images of Metheny; and Sevilla: The Music of Isaac Albeniz. Vieaux was the first classical musician to be featured on NPR's popular "Tiny Desk" series.
In 2012, the Jason Vieaux School of Classical Guitar was launched with ArtistWorks Inc., an unprecedented technological interface that provides one-on-one online study with Vieaux for guitar students around the world. In 2011, he co-founded the guitar department at the Curtis Institute of Music, and in 2015 was invited to inaugurate the guitar program at the Eastern Music Festival. Vieaux has taught at the Cleveland Institute of Music since 1997, heading the guitar department since 2001.
Vieaux is affiliated with Philadelphia's Astral Artists. In 1992 he was awarded the prestigious GFA International Guitar Competition First Prize, the event's youngest winner ever. He is also honored with a Naumburg Foundation top prize, a Cleveland Institute of Music Distinguished Alumni Award, and a Salon di Virtuosi Career Grant.
Jason Vieaux is represented by Jonathan Wentworth Associates, Ltd and plays a 2013 Gernot Wagner guitar with Augustine strings. For more information, visit www.jasonvieaux.com.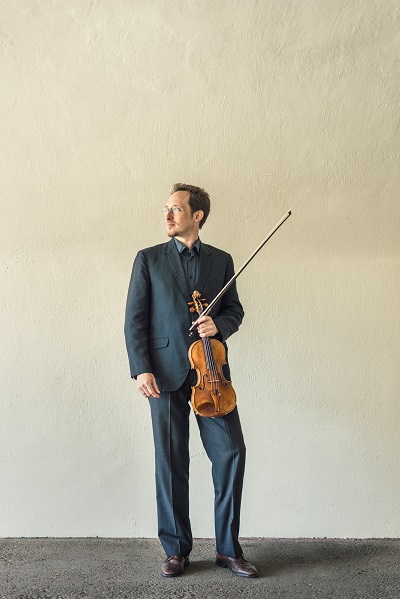 Evan Price is steadily gaining recognition as one of the world's most confident voices in extra-classical string playing. A native of Detroit, MI, his musical background includes some earnest dues-paying in a variety of genres. From square dance bands to string quartets, from jamming with blues bands to busking in Greektown, Evan's youthful pursuits all informed his violin-playing and left him with a deep love of chamber music in all forms. As a young competitive fiddler he won his share of awards, having been named the U.S. Scottish Fiddling Champion, the Kentucky State Fiddle Champion, Canadian Junior Fiddle Champion, and Canadian Novelty Fiddling Champion. He also performed with some of the masters of fiddle lore—Stephane Grappelli, Johnny Frigo, Claude "Fiddler" Williams, Johnny Gimble, Buddy Spicher, and Vassar Clements—as well as a diverse array of pop icons from Stevie Wonder and Led Zeppelin's Jimmy Page and Robert Plant to comedian, Steven Wright.
Evan's college career included stints at both The Cleveland Institute of Music and at Berklee College of Music, and has himself served as a member of the music faculty at Wellesley College, The California Jazz Conservatory, and The University of California, Berkeley.
Evan is a ten-year veteran of the world-renowned, paradigm-shifting jazz ensemble, the Turtle Island Quartet. During his tenure in Turtle Island, Evan gave over five hundred performances in concert venues from Latvia to Australia and had the opportunity to collaborate with many musical luminaries, such as Cuban clarinetist Paquito D'Rivera, The Ying Quartet, pianists Dr. Billy Taylor and Kenny Barron, and classical guitarists, Sergio and Odair Assad. He recorded five CD's with Turtle Island, two of which—"Four + 4" and "A Love Supreme: The Legacy of John Coltrane"—received GRAMMY® awards in 2006 and 2008 in the Classical Crossover category.
Since 1998, Evan has been proud to call himself a member of The Hot Club of San Francisco, perhaps the most venerable gypsy jazz band in the US. During his tenure, the group has thrilled audiences from Iceland to Mexico and across the United States, and has released seven CD's which feature Evan on violin.
An accomplished composer, Evan has contributed compositions and arrangements to the repertoires of HCSF, Turtle Island Quartet, Quartet San Francisco, Irish fiddler Liz Carroll, San Francisco Girls' Chorus, River Oaks String Quartet, the New Century Chamber Orchestra, under the direction of Nadja Salerno-Sonnenberg, Chanticleer, and the International Space Orchestra, for which he also serves as musical director. He lives in Mill Valley, CA, with his wife and daughter.