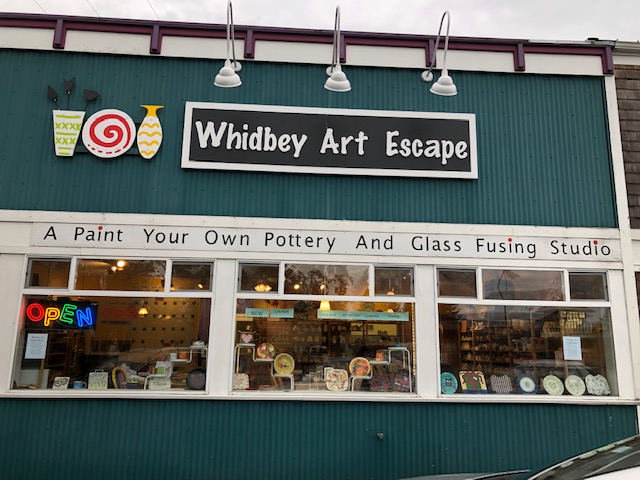 By Carolyn Tamler
Whidbey Art Escape is a contemporary art studio at 1664 E. Main Street in Freeland that allows all ages to explore their creative selves painting pottery or doing glass fusing. Business has been growing, mostly through word-of-mouth.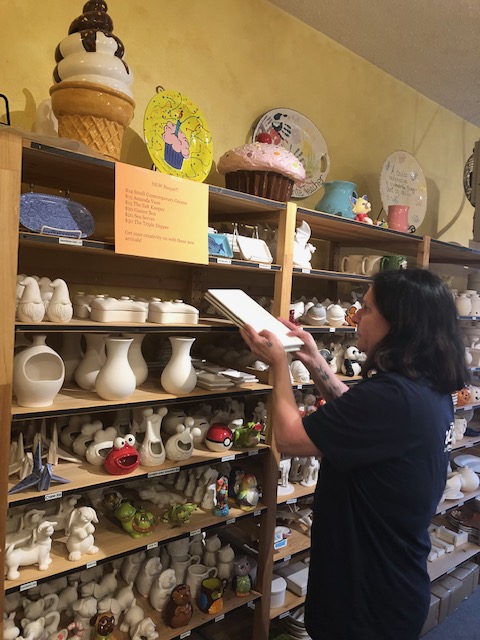 New owner, Carol Evans, was pleased to discover this special business when Tina Beard was looking for someone to continue Whidbey Art Escape after she decided to retire.
Carol found her way to Whidbey, as so many do, by discovering the island on a visit. She came for the Langley Murder Mystery weekend 15 years ago, and realized that this place matched her desire to live in a small community surrounded by water. She had worked in Seattle for 26 years doing management and sales for a large corporation, when she decided to make the move to Whidbey in July of last year. While she was commuting to work in Seattle, she kept driving past the Whidbey Art Escape and she noticed the "For Sale" sign in the window. On a whim, she emailed the owner at the end of November to see if it was still for sale. Tina had just completed all of the paperwork to return the space to the owner. The two women visited on that day and agreed on a purchase price and rental agreement, and Carol took over the ownership of the business on December 15.
One of the lures of Whidbey Art Escape is that it provides a time and place for socializing. Carol notes, "I love that people can be creative, make new friends, and that the Whidbey Art Escape appeals to all ages."

People feel instantly at home when they walk into the cozy, brightly painted studio. "Customers can take their time here. There are no studio fees. I want my customers to be happy with what they're creating," says Carol. The price on an unpainted object includes painting, glazing, and firing in the kiln.
There is also glass fusing, which provides a colorful way to express creativity and is perfect for the person who likes to do puzzles.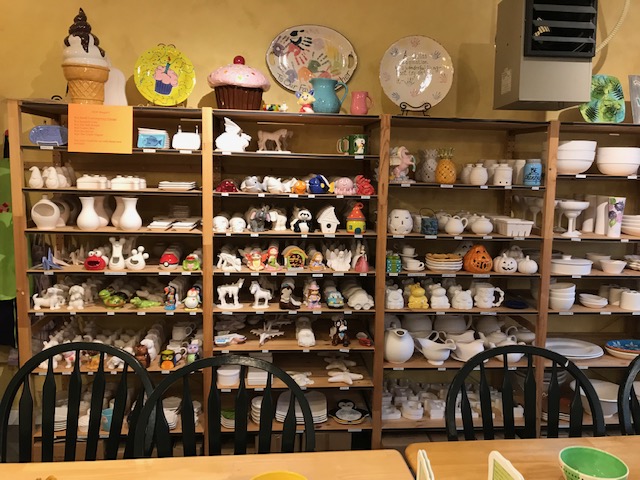 Whidbey Art Escape offers a creative haven for a variety of people. Carol welcomes people of all ages, and encourages people to use the space for meetings and events. She especially enjoys having the studio used for parties commemorating life milestones—baby footprints, birthdays, holidays, family reunions, or anniversaries. Once an art piece is painted, it is left for firing, on a three-day turnaround.
Some of the new elements that Carol is incorporating into her business include:
Larger, more open work space;
Faster turnaround time for completed art projects;
Large supply of things for young children to do while their parents work on their projects;
Carol is open to new ideas for art pieces or types of artwork people would like to do.
She also notes, "We are the only place south of Oak Harbor that provides a studio for this kind of artwork."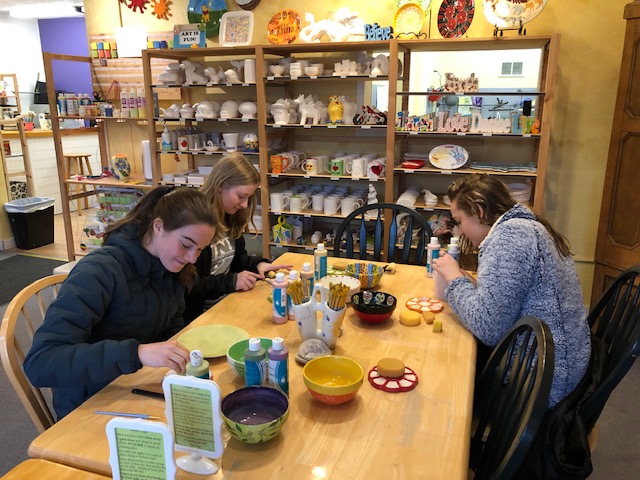 Drop-in customers are welcome during regular business hours, Monday's, Wednesday through Saturday, 11:00 a.m. to 6:00 p.m., Sundays 12:00 p.m. to 5:00 p.m. The studio is closed on Tuesdays. Wednesdays are still Ladies Night, and there are groups of regulars and their friends who show up to paint and socialize until 9 p.m. Groups of eight or more and after hours parties can be arranged by appointment.
A current schedule of classes and more information about Whidbey Art Escape can be found on the web site: www.whidbeyartescape.com , or by calling the store at 360-331-3166. Carol Evans invites people to "Come create your own artistic memories."