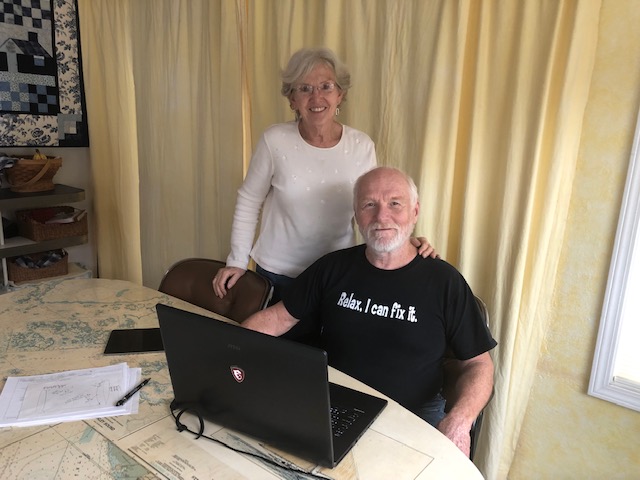 If anyone on Whidbey Island discovers that they need a sewing machine fixed, and they look at the yellow pages or ask friends, the odds are very high they will be told to contact S & J Sewing Machine Services in Greenbank.
Steve and Janet Bondelid have lived most of their lives in Washington, but they also spent four years living in Mexico on a sailboat and in Seattle for a period of time. After they returned from Mexico, they decided they wanted to live on Whidbey Island.
In 1998, the Bondelids moved into their Lagoon Point home, and Janet went to work at Island Fabrics Etc. in Freeland.
Steve's previous work experience was 30 years of consumer electronics repair.
When sewing machines became more electronic and computerized, the result was that a lot of sewing machine technicians decided it was time to retire.
In 2002, Steve became certified by Bernina Sewing Machines as a technician. With his skill set, he soon began working full time at the fabric store doing sewing machine repairs.

In 2008, he was one of a handful of sewing machine technicians paid by Bernina to learn from Swiss engineers how to repair the high end computerized quilting and sewing machines. He then was flown around the country to train other Bernina technicians on the use and repair of those machines.
When Island Fabrics closed, Steve decided to continue the sewing machine repair business working out of his home. S & J Sewing Machine Services has continued to grow ever since.
Janet does quilting and other sewing and supports Steve's sewing machine business. She continues to marvel at her husband's repair skills: "He's always fixing something. When a nervous customer brings in a fancy computerized machine that needs repairs, he points to his T shirt which says 'Relax, I can fix it.'"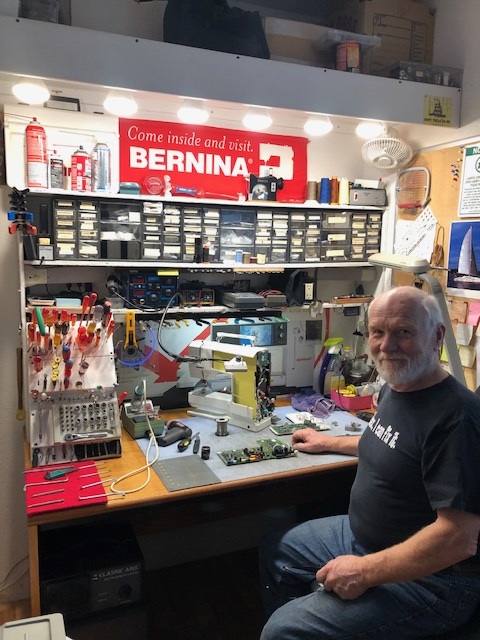 Most of Steve's current customers are returning or have learned about his skills by word-of-mouth. He has had customers coming from Bow, Sedro Wooley, Burlington, the San Juan Islands, Bellingham, Seattle and Bellevue. He even had a customer in Hawaii who found out about him online. The woman in Honolulu tried to find someone locally to fix her machines and couldn't, so she paid $150 shipping both ways plus the electronic repairs that were needed, and was thrilled with the result.
He is a household name on Orcas Island. As an example of how he has built his business, he says, "I once saved a lady on San Juan Island $860 and she told all of her friends about me."
Several customers have posted rave 5-star reviews on Google including one person who said, "If you need your sewing machine serviced, this is the place to go!" and another who commented, "Steve really knows how to repair sewing machines and his prices are better than most of the others."
Steve notes that if someone makes a long trip to his home repair shop, he will do the repair while they wait….and while they go out to lunch or visit with Janet while she makes them a cup of tea.
Steve works on all brands of sewing machines and sergers, but he adds, "I am the only Bernina technician on the island."
Steve says most of the repairs are completed in one to two days. He invites people to visit the website, http://www.sjsewing.com/. Call for a repair appointment, and feel free to call Janet for your sewing questions. 360-222-3182.