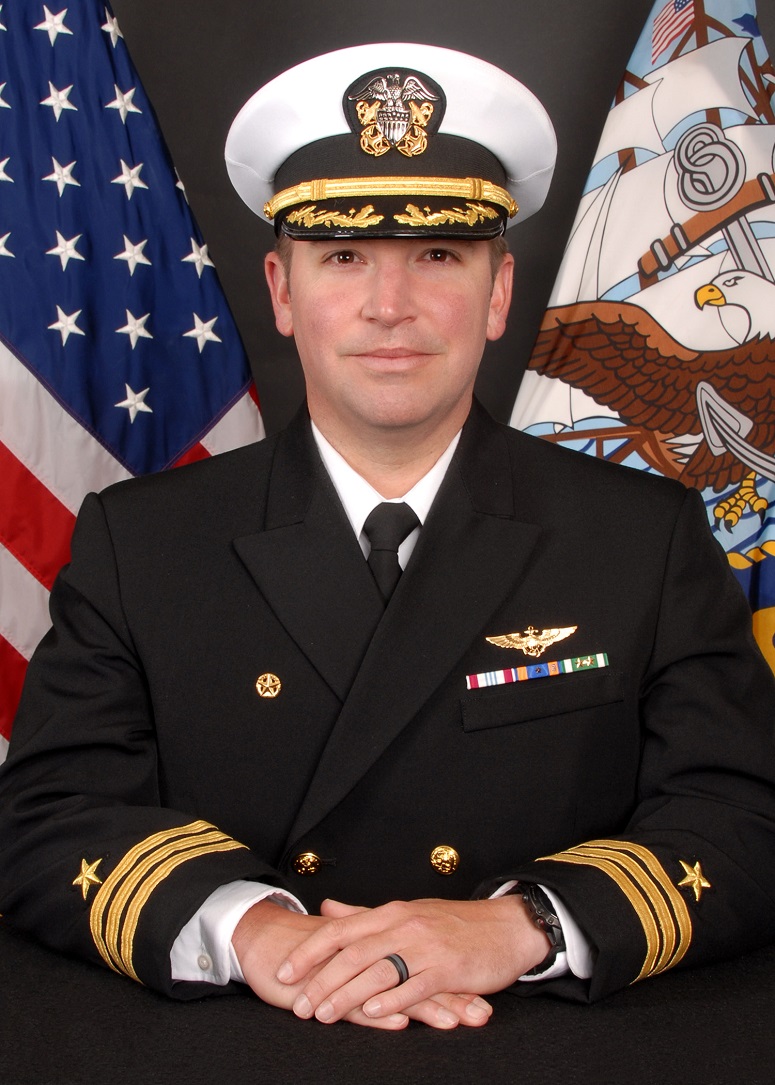 NAVAL AIR STATION WHIDBEY ISLAND, Wash. - The "Zappers" of Electronic Attack Squadron ONE THREE ZERO (VAQ-130) held a change of command ceremony at Naval Air Station Whidbey Island on July 3.
Commander Jack "Farva" Curtis relieved Commander David "Heavy" Ganci as commanding officer Wednesday morning in the squadron's hangar.
Ganci, a 1998 graduate of Elmira College, took command of the Zappers in June 2018. He earned his commission at Officer Candidate School and later began his first fleet tour with VAQ-136. Ganci then became an Electronic Attack Weapons School instructor and, from there, went on to serve as a department head for VAQ-142. He joined the Zappers as the executive officer In October 2016 after a tour at PERS 43 at Navy Personnel Command and after attaining his Master's Degree at the Naval War College. Upon becoming Commanding Officer of VAQ-130, Ganci's leadership from June 2018 to July 2019 helped guide the Zappers to executing over 907 sorties, 1380 flight hours, as well as eight Large Force Strike detachments in support of COMVAQWINGPAC, COMCARWING THREE, USS DWIGHT D. EISENHOWER (CVN 69), and COMCARSTKGRU TEN operations. His commitment to Sailor welfare also resulted in 115 advancements and a 93 percent reenlistment rate. Upon leaving VAQ-130, Cmdr. Ganci will report to the Pentagon to work in the Office of the Secretary of Defense.
Curtis, a 2000 graduate of University of Florida, earned his commission through the Naval Reserve Officer Training Corps and joined the Zappers in 2018 after a tour at the Missile Defense Agency at Schriever AFB in Colorado Springs, CO. Following his first fleet tour with VAQ-141, Curtis became an instructor at the Fleet Replacement Squadron, VAQ-129. Upon completion of the instructor tour, he served as the Staff LSO and Safety Officer for COMCARWING NINE where he completed a WESTPAC deployment aboard USS JOHN C. STENNIS (CVN 64). In March 2013, he reported to the Naval War College in Newport, RI where he earned a Master's Degree in National Security and Strategic Studies. Curtis was thrilled to take command of the Zappers and will lead them through a work up cycle and into their next deployment. Commander Benjamin "Maggie" Cooper assumed the duties as the squadron's executive officer.
VAQ-130 is part of the Eisenhower Carrier Strike Group (Ike CSG), which is comprised of the Ike (CVN-69), CSG-10 staff, the squadrons and staff of CVW-3, and Destroyer Squadron (DESRON) 26 staff and accompanying guided-missile destroyers USS Stout (DDG 55), USS McFaul (DDG 74) and USS Oscar Austin (DDG 79), and guided-missile cruisers USS San Jacinto (CG 56) and USS Monterey (CG 61).