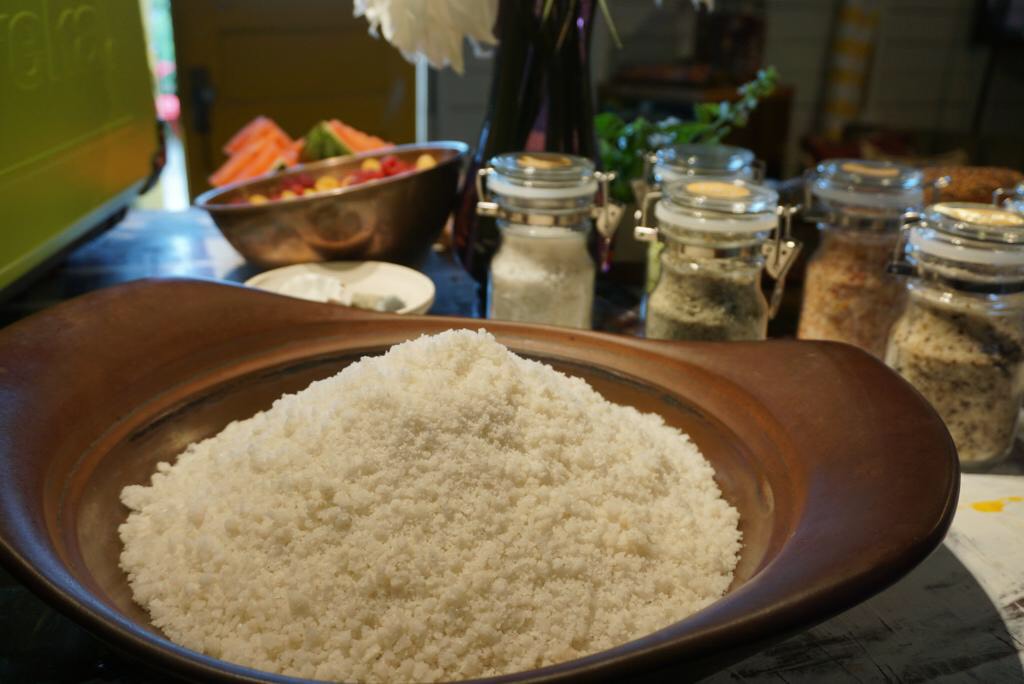 When Kim Gruetter began doing research on salt and how to develop and market a business selling salt, her family thought it was a joke. But she was looking for a way to be self-sufficient on Whidbey Island, and the more she did the research the more she realized the potential…that evolved to "Salty Acres."
The Salty Acres business was started in summer 2018. As word has spread, the business has grown significantly. They currently sell to restaurants and participate in the Coupeville Farmers Market in the summer. A growing number of visitors to the farm has increased awareness of their salt and salt products. They also provide salt to Captain Whidbey Inn and other restaurants. Articles about Salty Acres have appeared in Sunset Magazine, Conde Nast, and Vogue, as well as the local Whidbey newspapers.
Kim and her husband, Paul, had lived in the Portland Area for several years when a daughter and son-in-law invited them to come for a visit at their home on Penn Cove. They decided they wanted to live on the island and began looking for ways they could create a business on Whidbey.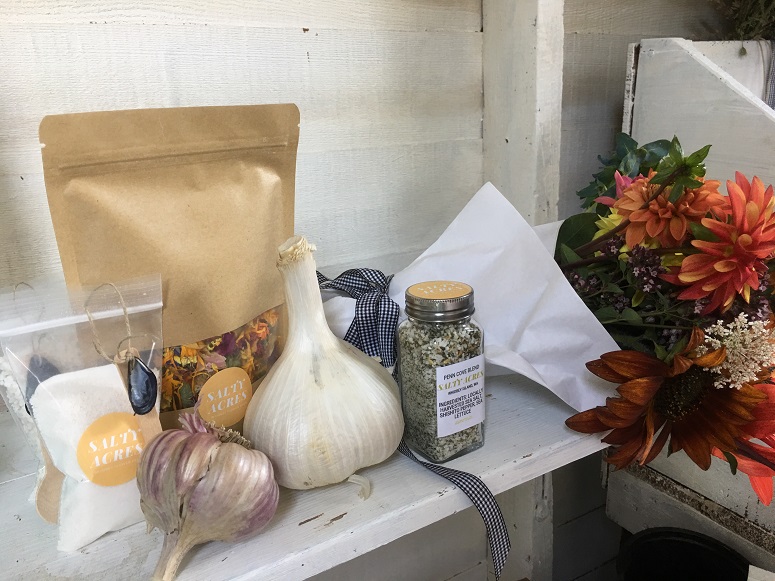 They thought about selling flowers and produce at the Farmer's Market in Coupeville. Then, Kim became fascinated with idea of collecting and selling salt. Living near Penn Cove, she tested its water for salinity and clarity. The Salty Acres farm, is across from Mussel Flats. Kim points out that mussels filter the water and so provide the first step in the process of obtaining salt that can be processed for everyday use.
Kim says that she enjoys taking classes to learn new things. There were no classes on salt, so she did her research wherever she could: on YouTube, watching every video she could. She also read every article she could find on the subject. The more she researched it, the more fascinated she became with finding ways to pull salt from the water and turn it into a saleable product. As she continued her research, she learned that no one else on Whidbey had thought of this idea. She wanted to create a business that would allow her to become self-sufficient
She learned that selling salt on Whidbey had a lot of potential for being a productive business. Her process involves using 12 gallons of water to create two pounds of salt and takes about eight to 10 hours.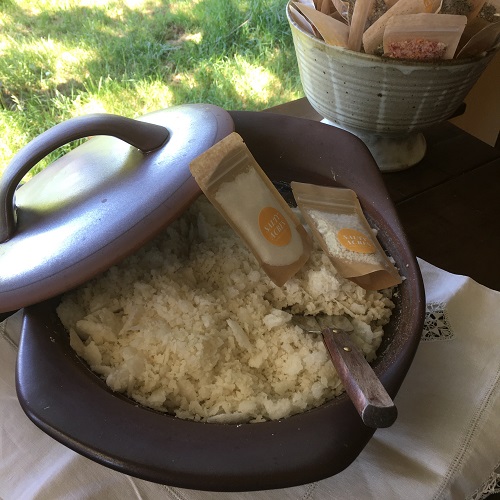 She also learned that there is a lot you can do to add to the taste of salt. The Salty Acres products at this time include salts flavored with edible flowers (all kinds) and herbs (such as basil, plus other herbal blends).
Her husband, Paul, became a partner with her in the business, although he describes himself as "Just a farmhand." Kim counters and says, "He's the tail for my rocket."
Kim and Paul invite people to come for a visit to the Salty Acres Farm. Give them a call at (503) 997-0714 before coming to 1764 Penn Cove Road Oak Harbor WA United States 98277
For more information, check their website: https://www.saltyacresfarm.com/