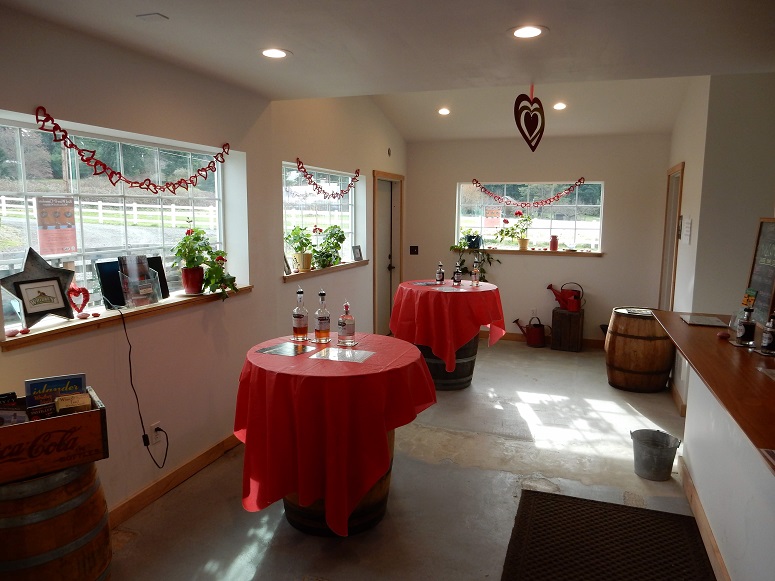 Stock up on your favorite Mutiny Bay Distillery products during the May Pandemic Specials: 25% off all distillery products.
Curbside pickup by appointment within Washington.
JUST RELEASED for spring and summer: Mutiny Bay Vodka, 750 ml.
Rod and Kathy Stallman decided several years before retiring that they wanted to have a "retirement business" that was creative and interesting when they finished working as pharmacists. Mutiny Bay Distillery, started in 2011, is the culmination of their vision. In 2017 their son, Scott, came to work for them, making it a family business.
After six years of remodeling an unused horse barn, learning how to make whiskey and putting it down in barrels for aging, in May 2017 the first bottles of Mutiny Bay Distillery whiskeys became available for purchase at their tasting room and in several stores on Whidbey Island. Rod says, "We wanted to sell whiskey that was aged to perfection after being in barrels for several years, and we didn't want to open our doors for sales until we had an aged whiskey ready to sell."
The first whiskey they offered was the 3-year "Palouse Gold," wheat whiskey (the first aged whiskey to be made on Whidbey Island), followed by their triple-distilled "Bayside" wheat whiskey and "Sweet Lulu" whiskey liqueur. The latter is unique – a liqueur that captures the traditional whiskey flavors from the grain and the barrel, but is sweeter and lower alcohol than a whiskey. The Stallmans refer to it as "the whiskey for people who don't like whiskey, plus it makes a great cocktail."
In the summer of 2018 they released a Blueberry Liqueur made with local blueberries from Mutiny Bay Blues, and Coffee Liqueur made with locally blended and roasted coffee from Useless Bay Coffee Company. "Straight Gin" came out in 2019 and has gained a following with its unique dry/sweet botanical mix and just the right amount of juniper. In spring of 2020 Mutiny Bay Vodka was released: a smooth medium bodied vodka providing a perfect palette for martinis and your favorite mixed cocktails.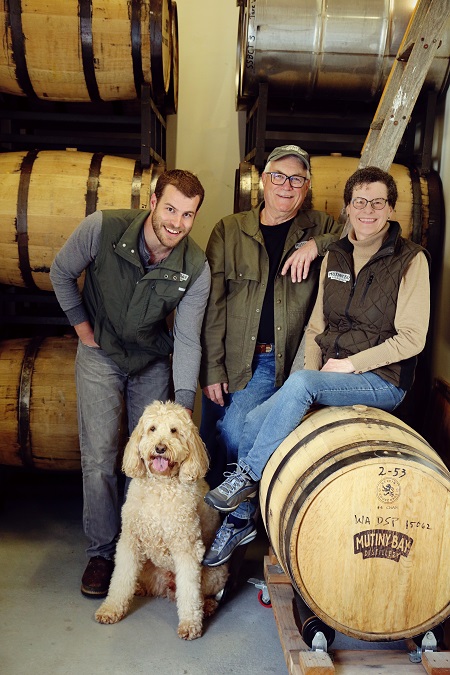 The Stallmans believe in the uniqueness of their products. Rod describes distilled spirits production as a "unique mix of science and art, with every step of our production being done the slow, hard way, by hand". Kathy explains, "These days it is becoming harder to find distilleries that hand-make their products from scratch the way we do." She adds, "We love sharing our small-batch process with interested customers."
The Stallmans' vision for Mutiny Bay Distillery is to continue to make small batches using aged liquor. They are keeping their prices competitive with other craft distilleries. They hope to expand their production, but not at the expense of their hand-made, small-batch quality. They want to be socially responsible as well, buying from local suppliers and recycling the water, grain and heat used in the manufacture of the products. Their spent grain is given to the farmer down the road for his pigs, and they are working on other ways to have their spent ingredients recycled and used for fertilizers and other purposes.
The summer of 2019 brought an expansion of the tasting room and a new barrel storage area, plus outside seating that will be used for tasting and cocktails starting mid-June or when the Covid-19 phase allows reopening.
Currently Mutiny Bay whiskeys and liqueurs can be purchased with curbside pickup at the distillery at 5490 Cameron Road, Freeland or shipped in Washington. Call Kathy at 360-331-3797 or email Kathy@mutinybaydistillery.com. See the website mutinybaydistillery.com for local retailers on Whidbey Island. For out of state purchases please visit highspiritsliquor.com.