Welcome to Whidbey Island! Our beautiful island is surrounded by the grandeur of emerald green forests and the expansive waters of Puget Sound. It's the perfect place to take a tour around the island on a power or sail boat, or even paddle a kayak. You might just catch the wondrous sight of whales frolicking, or eagles soaring!
A number of companies offer guided tours…. some for a few hours, some for the day, and one that offers multiple day sailing excursions.
You'll find details on these companies below.
Penn Cove Sailing

Imagine sailing under world famous Deception Pass, stopping to anchor and explore a deserted island with a picnic lunch, and docking in a picturesque resort marina for dinner and a little boutique shopping. And it's all your choice: marina or secluded cove, a custom built itinerary, and every detail considered to make Andiamo your home away from home. Andiamo is a Catalina Morgan 440, fully equipped with everything to make your stay ultra comfortable and relaxing, and we will create your unique itinerary specific to your tastes and needs.
Find information about sailing classes and more by visiting us HERE
Mystic Sea Charters

Mysterious in mist or sparkling in sunshine, the Puget Sound and San Juan Islands are always changing and always beautiful. Come aboard the classic 100ft. Mystic Sea for our guaranteed whale watch and wildlife cruise and enjoy a fun and relaxing day on the water.
Learn about the history, lore, and hidden nooks of this unique area from our friendly and knowledgeable crew, and make memories for a lifetime!
We explore 80-90 miles on our Orca whale watch cruises and have a spectacular array of wildlife that migrate into these calm waters at various times and stages throughout the year; everything from Bald Eagles and Puffins, to White Sided Dall's Porpoise and Alaskan Steller Sea Lions. We have several different types of whales in addition to the 86+ Resident Orcas, including Minkes, Humpbacks, Gray Whales, and Transient Orcas . . . the true 'killer whale'! Give us a call today or click HERE for Reservations and Information
Whidbey Island Kayaking Company
The Whidbey Island Kayaking Company is a kayaking tour and rental company based on beautiful Whidbey Island, Washington. This year we celebrate our 13 year anniversary providing guided sea kayak tours in the waters around Whidbey Island. We are also pleased to offer paddle board rentals and bike tours. Visit our website for

MORE
Serving Whidbey Island, including Langley, Clinton & Freelan

d
For Reservations: 800-233-4319~

info@whidbeyislandkayaking.com
Deception Pass Tours (Whale Watching)

Captain Brett is a
U.S. Coast Guard certified captain and would like to share this exciting and picturesque setting with you, while exploring the shores and waters of the surrounding area. Take a unique ride on a seated open deck boat and enjoy a 360° unobstructed view as we pass through the waters of Deception Pass on a one hour tour. Also, look for wildlife such as bald eagles, seals, porpoises and maybe an occasional whale. We may not have Nessee or Champ, but we have the world's largest Pacific Octopus. Learn the tales of characters who navigated these waters and the splendor of this National Historic Landmark.

Click Here



5596 SR 20, Anacortes, WA 98221
888-909-TOURS (8687)
Island Adventures




Because of our very high success
rate, Island Adventures was one of the first and only companies to guarantee whale sightings on every tour—but it's our team of highly qualified crew that will make your trip unforgettable! We boast over 100 years of combined experience in the islands, over 6,250 wildlife tours conducted, and have led excursions for over 240,000 satisfied guests. For more information and to schedule your Whale Watching adverture visit us

HERE
Whidbey Island Charters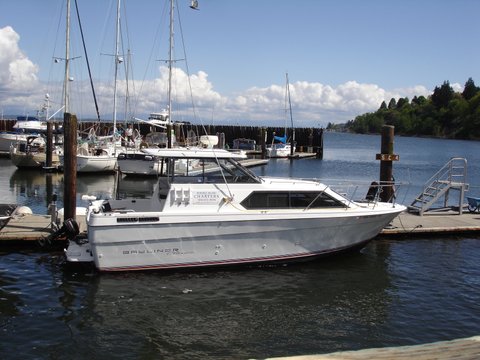 Whidbey Island Charters will be celebrating the launch of Whidbey's first boutique charter boat dedicated to custom leisure cruising. Our professionally maintained 30 foot Bayliner can take you and your guests to Deception Pass, Coupevile, Mukilteo and downtown Seattle. Anywhere you want to cruise! All of our skippers are local
s with years of experience. Whidbey Island Charters is located at the newly expanded Port of South Whidbey Harbor at the Langley Marina located at 228 Wharf Street in Langley, Washington.
Offers custom leisure cruising for up to 6 guests.
Call to book your custom cruise today
1/2 day, 4 hours $650
Full day, 8 hours $995
Linnea Freed Hess
Whidbey Island Venues and Charters
360.632.3636
Cedar Wave Maritime Heritage

Intimate Luxury Charters & Private Custom Cruises on Classic Wooden Yachts
You are cordially invited to exper
ience a uniquely Northwest tradition aboard a classic wooden yacht cruising the pristine waters of Puget Sound and Lake Washington. We provide old fashioned picnic tours and leisure sight seeing cruises around Seattle and the Islands of Puget Sound. Step back in time and indulge yourself and your friends with a unique private charter boat adventure reminiscent of the early days of yachting.
"You will most likely not find a more perfect and relaxing escape for couples and small groups in Seattle".

Visit our website for more


- Puget Sound Magazine