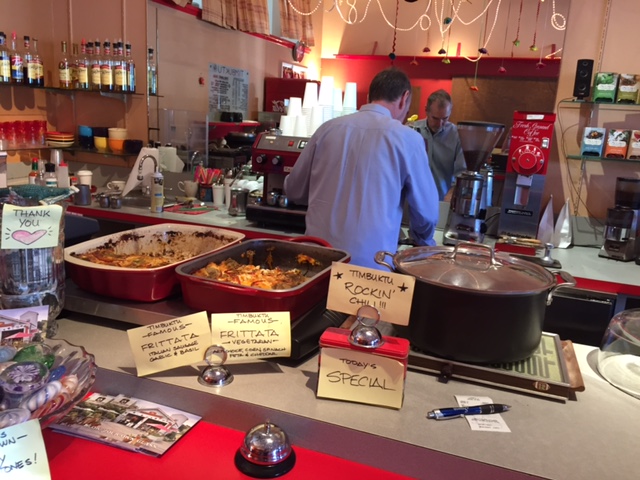 By Carolyn Tamler
Lauryn Taylor and Chris Jacobs became the owners of the former 1504 Coffee Shop in October 2010. In the past five years, they have created a unique business that draws in the locals, as well as those driving by on Highway 525 who wonder what Timbuktu offers. Lauryn and Chris have created a vibrant atmosphere to match the name, "Timbuktu," which was once known as an exotic crossroads of civilization, trade and commerce.
Lauryn was trained at the Cleveland Institute of Art and owned the Lauryn Taylor Gallery in Carmel, California. Lauryn's work is on display at Timbuktu as well as in her studio/workshop space in the Old Bayview School in Langley.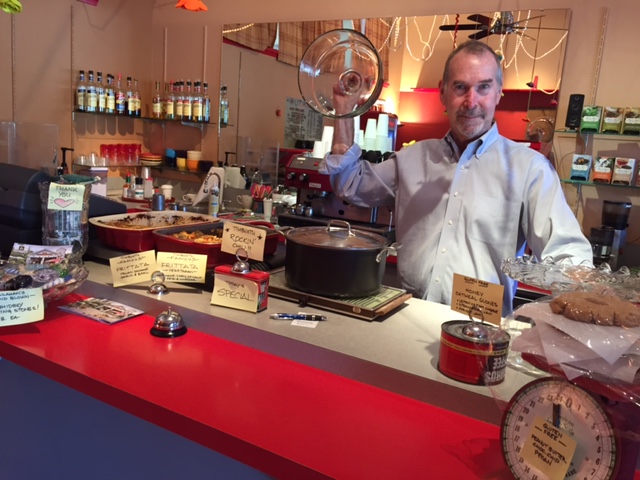 Chris Jacobs has over 20 years of experience with the food and hospitality industry, having managed several premier restaurants in California. He holds a degree in hospitality services from Cal Poly Pomona.
Lauryn and Chris complement each other as a team. Lauryn brings creativity to the business through menu development, marketing, and maintaining an artful atmosphere, while Chris handles operations as cook, barista, and facilities manager. Chris often says "Lauryn's the founder and I'm the grounder."
Lauryn believes there are several aspects to the business that are responsible for a growing customer base, including offering a diverse menu and an inviting, fun atmosphere that immerses the customer in a total sensory food and beverage experience.
One of the distinctive qualities of Timbuktu is that everything is made from scratch on the premises. When customers enter the shop they are met with the aroma of freshly made baked goods and the sight of hot frittatas, fresh out of the oven.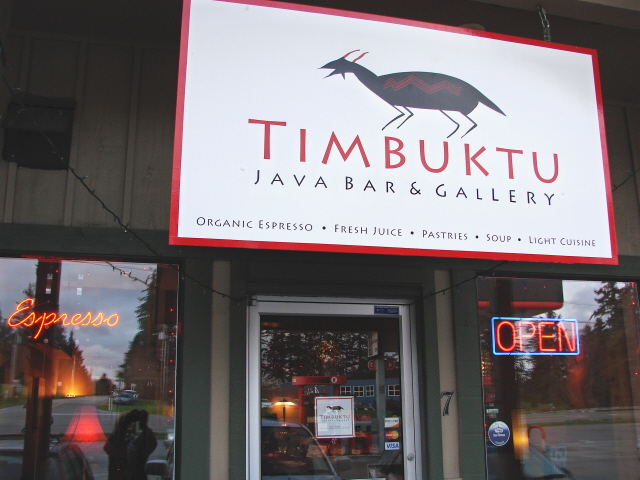 The extensive menu includes Italian sausage and veggie frittatas that are the talk of the island, paninis, delicious pastries, and an extensive menu of gluten-free food and soups. Of course, there are all of the beverages that people expect from a quality coffee shop including organic/fair-trade coffee and espresso drinks, assorted teas, Italian sodas, fresh fruit smoothies, blended and iced coffee beverages and hot chocolate.
Special features at Timbuktu:
Daily specials handcrafted by Christhat include: Rockin' Chili, gluten-free Chicken Pesto Pasta, gluten-free Mediterranean Chicken with Brown Rice, and Mixed Berry / Mango Stuffed French Toast.
Take out menu applies to the entire menu for breakfast, lunch and dinner; all designed to be take out friendly.
Catering: Everything on the menu is offered for small group catering, including gluten-free and vegetarian selections.
Timbuktu Java Cafe is located at 18205 SR 525 (just north of the Freeland signal). Hours are 7:00 a.m. to 5:00 p.m., Monday through Saturday, and 7:00 a.m. to 4:00 p.m. on Sunday. Phone ahead to learn about the daily specials or to order take out: 360-331-1504.