WHIDBEY ISLAND FARMERS MARKETS
SUPPORTING OUR LOCAL FARM COMMUNITY
Whidbey Island is home to many farms that together produce a fabulous array of fresh, locally grown fruits and produce. Add in the creative works of local artisans, and you have a vibrant gathering of eatables, products and gifts at farmers markets from Clinton to Oak Harbor. Here is a list of Farmer's Markets Events on Whidbey Island. Click Here for the Whidbey Island Farm Stands and Farm Store Directory.
---
BAYVIEW
Bayview Farmers Market
Every Saturday from April through October 10AM-2:00PM
Hwy 525 at Bayview Road, Langley
CLICK HERE FOR MORE INFORMATION
---
CLINTON
Clinton Thursday Market
Every Thursday through July 28th 4:00pm-7:30pm
6315 Storkson Dr, (behind the Dairy Queen)
---
COUPEVILLE

Coupeville Farmers Market

Every Saturday from April-October 10:00am-2:00pm

Alexander and 8th St., Coupeville
---
GREENBANK

Greenbank Farmers Market

Every Sunday from May-October 11:00am-3:00pm

765 Wonn Rd, Greenbank (Greenbank Farm)
---
LANGLEY
Langley Second Street Market
Every Friday from June-September 3:00pm-7:00pm
2nd Street in Downtown Langley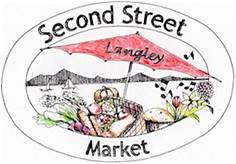 Fridays from 2 to 6 p.m.
through September 30
Second Street Market in downtown Langley offers a European-style market, including several local produce and flower farmers, soap makers, artists, jewelers, baked goods, food by Dorcas of Lesedi Farm, and musicians.
---
OAK HARBOR
Oak Harbor Farmers Market, next to the Oak Harbor Chamber
Every Thursday from May-September 4:00pm-7:00pm
32630 State Route 20, Oak Harbor (Next to the OH Chamber Office)
CLICK HERE FOR MORE INFORMATION
---
SOUTH WHIDBEY TILTH FARMERS MARKET
Tilth Farmers Market
Every Sunday from May-October 11:00am-2:00pm
State Route 525 at Thompson Road, Langley
CLICK HERE FOR MORE INFORMATION
---
Whidbey Island Roadside Farm Stand and Farm Store Directory