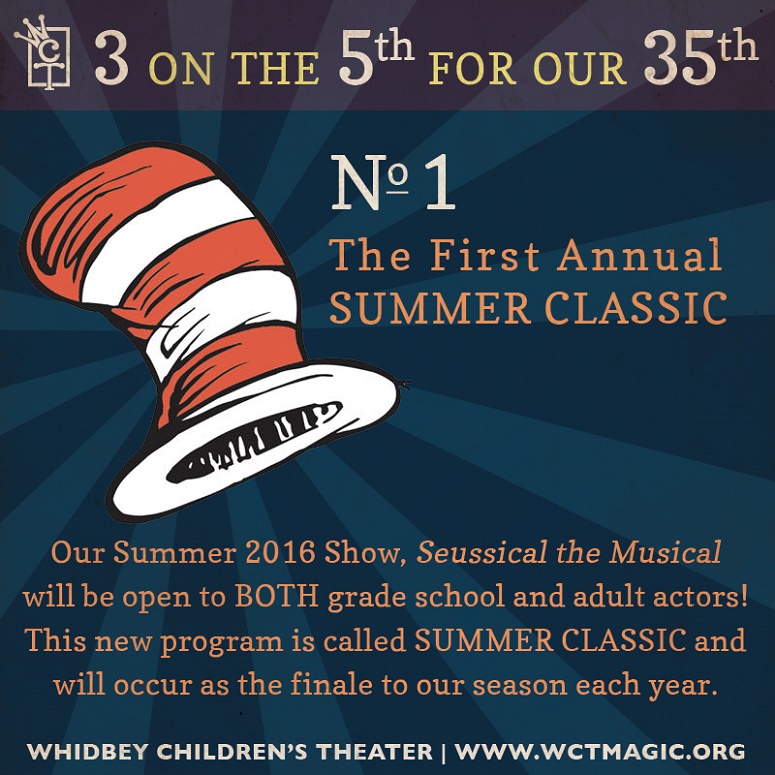 Seussical the Musical, the Summer 2016 show of WCT's "A Season to Remember" will be the inaugural production of the newest Whidbey Children's Theater program, Summer Classic.
Seussical will open Thursday, July 28 and run through Sunday, August 7th and is dedicated to the Theater's Tech Director, Rod Stewart for his many years of generous devotion.
The annual Summer Classic program will run with a different production each summer as a revival of the family-oriented, mixed-age productions from WCT's history. An exclusive number of "adult" registration slots are available to WCT Alum, parents, guardians, and community members.
This year's Summer Classic production, Seussical the Musical, begins rehearsals after Memorial Day for three days a week. Registration for Seussical the Musical begins Wednesday, February 24th at 10:00 am and is available online, by phone, and in person at Whidbey Children's Theater. Registration is open to grades 3 - 12 and an exclusive number of adult roles will also be available. More details will be announced at the beginning of February. Visit our website for more information
Executive Director, Cait Cassée says of the new program, "It is feels both satisfying and exhilarating to bring back this slice of WCT's past. For years, WCT brought families together on stage to share the experiences—the fun and camaraderie—of theater. We are really looking forward to raising our curtains for a reprise of that magic!"

The announcement comes as the first of three announcements in celebration of WCT's 35th Anniversary. Two more announcements are schedule for Wednesday and Thursday, January 6th and 7th.

"This year, 2016, is our 35th Anniversary year. It is especially exciting to introduce this program that is so directly inspired by our past at this time." added Kathryn Lynn Morgen, Program & Production Manager of Whidbey Children's Theater. Morgen developed the Summer Classic with Executive Director Cait Cassée, with inspiration from WCT Alum Family Member, Melinda Mack.
Morgen continued, "The Summer Classic is still a part of our season, but with a sort of specialty added. Once a year, we get to invite alum, community members, and the adults in the lives of our actors to experience that magic of theater alongside our youth actors. It will be an invaluable experience for our year-round actors who are used to sharing the stage with their peers. Now they get to share the stage with mentors and in some cases, their parents and guardians!"
For more information, contact Whidbey Children's Theater
Via Email: contact.wct@gail.com
By Phone: 360.221.8707
In Person: 723 Camano Avenue, Langley, WA 98260
Whidbey Children's Theater is a 501c3 non-profit arts organization providing training for youth in the performing arts for 35 years.