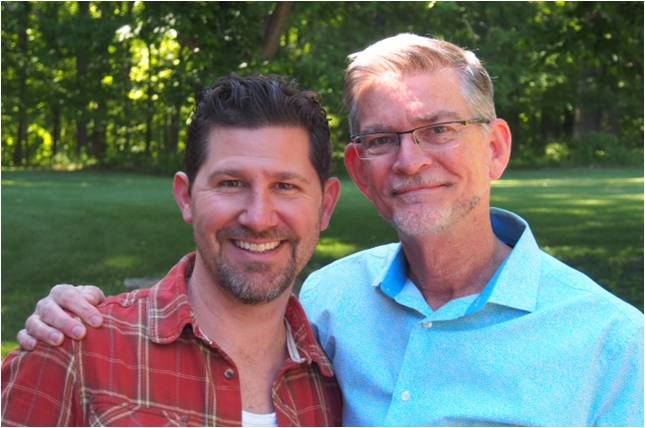 Eric Mulholland (left) and Charlie Murphy (right)
Eric Mulholland and Andrew Grenier will be doing a staged reading of the acclaimed "Tuesdays with Morrie" on the Whidbey Island Center for the Arts (WICA) mainstage, Sunday, January 17th at 3 p.m. All proceeds will go to the Charlie Murphy Healing Fund to help him in his battle against ALS (amyotrophic lateral sclerosis, also known as Lou Gehrig 's disease).
"Tuesdays with Morrie" by Mitch Albom was on the New York Times Non-Fiction Best Sellers list for four years, and is one of the best-selling memoirs of all time. The book chronicles Albom's rekindled friendship with Morrie Schwartz, a Brandeis University sociology professor from whom Albom took classes in the late 1970s. Albom was moved to seek out his former teacher 16 years after receiving his diploma when he learned Schwartz had been diagnosed with ALS (also known as Lou Gehrig's disease). Albom's book inspired a 1999 TV movie starring Jack Lemmon and Hank Azaria and a 2002 stage adaptation, coauthored by Albom and Jeffrey Hatcher.
"TUESDAYS WITH MORRIE" is a magical recounting of the time Albom spent with Schwartz, and it provides a lasting gift of the ideas and visions of Schwartz. The book has sold more than 15 million copies in more than 50 editions around the world.
Charlie Murphy, a long-time resident of Whidbey Island, is a creative force around the globe He co-founded with Peggy Taylor "Power of Hope: Youth Empowerment through the Arts." Its regional camps and workshops have spurred youth development in the U.S. and Canada for the past 20 years. He and Peggy Taylor also co-founded PYE Global (Partners for Youth Empowerment) providing programs that teach people to work with youth in more creative ways.
He is also an accomplished singer/songwriter, facilitator and someone with a deep passion for life.
The staged reading with Eric Mulholland and Grenier is directed by Deana Duncan. Tickets for the show are $25. A special pre-show for $100 includes a glass of wine and a chance to mingle. For tickets, go to WICAonline.org or call the box office at 360-221-8268. To contribute to the Charlie Murphy Healing Fund, go to youcaring.com, https://www.youcaring.com/charlie-murphy-361893/donate#wp.