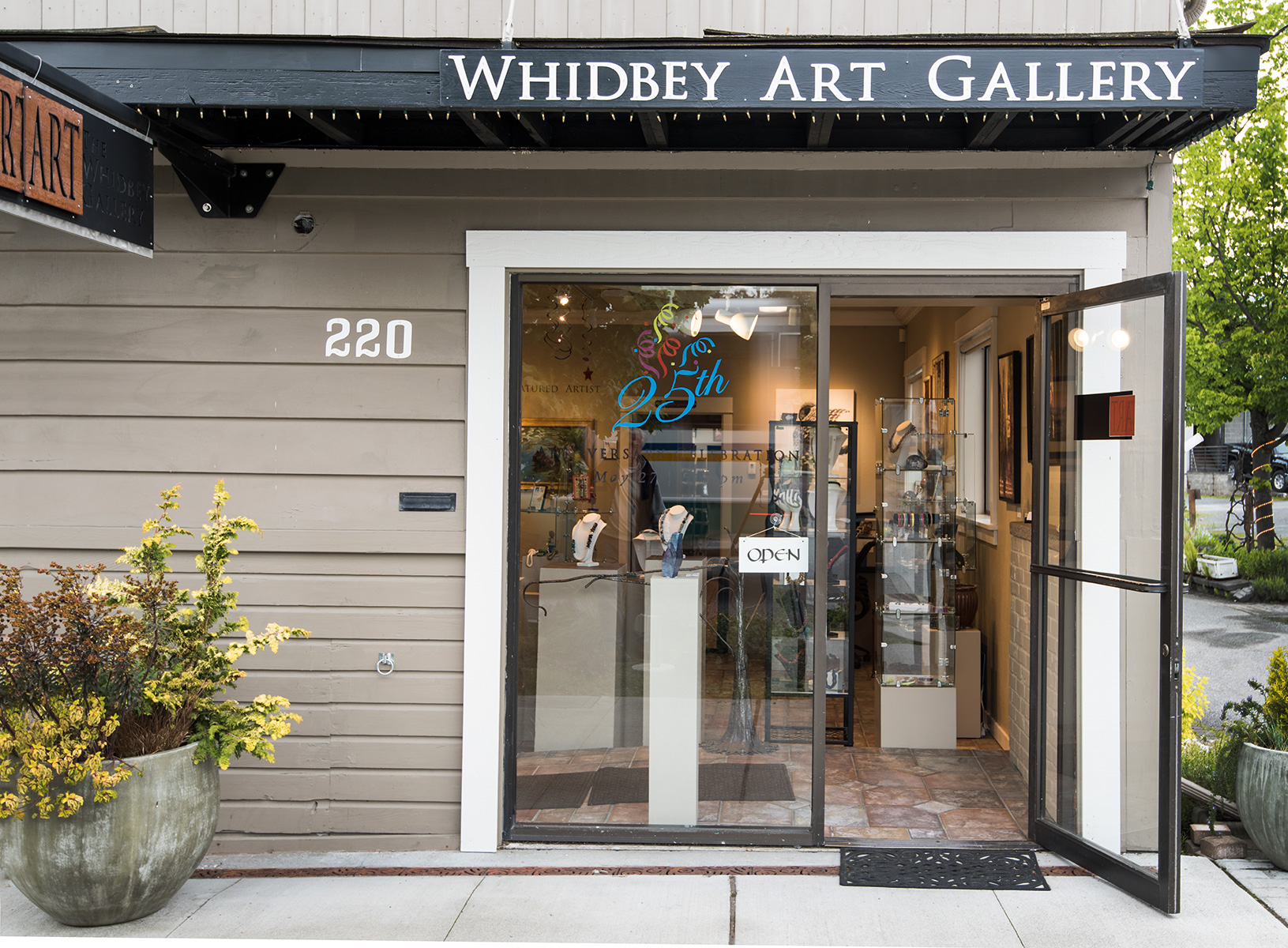 By Carolyn Tamler
The Artist-Owned Whidbey Art Gallery in Langley is celebrating its 25th Year
Whidbey Art Gallery owes its beginnings to Paul Schell, who built the Inn at Langley. In 1992, Schell approached Moe Jerome and asked if he could create an art space nearby that visitors would enjoy touring. Before Music for the Eyes opened next to the Inn, the Artists' Cooperative Gallery (which became the Whidbey Art Gallery) was located there. In 2008, the economy tanked and the retail operation was closed, but the artists still did exhibiting wherever they could.
| | | |
| --- | --- | --- |
| In 2011, as the economy began to rebound. The Whidbey Art Gallery moved into its current location at 220 Second Street in Langley. The gallery originally occupied three rooms in the space, but now the cooperative has all five rooms, and is home to 37 artists offering a wide variety of artistic creations. | | |
Whidbey Art Gallery is a great place to shop for lovely gifts for yourself or others. The gallery offers a variety of art mediums including oils, watercolors, acrylic, pastel, printmaking, photography, glass, sculpture, metal, mixed media, textures/fiber, jewelry, ceramics/stoneware, wood and sumi art and more. Shoppers can choose from beautiful cards that sell for just $4 each or select a unique work of art selling for $4,000 or more. The Gallery also has the only outside sculpture garden in Langley
Many of the artists who first came together in 1992 are still participating in the Whidbey Art Gallery. Moe Jerome, one of the founding members and a highly regarded oil painter, believes that working with other artists is a "growth experience." Tom Hanify, who is the Marketing Manager for the gallery agrees and adds, "I love being influenced by others; I get inspired by what I see."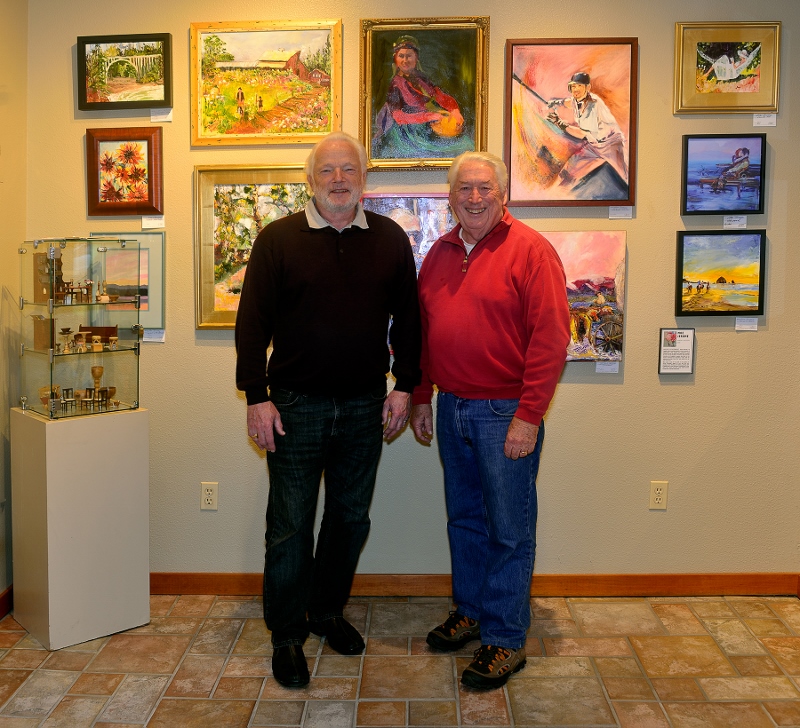 The two men are typical of many of the artists on Whidbey who had other occupations before arriving on the island. Jerome worked in management for Albertson's for 42 years, while pursuing a private passion for working with watercolors. In 1995 turned professional and became actively involved in promoting what was then the Artists Cooperative Gallery in Langley.
Tom Hanify was in computer sales. He tells the story of driving across Deception Pass 11 years ago and noticing the gorgeous colors on the rocks at sunset. He suddenly became compelled to invest in a camera to capture these kinds of moments
| | | |
| --- | --- | --- |
| | | Nancy Duncan, an exceptional digital photographer, is on the Marketing Committee and she has been impressed with the caliber of the artists who share in the gallery. A juried selection process determines the regular and guest artists. Duncan especially appreciates the friendly atmosphere of the gallery: "This is a community for us to come and gather. We help and support each other." |
Since its inception, over 160 local artists have collectively owned and operated the gallery. It has been a policy from the beginning that only local artists could be in the gallery. Each member is required to work three to four half-shifts per month. Members pay a small percentage of their earnings and consignment artists pay 30% of their sales to the gallery, Exhibits are refreshed monthly by the addition of Guest Artists.
Whidbey Art Gallery is open seven days a week, from 10:00 a.m. to 5:00 p.m., and on the First Saturday Art Walk each month until 7:00 p.m.
For more information about the Gallery, the artists in residence and featured artists, visit the website: http://www.whidbeyartists.com/, or give the gallery a call: 360-221-7675.
---
Come Join the Celebration: Whidbey Art Gallery's 25th Anniversary
Saturday, May 27th, noon to 8:00 p.m.
Three musical artists will perform throughout the day and evening including
Don Wodjenski, Talia Marcus and Kammy Yedor.
Frick Lane will be closed and a dozen "Artists in Action" will be featured including
painters, jewelers, a calligrapher and digital camera demonstrations.
Refreshments will be served all day; wine will be served beginning at 5:00 p.m.
Also on Saturday: 25 items for $1 each while they last
---