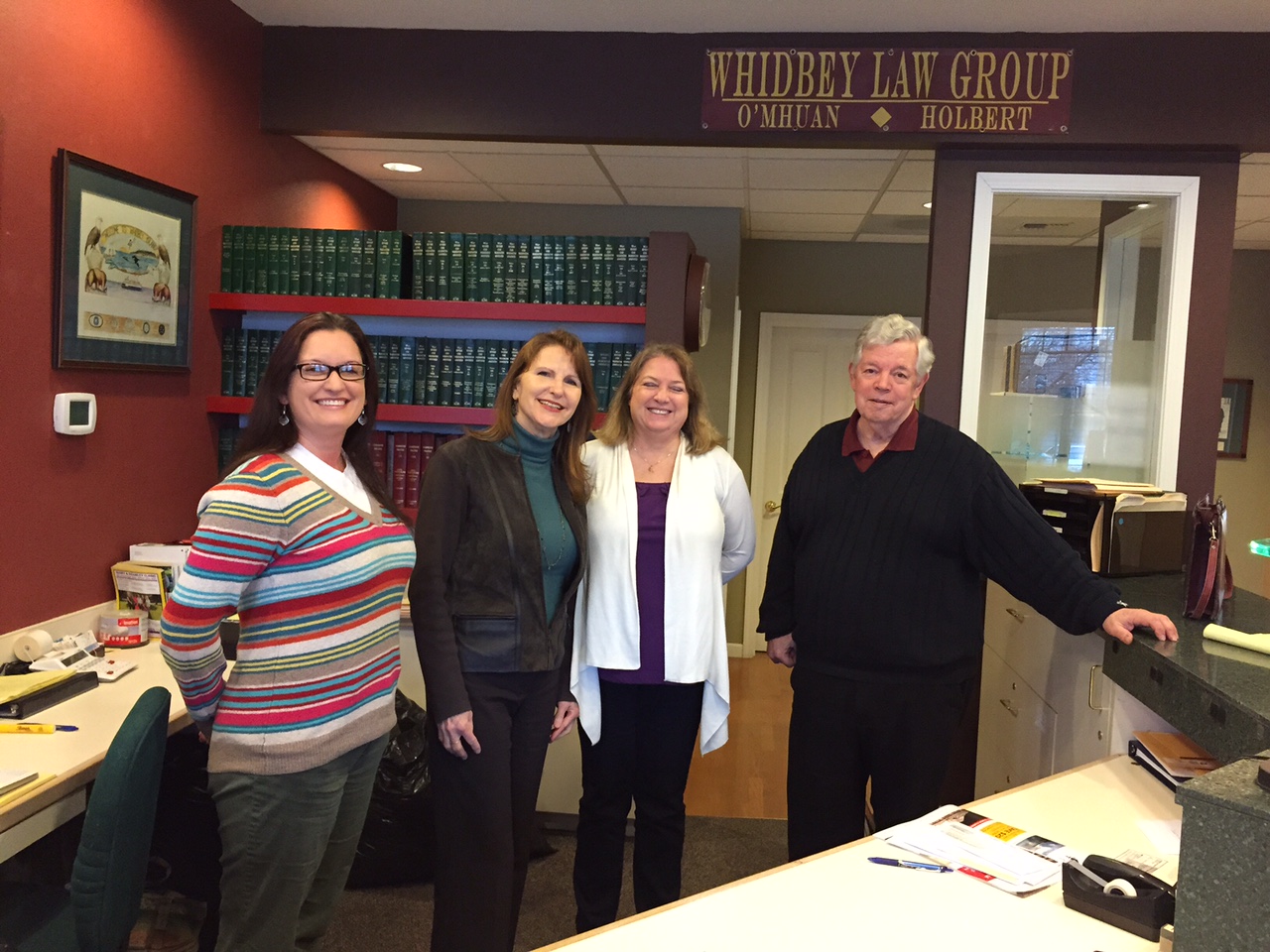 The members of the firm: Amanda May, Linda King, Deborah Holbert and Ken O'Mhuan
By Carolyn Tamler
Ken O'Mhuan has been an attorney for over 40 years and has had a law practice on Whidbey Island since 1995. He studied law at the University of Chicago and Gonzaga University, graduating magna cum laude and with honors as a law review editor. He began practice at the Washington Supreme Court from 1968 – 1972 and then moved on to serve as senior counsel with the House Judiciary and Constitution Committees where he worked on the new probate code and many other laws.
Ten years into his practice in Olympia, Ken encountered medical challenges from a brain aneurism and epilepsy. His recovery process led him to the Whidbey Island community. With the added help of the University of Washington hospital and law school, he was able to return to a the practice of law which he started on Whidbey.
Linda King showing some of the law library

In his practice, Ken is helping train paralegals and legal assistants and is providing a path for people who want to become practicing attorneys. He met Deborah Holbert in 2009, and she seemed like a perfect fit for the office. Deborah joined the O'Mhuan Law Offices as a legal assistant in 2009, and in November 2011 she became an associate of the Law Offices after passing the Washington State Bar Exam.

Deborah graduated from the University of California, Davis in 1980 with a degree in Economics and was a practicing economist for the government and a private consulting firm for 10 years.
When her son Will started school, Deborah decided to follow a path she had dreamed about for many years and she enrolled in law school.In 2008 Deborah graduated from Concord Law School based in California. Because the school was not accredited in Washington, she discovered a different path to her law degree:
To be accepted into this program Deborah would have to work for an attorney willing to provide the mentoring support she needed. Along came Ken O'Mhuan. After two years working with Ken, she was qualified to take the Washington State Bar exam. She passed the exam in July 2011, and was formally sworn in on November 4, 2011. She is now as Associate of the firm.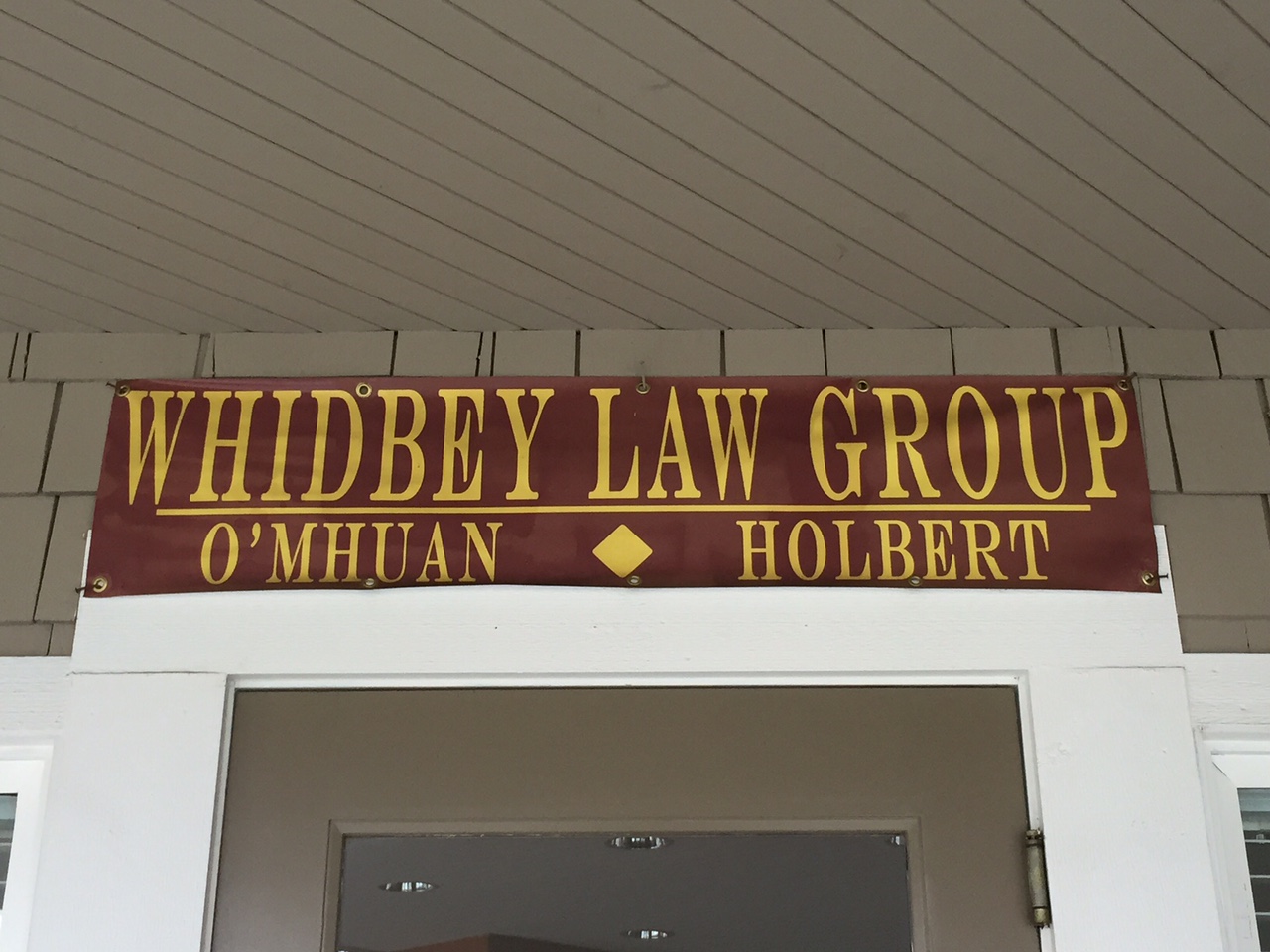 Recently, another person came on as a Legal Assistant at Whidbey Law Group. Amanda May joined the firm in November 2015, and finished law school at John Marshall Law School in Atlanta, Georgia in December. She is hoping to take the Washington State Bar exam at some point in the future, and hopefully can transition to being an attorney with the Whidbey Law Group as well.
Ken is confident that the firm's excellent reputation on Whidbey Island will continue and be strengthened by the people at the firm. In addition to Amanda May, Linda King is a Paralegal with the firm.
Whidbey Law Group is located at 5595 Harbor Ave., Ste B in Downtown Freeland. Give them a call at 360-331-7456, or check out their website: www. http://whidbeylawgroup.com/