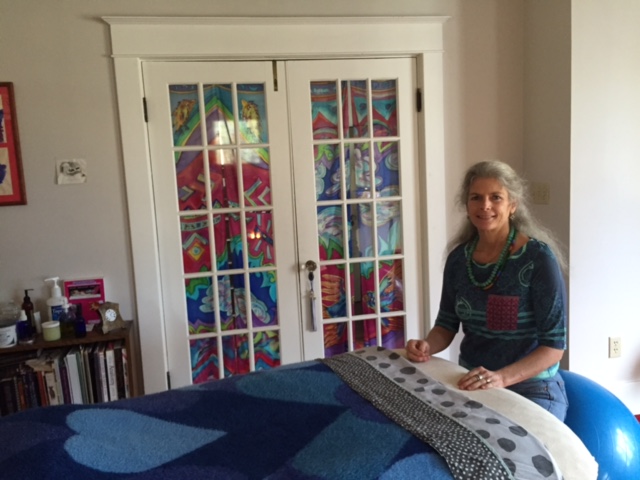 By Carolyn Tamler
Although Faith Busby received a Masters Degree in Architecture from Yale, she feels gratified to be following her passion as a massage therapist working from her home office in Langley.
Bushby grew up on the East Coast and thought she would become an architect, but after only two years, she realized that art was where she wanted to focus her talents for a career. In New York, she concentrated on jewelry making and did a line of jewelry that was sold in the gift shop of the Guggenheim Museum.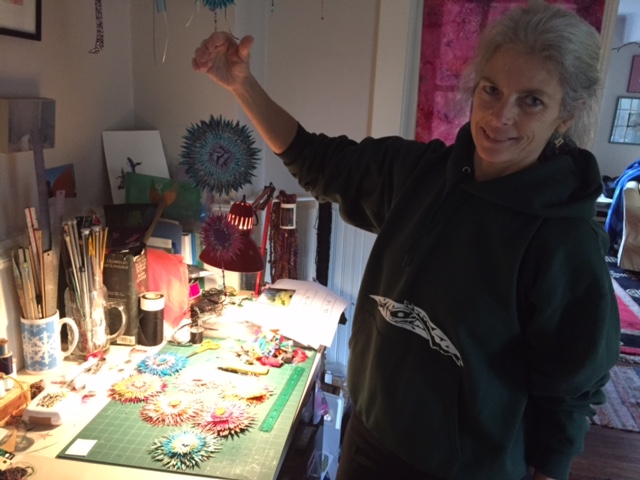 After spending several years in New York, she and her husband decided this was not where they wanted to live or raise their family. Bushby created a list of what she wanted in her new space that included: mountains, water, seeing beautiful sunrises and good schools for the two children. She and her husband began an odyssey looking for the right place. They looked at Boulder, Colorado, and Eugene and Bend, Oregon, and then came to Seattle as tourists.
While in Seattle in 1991, a friend suggested they come up to Whidbey Island. They arrived on a Saturday, moved into a rental house on First Street in Langley on Sunday, and Bushby has never lived anywhere else since. She says, "I felt more at home here in two weeks than in the more than 30 years I had lived on the East Coast.".
Faith and her husband divorced in the early 1990's. She decided she wanted her own business and wanted to work out of her house, rather than in an office somewhere. Her current career and her workplace materialized very quickly. She took a 13-month course in massage from Brian Utting in Seattle, was certified and started practicing in 1995. A year earlier she had found the perfect house for her needs on First Street in Langley, just down the block from the house she had rented earlier.

Initially, she worked for others: with a chiropractor; at a health club; on cruise ships; and she partnered with Dana Consuelo to establish the Spa at the Inn at Langley, while maintaining a business out of her home, as well. Then, she decided to put her energies into creating her own massage therapy business.

Faith loves what she does: "I really admire and am awestruck by the human body. I have been doing massage for over 20 years and I still marvel how everyone is different. I love being a part of helping someone to feel better."
She does a wide range of massage techniques from deep tissue through Swedish neuromuscular release to craniosacral work which is energetic. Bushby says, "The cranial work is my favorite because it is so profoundly and deeply relaxing to the whole body."
Bushby notes that massage has many benefits, including helping each system of the body process and work better, improving the skin, muscle system, fascia, blood and heart, the lymph system, hormones, and the nervous system. She notes, "Everything benefits from relaxation. Very few of us know how to actually de-stress our bodies. Massage helps do that and also re-educates the body in terms of how to let go and what it feels like to be relaxed."
To schedule a massage, or to contact Faith Bushby, give her a call at 360-221-5305, or email her at: faith.bushby@gmail.com.