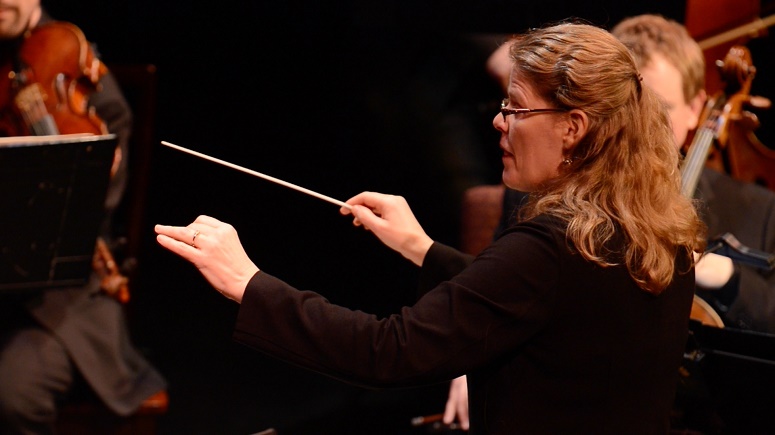 (Anna Edwards conducts by David Medley)
By Carolyn Tamler
Whidbey Island is known for being a rich cultural and artistic community. One of the most remarkable organizations is The Saratoga Orchestra.
The Saratoga Orchestra includes over 50 musicians, about 60 percent of whom live on Whidbey. Many of the islanders have been members since its beginning nine years ago. Current members of the orchestra include former and current members of the Seattle Symphony, Los Angeles Philharmonic, Seattle Opera, San Diego Symphony, Metropolitan Opera Orchestra, Pacific Northwest Ballet, and Everett and Seattle Philharmonics, Boulder (CO) Philharmonic, Seattle Philharmonic, and other regional and community orchestras.
The past two seasons were transitional as the Orchestra sought a new music director/conductor to replace Leigh Burns who retired from this post. A nation-wide search yielded three finalists, each of whom auditioned by choosing the repertoire for and directing a concert in the 2013/2014 season. In May of 2015 Anna Edwards was offered and accepted the position.
Edwards is currently the Director of Orchestras at Roosevelt High School, a program that is recognized for its merit and innovation. She is also the founder of the Seattle Collaborative Orchestra, an ensemble comprised of professional, college and high school musicians. Edwards and her husband have a home on Whidbey Island, which makes her selection even more appreciated by local players.
The Saratoga Orchestra performs concerts island-wide, including performances in Oak Harbor, Coupeville, Freeland and Langley. The orchestra has a strong ethic of encouraging young musicians to strive to become professionals. A young conductor mentorship program has been established, Young Artist Competitions have given local youth a chance to solo with the orchestra, and a Talent Development Program has been implemented which pairs young musicians with seasoned professionals.

(On stage by David Medley)
As part of this commitment to encourage youth to learn more about classical music, the orchestra focused on several collaborations with the schools on the island including:
Having Oak Harbor High School students perform with the orchestra as part of the Carmina Burana concert last season, and in the upcoming Viva Vivaldi concerts on March 5th and 6th;
Providing tickets so 1,000 students can attend the concerts;
Having the South Whidbey High School Jazz band perform at the orchestra's pops concert;
Doing an annual presentation of Peter and the Wolf with a "Petting Zoo" for children to have personal experiences with the instruments; and
Planning to expand the orchestra programs to do more programs aimed at youth in the future.
Season tickets are now on sale, including the popular Season Flex Pass ticket. For information visit the website: http://www.sowhidbey.com
---