Whidbey Island is home to a bevy of visual artists.
If you consider the diverse natural beauty of the island, it makes sense that artists of all mediums would be drawn to live and work here. The muse is here in all her forms: mountain vistas hovering over pristine beaches, green prairies, gold pastures, luscious woods, sumptuous gardens of flora, farmlands of food, and a variety of wild creatures that evokes the romance of some mythological place that gently holds its forest animals, its masses of wild birds and its cherished resident pods of orcas and grey whales. Inspiration abounds.
But history also plays a part in how Whidbey Island got its start as one of the most notable art havens of the Pacific Northwest. Langley was home to two of the Northwest's early modernist painters, Margaret and Peter Camfferman. When the Camfferman's moved to Langley in 1915, they created an artists' colony at their home, which they called Brackenwood, and which became a haven for artists until well into the 1940s. The Camfferman's became part of Seattle's "Group of Twelve" and were highly regarded within the regional art community as both teachers and artists.
Times have changed and, although the artist colony is long gone, its legacy lives on in the myriad artists who call Whidbey home and, more literally, in Brackenwood Gallery in Langley, which was named for those artistic Langleyites of long ago.
Whidbey Island is proud of its visual artists, arts organizations, craftspeople, galleries and studios. Each year, artists open their studios to the public for tours and sales, and the island hosts a series of festivals, which emphasize the artistic nature of the island, including Choochokam Arts held in July in Langley, the Coupeville Arts and Crafts Festival in August, as well as seasonal arts and crafts shows to which people are welcomed all over the island during the Holiday Season.
To get an idea of the extent of the island's artistic inclination, check out this comprehensive list of the art galleries of Whidbey:
​​​
---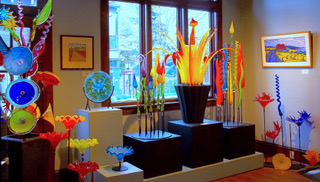 Rob Schouten Gallery
Voted Best Art Gallery in Western Washington 2014, Rob Schouten Gallery at 765 Wonn Road in Greenbank features original art of exceptional quality from Whidbey Island and Northwest artists. Offering a wide variety of prices and media, the gallery carries elegant and unique art and gifts including glass, jewelry, paintings, fiber arts, woodwork, giclee prints and cards, sculptures and more.
101 Anthes Avenue, Langley, WA 98260 (360)222-3070
---

Penn Cove Pottery (Temporarily Closed)

Located near Penn Cove at 26184 SR 20 in Coupeville, Penn Cove Pottery features both a gallery with finely crafted pottery, and a working studio. Steve and Mary Beth Eelkema are your hosts, and owners. You'll find a wide assortment of functional pieces for everyday use, as well as glass art and wall art to decorate your home or office. Included are bowls, wide mouth jars, teapots and much more. Pottery from other Northwest artists is presented as well.
9 NW Front Street, Coupeville, WA 98239 (360) 678-1176
---

Pacific Northwest Art School
Looking for a special piece of artwork to take home? Come view our collection of artwork by some of the island's most talented artists. Located in Coupeville at 15 NW Birch Street, Pacific Northwest Art School has also been offering exceptional visual art workshops in painting, fiber arts, mixed media and photography for 29 years. Taught by distinguished and nationally known faculty members, become inspired with a workshop experience you will not soon forget!
15 NW Birch Street, Coupeville, WA 98239 (360)678-3396
---
Garry Oak Gallery
Artist-owned Garry Oak Gallery is a co-op gallery located in Oak Harbor at 830 SE Pioneer Way. Featuring new and original works of art from over twenty five established and emerging artists, Garry Oak Gallery provides a unique balance of both high end fine art as well as a bevy of easily affordable art work. One of the artists is always in the gallery, and they'll be happy to talk with you about the gallery offerings, and your artist desires!
---
Whidbey Island Fine Art Studio
Langley Fine Art Gallery (affiliated with the Whidbey Island Fine Art Studio) has a Show wall in the Prima Bistro in Langley. It is in the front part of the restaurant. Also the WIFAS art studio itself is open by appointment.Both have oil paintings by Cary Jurriaans and guests, specializing in contemporary realism.

Prima Bistro : 201 ½ 1st Street, Langley, WA 98260
Whidbey Island Fine Art Studio,WIFAS, also offers visual art workshops with exceptional instructors, who come to Langley for a week from all over the US and abroad. Become inspired and take a workshop with WIFAS, the total immersion will be an unforgettable experience.
---
Penn Cove Gallery
Looking for art to display, wear or give? Penn Cove Gallery, located in the historic waterfront area in Coupeville at 9 NW Front Street draws from 27 island artists to offer original art, art cards, and reproductions. Both local residents and visitors come to Penn Cove Gallery for home decor and gifts for the home or office. Featuring a wide variety of mediums to choose from, come in and talk with our artists and find the perfect something for yourself or someone special.
---
ArtWorks Gallery
An eclectic art gallery tucked into the courtyard on 2nd street, in the heart of downtown Langley, encouraging creative expression since 2005. Artworks Gallery presents an inviting and diverse array of creative work by local Whidbey Island artists, including watercolor, acrylic, oil paintings, ink drawings, encaustics, mixed media, wood artistry, jewelry, glass, garden art, fiber art, and photography. Artworks Gallery is located in the courtyard on Second Street behind Mona's next to Ultra House at 221–2nd Street, Langley, WA. Summer hours - Wednesday - Monday, 11-5 pm, and 11-7 on the first Saturday of each month. Closed Tuesday.
---
Callahan's Firehouse Studio and Gallery
Callahan Campbell McVay creates amazing and beautiful hand blown glass in many forms, from small collectables to massive, custom wall hangings and much in between. Callahan has traveled internationally, studying in glass studios throughout the world, absorbing perspectives of color, form and technique. Want to try blowing one of a kind glass art for yourself? Sign up for a "blow your own glass" session and create your own personal masterpiece.
---
Hellebore Glass Studio
Located in Langley at 308 1st Street, Hellebore Glass Studio features fine quality vases, goblets, bowls, fish and Venetian style cane work, Latticino and Reticello. Choose from a wonderful selection of exquisite pieces suitable for your fine art collection.
---
MUSEO
A gallery of contemporary fine art located, Museo presents work from top local artists who are both regionally and nationally known. At Museo you'll superlative customer service and a wide collection of cutting edge sculpture, fine handcrafted jewelry, paintings and glass art for discriminating art collectors. You'll find beautifully presented objects of incomparable quality at 215 1st Street in Langley.
---
Offering an unusual collection of art and handcrafted curated goods (some local, some not, all thoughtfully crafted & useful), Edit. at 111 1st St in Langley is one of a kind. Selections include paintings, encaustics, and a wide range of artistic creations that are at once beautiful and functional.
---
Whidbey Art Gallery
Established in 1992, Whidbey Art Gallery at 220 2nd Street in Langley has, over the years, showcased over 155 local artists. Their works include fiber and fabrics, metal works, fine art paintings, sculpture, jewelry, photography, and ceramics, and range from miniature to heroic, traditional to experimental, local to global. From personal stationary to unique works of arts, Whidbey Art Gallery offers an amazing array of artistic endeavors and mediums.
---
Rochon Fine Art Studio & Gallery
Louie's work ranges from abstract to expressionist to impressionist, always encompassing his own unique style - bold vivid color and loose flowing line work that conveys a sense of joy, hope and deep appreciation for nature.
---