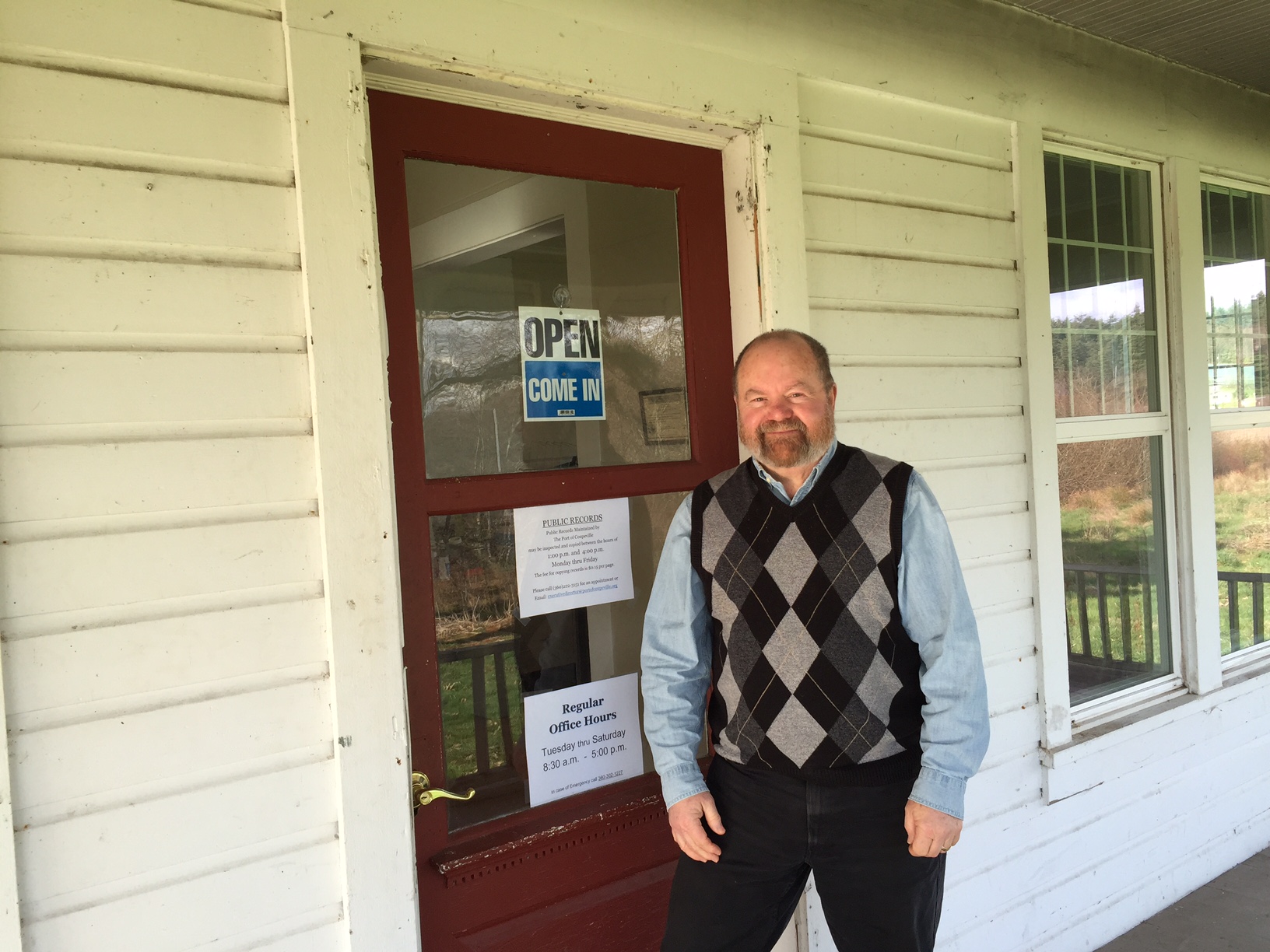 Forrest Rambo
by Carolyn Tamler
Several months of uncertainty at Greenbank Farm were ended on November 16th when it was announced that Forrest Rambo would become the new Executive Director for the Port of Coupeville. The Port manages Greenbank Farm, and it was decided to move the Port offices to the farm's Jim Davis House.
Rambo notes that when the decisions were made, "Things happened quickly." His role as the Executive Director for the Port has made the business owners at the farm breathe easily. After making do with month-to-month leases, they now have one-year leases with options to renew. And, there is an appreciation for Rambo's management style: "I like to gather information and listen." He notes, "There are many different visions for the farm, and I like to incorporate as many different points of view as possible. Everyone appreciates open communication and transparency."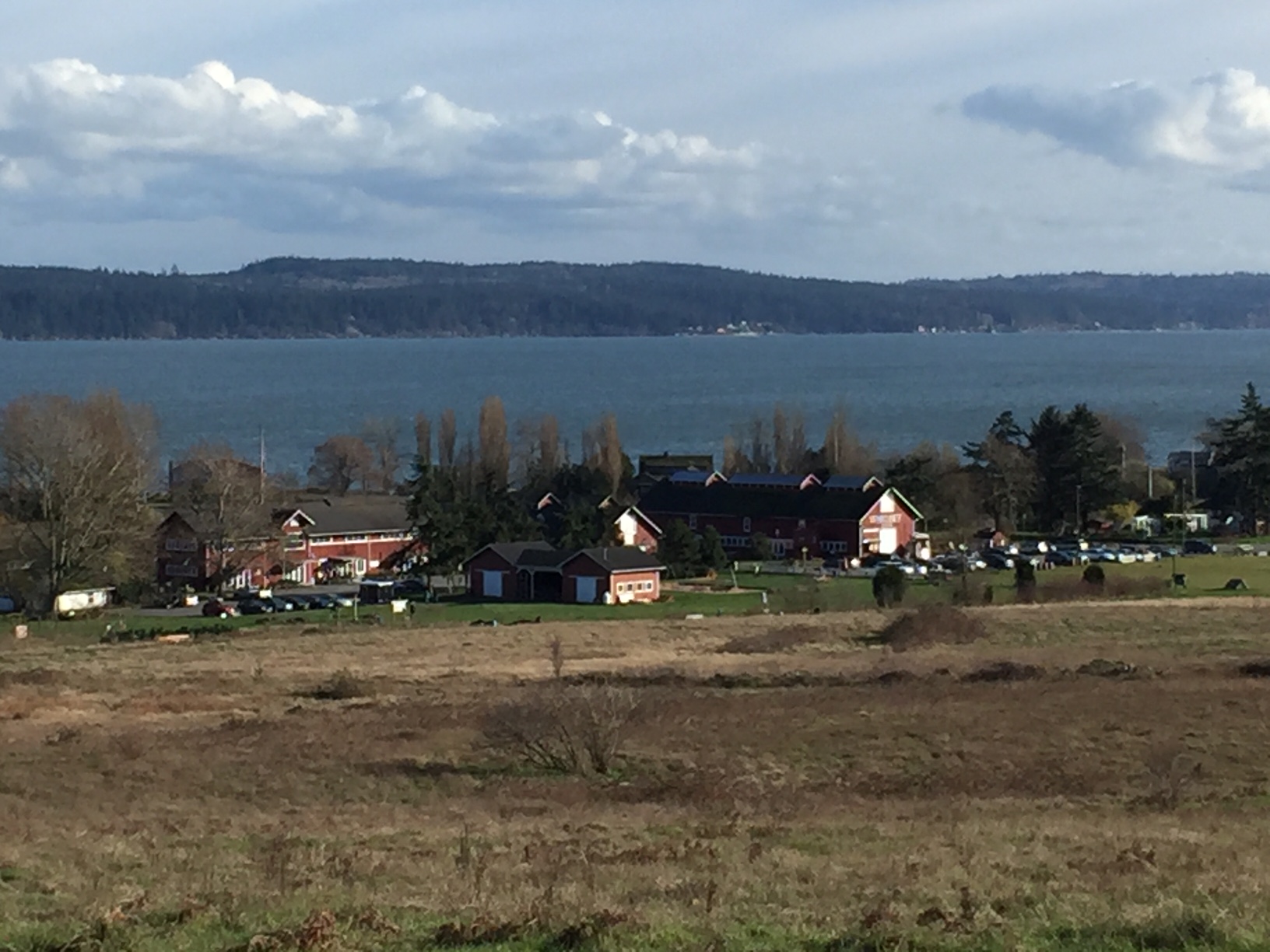 Greenbank Farm View
Forrest Rambo applied for the Port job with an impressive, relevant resume. His most recent past positions included General Manager for the Point Roberts Marina Resort, General Manager for the Point Hudson Resort and Marina in Port Townsend, and Board Member and Marina Manager for Gasworks Park Condominium Marina. He has also had marketing experience and served as the Mayor of Port Townsend.
He currently has a small staff – a part time Administrative Assistant and a part-time Events Coordinator, but he will add more people as necessary. His theme for this transition is to "Go slow." He knows that change is difficult, and he keeps reassuring everyone associated with Greenbank Farm that the feeling of the farm and the businesses that have developed an identity with the farm (known as the Greenbank Farm Merchants) will continue as they are.
The Port of Coupeville acquired the Greenbank Farm in 1997, after it was threatened by a planned real estate development. The Port will pay off the mortgage on the purchase of the farm by 2017, which will free up more funds to benefit the iconic farm property. Rambo notes, "There is a lot of creativity on this island" that he believes will encourage appropriate development in the future. He also wants to keep the public informed of what is happening, including:

Regular public meetings on the 2nd Wednesday of each month at the Masonic Hall in Coupeville; and

Special meetings at the farm to present new ideas and hear what people have to say.
Rambo emphasizes, "Expect the unexpected because we are open to new ideas that will maintain the history and authenticity of Greenbank Farm. He adds: "People often say there are two sides to every issue, like two sides to a coin. But I like to point out that a coin actually has three sides, front, back and the edge between. I like to look for third options."
To be informed about what's happening at the farm visit the Port of Coupeville's website: http://portofcoupeville.org/greenbankfarm/
---
Greenbank Farm Merchants
765 Wonn Rd.
Greenbank, WA
Whidbey Pies & Cafe
Suite A102
www.whidbeypies.com
360 678-1288
Greenbank Farm Wine Shop
Barn A, Suite 101
www.greenbankfarmwineshop.com
360 222-3797
Greenbank Cheese Specialty Foods and Gifts
Barn B, Suite 101
360 222-3474
Rob Schouten Gallery
Barn C - #103
www.robschoutengallery.com
360 222-3070
Artworks Gallery
Barn C - #102
360 222-3010
Raven Rocks Gallery
360 222-0102
---