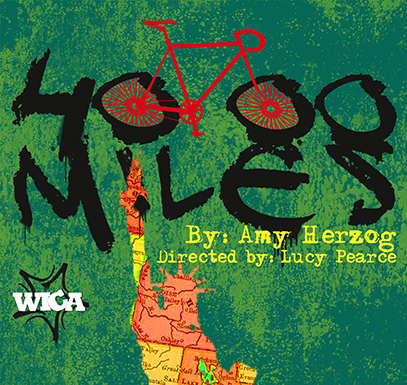 Whidbey Island Center for the Arts​
​
Langley, WA: Whidbey Island Center for the Arts (WICA) proudly presents Amy Herzog's 4000 Miles, a dramatic comedy directed by Lucy Pearce, from April 1st – 16th, 2016.
Winner! 2012 Obie Award, Best New Play
Winner! 2012 New York Times Outstanding Playwright Award
Winner! Time Magazine's #1 Play or Musical of 2012
In 4000 Miles, ninety-one year old political activist Vera Joseph's solitary existence is entirely shaken when her grandson, Leo, appears at the door in the middle of the night. Leo is fresh from a cross-country bike ride and assures her that he won't stay long. Leo, however, is in crisis. While he seeks solace in his grandmother, Vera finds companionship in another person for the first time since the loss of her husband. Over the course of a single month, these unlikely roommates infuriate, bewilder, and ultimately reach each other.
When asked what she had discovered in directing the play, Lucy Pearce shared: "At its core, 4000 Miles is about human connection. How do we communicate with one another authentically and compassionately? Can we accept our differences and, without trying to change each other, learn from others how to love ourselves and our fellow humans fiercely, unconditionally? Added on top of that in this play, is how do two people from very different generations understand, accept, and communicate with each other. So often the elderly get treated as if they are invisible or "cute", amongst other things, while the young get called entitled, etc. I hope this play highlights that labels are not the truth, that we are all layered and soulful. What I love about all this is that it is very relevant for our community, of course, but also relevant to everyone and always will be. I was drawn to this play because it's something I am fascinated by and confronted with myself. What's beautiful and challenging is watching the actors experience this viscerally, inside and out; as the characters take that journey, so do they and I get to join in the dance."
A finalist for the 2013 Pulitzer Prize in Drama, 4000 Miles is a compassionate, intimate, and frequently funny play that examines the love of the family we can choose, the family we can't, and the healing power of trust.
"A funny, moving, altogether wonderful drama. . . A heartening reminder that a keen focus on life's small moments can pay off in a big way onstage." - The New York Times
"This well-observed gem deserves to be a hit." - The New York Post
Featuring:
Michael Morgen as Leo Joseph-Connell
Peggy Gilmer as Vera Joseph
Kendra Lyons as Bec
Ruth Yeo-Peterman as Amanda
Katyrose Jordan as Lily
April 1st – 16th, 2016
Friday & Saturday @ 7:30 / Sunday @ 2:00
Zech Hall Piano Bar opens one hour before each performance

Adult $22 / Senior $18 / Youth $15 / Military $18 / Matinee $15

4000 Miles is produced by special arrangement with Samuel French, Inc.
Online tickets are available until noon the day of the show at www.wicaonline.org. For tickets by phone, call the Box Office at 360.221.8268 or 800.638.7631. You can also buy tickets in person at the Box Office at 565 Camano Ave in Langley between 1 and 6 p.m. Wednesday through Saturday, or two hours before any show.
Whidbey Island Center for the Arts is a registered 501(c)3 non-profit organization serving the community of South Whidbey Island and beyond. WICA's mission is to inspire, nourish, and enhance the artistic, social, and economic well-being of the community.