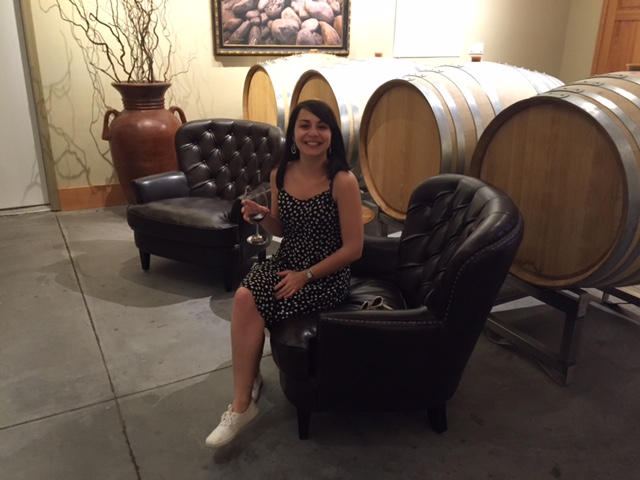 Wine adventures from a visitor from Avignon
Charlotte shares her experiences traveling to Walla Walla
Walla Walla is one of the most lovely towns that I have visited.
The Walla Walla Valley AVA is an American Viticultural Area located within Washington State and extending partly into the northeastern corner of Oregon. The wine region is entirely within the larger Columbia Valley AVA. In addition to grapes, the area produces sweet onions, wheat and strawberries. After the Yakima Valley AVA, the Walla Walla AVA has the second highest concentration of vineyards and wineries in Washington State.
I joined David Ott and Diane Kaufman of Ott&Murphy Wines on a fabulons three-day experience. During this short journey we were able to see the beautiful vineyard in Elephant Mountain and Bouchey, which is where many of the grapes used in Ott & Murphy wines are grown.
I will be sharing my notes from this trip, along with the notes provided by Carolyn Tamler.
***************************************************************************************************************
Some Whidbey Magic is expanding my wine education
A bit of serendipity has played a significant role in my continuing wine education. I like to call it Whidbey magic.
Two years ago, Rich and I were traveling in Europe with some friends. We were on a two-hour flight between Marseille and Sevilla. Rich sat next to the window watching the world go by. I sat next to a charming young woman from France named Charlotte, and we talked for the entire flight.
When we parted, I gave her my business card and said, "If you ever come to the United States, look me up." Over a year later (September 2015), I received this email:
Hello Dear Carolyn it is Charlotte from Sevilla's plane again.
I am writing you today because i have a "big" request to ask you. I know that we didn't really get to know each other but i have nothing to lose.
I'm currently in Master 1 in International Wine Trade and i would like to visit some wineries in the United States this summer to learn more about the wine industry. The big "dream" will be to find that in California or maybe in Seattle because you told me in your previous message that I could find some lovely wineries in these areas.
Could you help me please? I know maybe it is quite bold to contact you like this, but you said you would be willing to help me.
I don't want to go to a "fancy" place, but just maybe just to a place that makes wine and has a wine shop. I would like to find something to help me have more confidence in myself and to allow me to gain more knowledge about the wine areas in the United States.
If you have some contacts who could help me, I will appreciate that. I guess, you are probably busy with you own life, but I hope you will have time to read my letter and respond.
I hope all of the members of your family are well (I saw some pictures on Facebook).
Best regards,
Charlotte
That was the beginning of several email exchanges. I sent her information about the wineries on Whidbey where I know the owners, and I provided information about Charlotte to the winery owners I had contacted.
David Ott and Diane Kaufman, owners of Ott & Murphy, saw the information about Charlotte and read her letter. They decided it would be fun to have her spend some time visiting them, as well as their daughter, Brooke, and son-in-law, Chris, who is now a winemaker for them.
I picked up Charlotte at Seatac Airport on May 1st, and we headed up to the Mukilteo Ferry and on to the home of David and Diane.
So far, Charlotte has charmed everyone she has met and is thrilled to be on our Island. She is visiting here until the end of July, learning about Ott & Murphy Wines, the wine trade in general, and helping David and Diane with some marketing ideas. She is making local friends and getting invitations to join them on visits to the many special places on Whidbey.
Recently, David and Diane decided Charlotte might learn a lot by visiting one of the major wine regions in the state, including the location that supplies many of the grapes used in making O & M wines. Thanks to my role connecting Charlotte with David and Diane, I (and my husband) were invited to join them on a three-day trip to Walla Walla. (I posted some of the photos on my Facebook page: https://www.facebook.com/carolyn.tamler )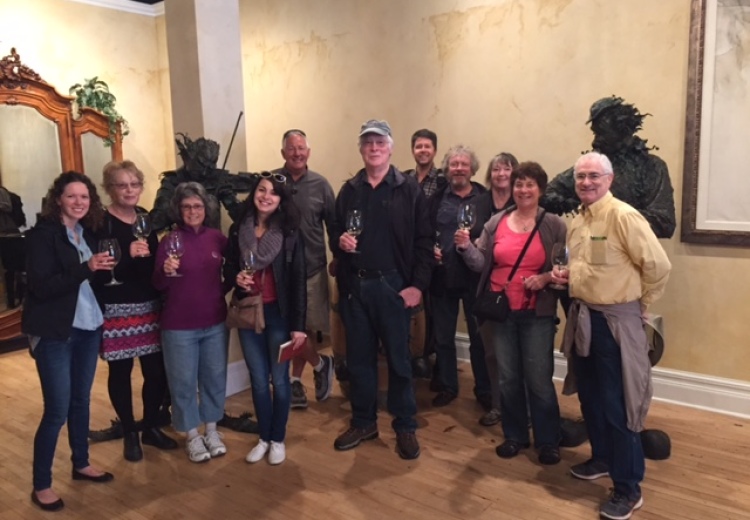 More about the trip to Walla and what I learned in future musings.
*************************************************************************************************
Session 5: Europe Off the Beaten Path
Our last session led us to some lesser known wine producing countries. Last week, we talked about the impact of Italy, France, Germany and Spain on the world wine industry. Tonight, we talked about Greece, Hungary, South Africa and Chile.
Greece
The Greeks have been growing wine grapes for thousands of years (I think it goes back to around 2,000 BC). Wine was used for trading for much of this time. Greek wine really entered a new phase in the world with a renaissance that occurred as a result of the European Union (EU). There are now 400 wineries in Greece and although the large merchants dominate, there is a growing number of quality boutique wineries.
Most of the vineyards in Greece are small, under one acre. The Greek isles account for one quarter of the grape production (Santorini). What is especially distinctive about the way grapes are grown in Greece is that the country is largely Mediterranean and dry which allows the wine grapes to be grown on the ground. Resina, with its strong flavor, is perhaps the best known wine from the region.
Hungary
Though many people don't think of wine when they hear the mention of Hungary, the country has been producing wines since the 4th century BC when monks provided places for travelers to spend the night, and the stay included a meal and wine.
The collapse of Communism led to a new generation of wine makers. There are six indigenous grapes used to produce wine in Hungary, including Bull's Blood (don't you love this name), which is a full bodied red aged in underground barrels. We had a taste of a $25 bottle of Tokaji wine, the most popular Hungarian wine, and I must say it was a hit with me.
South Africa
After the long history of apartheid, I was surprised to learn that wine industry in South Africa is now good for the workers as well as the environment. South African wines date back to the mid 17th century, but during the 1960's to the 1980's, the industry was boycotted as the world reacted to apartheid. In 1994, with the end of apartheid, the wine industry revived. It's viticulture research is now some of the best in the world.
The Mediterrean climate with nice breezes keeps molds and mildew down, and the country produces high quality wines. The most common is a Chenin Blanc, which accounts for half of the white wine production. All wine is subject to an evaluation by a Wine and Spirit Board that certifies all wines that are sold. Pinotage wine is produced only in South Africa.
South African wine grapes are known for being mostly organic and fair trade. As a side note, Cape Town is now given one of the highest ratings as a place to visit in the world.
Chile
Chile has become the most important exporter of wine in South America. The wine industry started here in the 1800's with wine that was sold for the benefit of the workers in the California gold mines.
The low humidity, amount of sunshine and winds from the Pacific combine to make Chilean wines highly sought after. These wines are also known for being pesticide-free, as the vines have few diseases.
They grow many of the usual French varietals, such as Chardonnay and Sauvignon Blanc, as there are no indigenous grapes in Chile. They also produce many of the German varieties that sell for considerably less than their European counterparts.
*************************************************************************************************
Session 4: Europe, the Usual Suspects
The "Usual Suspects" for our European Wine Adventure are Spain, France, Germany and Italy. The different climates and terrains create an amazing assortment of red and white wines.
As with each of the previous Wine Adventures, the last hour of the class is devoted to sampling four wines representing what we have been learning. We are invited to smell the wine and describe the fruits or wood or other tastes we are sensing, study its color and clarity, notice if it's "clean," and summarize what we think of the wine before we taste it.
Deb shared an interesting statistic with us. Despite all of the talk about the aging of wine, she says that 90% of wine worldwide is consumed within 24 hours of purchase.
Spain
Spain has larger regions devoted to wine grapes than does France, Germany or Italy, but production is smaller because the vines are older and the climate is dryer. At our tasting, we were treated to a bottle of "Cava" which comes from the Catalunya region of Spain. As it turned out, I really liked this sweet white sparkling wine that cost just $9.49 a bottle.
Some other Spanish wine regions that were discussed included Tarragona, which produces sweet dessert wines, the Duero Valley which produces the grapes for rioja wines. Other wine growing regions in Spain that Deb discussed are Priorat, Northwest Galicia and La Mancha.
Germany
Interestingly, the Germans mostly drank French wines and beer with their meals until the early 1800's. Then they began growing grapes and experimenting wine making. When the Nazi's came to power, they tore up 85% of the existing grape vines, which sounds like it would be a tragedy, but instead lead to the rebuilding of the wine industry with much higher quality grapes.
The styles of German wine are called "Pradikats." I'm including Deb's list for you to review (you can memorize them if you really want to know your German Pradikats):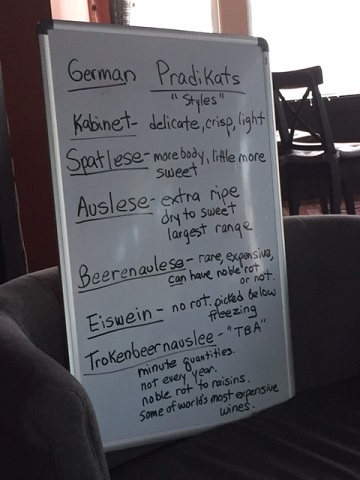 We've heard the names of many of the German wine-growing regions: Mosel-Saar-Ruwer, is where Reisling, Pinot Noir, Dorfeilter and Siegerebbe are produced. Rheinhessen is where you'll find Liebfraumilch.
Another interesting item we learned is that in the final days of the growing season, the German government has vineyards closed to everyone including the owners, so that the grapes will finish their season undisturbed.
France
Ah, France……don't France and wine go together? Most wine grape varieties are indigenous to France. There are many regions in France that are suitable for quality wine grapes; Deb focused on four of them: regions: Bordeaux, Loire, Provence and Alsace.
Bordeaux has both red and white varieties. The long hours of sunshine and being near to water creates a maritime climate. Vintages do vary a lot (the year on a bottle of wine is when the grapes were picked, not when the wine was bottled) because of the variations of the weather. Grapes grown for Bordeaux wines include: Cabernet Sauvignon , Merlot, Malbec, Semillon, Sauvignon Blanc and Petit Verdot.
Loire produces wines that have been favorites of the French kings. The effect of the river is very important in producing the wine grapes. The climate in the region ranges from Continental (in the east) to Maritime (in the west).
Provence is the oldest wine region in France and has a Mediterranean climate which means about 3,000 hours of sunshine a year (twice what is needed for grapes to grow).
Most of the French grapes will grow in Provence, but red grapes that are used for rosé wines are the most common. The grapes of Provence were the first wine grapes produced during the Roman era.
Alsace grows mainly white wine grapes; 90% of the varieties are white. It is the only region in France that lists varietals, not the region. The region is known for its biodynamic and organic wines.
Italy
The Greeks began making wine in Italy as early as 800 BC, but it is only recently – within the last 40 years – that Italy has been making quality wines. There are 20 regions in Italy, each with its own climate which works well for specific wine grapes. There are over 1,000 wine grape varieties in Italy. Two of the regions mentioned include:
Piedmont, grows the grapes for Barolo, Barbara and Barbaresco.
Veneto is the region that is home to Sicily which is the largest wine-growing region in Italy and grows the grapes for Valpolicella and Amarone.
Tuscany produces traditional Chianti made from grapes that have high acid content.
So, once again, I found myself overwhelmed with how much there is to learn to really know anything about wine and wine making. But, I am extremely grateful for the bits of information my brain can absorb from all of the information Deb is providing at each of these Wine Adventures.
One of the major items I am learning from these sessions is that the taste of a wine is different for each person, and has little to do with the cost of a bottle. I mentioned the $9.49 Cava that I really liked. We had a Gewurztraminer that was $13.50 a bottle that I thought was great (though that is one of my favorite wines). The Malbac that was $8.00 didn't impress me but others in the class thought it was excellent. And the $16.00 wine from Valpolicella tasted better to me than the Malbec, but you can probably guess I do prefer the sweeter white wines.
An interesting comment from someone in the class, "I think our Whidbey wines are as good as these from Europe."
***************************************************************************************************************
Session 3: From Bunch to Bottle
April 11th, 2016
Since I realize it takes a college degree (the young woman coming to Ott & Murphy as an intern in May is working on her Master's Degree in Wine Stewardship) to have a full understanding of growing wine grapes and creating appealing wines, I accept that five two-hour "Wine Adventures" will barely touch the surface of what I don't know about wine.
That said, I will do my best to muse on the information that made its way to my wine novice brain.
Session 3 covered what happens from the time the grapes have matured on the vines, are harvested, and transition to the lengthy process that leads to that lovely bottle presented at your table or sold in your wine or grocery store.
First of all, picking the grapes means choosing the right time when the grapes ready for picking. This can be done by hand, if the terrain doesn't lend itself to machines, but machines are a far less expensive way of gathering the harvest.
Then we come to fermentation, which I think would require at least a year's worth of classes to even begin to understand. In order to allow the grapes to ferment, you need to use some kind of press to prepare the wine for fermentation. I use the expression, "some kind of press," but as with every step in the wine-making process, there are several types of presses (basket, horizontal, continuous…to name a few).
Fermentation happens when yeasts eat the sugars in the grape juice. Yeast includes thousands of varieties, and can be "feral" or wild (sounds like a cat, doesn't it?), or "cultured." As you would expect feral yeast produces a less predictable result. Yeast is one of the major factors in determining the taste of the wine.
For red wine varieties, fermentation can only happen between 57 and 95 degrees (i.e not too cold and not too hot). Ever heard of a "Cooper?" That's the name given to barrel makers in France, who have a 13-year apprenticeship before they are totally qualified to make the oak barrels from the 200 year old oak trees that grow in certain French forests. The barrels are made without using nails or glue; just metal strips. French oak is prized, but there are obviously wine barrels made in many parts of the world (although many wine connoisseurs would probably claim they can notice the flavor differences in wine that is aged in French Oak barrels). Red wines are usually aged in an oak barrel.
White grape varieties are rarely fermented with the skin. They also ferment at a much lower temperature than red grapes (50 – 60 degrees), and require little aging.
I also learned that rosé wine is simply red wine where the grapes have not been left with the skins long enough to absorb much color.
Of course there was a lot more to absorb from this Wine Adventure, but I wanted to leave you with a definition for a word you may have never associated with wine (or you may have heard the term and didn't know the meaning): "brix." A "brix" number is the amount of sugar in the ripeness scale of wine: In general, a brix is about twice the proportion of alcohol; i.e. 28 brix = 14% alcohol content in the wine.
If you really want to know more details about getting the grapes converted to wine, I suggest you talk to the experts at Ott & Murphy: David Ott or Diane Kaufman.
*************************************************************************************************************
Wine Adventures at Ott & Murphy Presented by Deb Stilwell, Wine Education Specialist
April 4th, 2016
Session 2: From Bud to Bunch
Well, I thought I had a lot to learn (still do) when it comes to the ways we use our smell, sight and taste buds to evaluate a wine. In the second session of our Wine Adventure, we were introduced to the complexity of growing wine grapes.
First of all there are some 10,000 types of grapes that are used for wine, including the "Old World wines" (Europe, for example) and the "New World" ones (think California and, of course, Washington).
Some of the variations that contribute to the different wine grape flavors and to the quality of the wine grapes include:
Soil conditions
Specific soil nutrients that benefit wine grapes including nitrogen, phosphorus and potassium
Amount of sun each day
Morning or afternoon sun
Angle of the sun
Planted on flat surface, a terraced hillside or a steep slope
Packed together tightly, or more loosely packed together
Amount of water; irrigation
Rain and the timing of the rainfall (rain at harvest time is terrible)
Drainage
Temperature – i.e. the amount of heat that grapes are exposed to
Wind
Climate
Altitude at which grapes are grown
There are a whole range of diseases and pests, as well, that can impact wine grapes:
The basic requirements for wine grapes are 1,500 hours of sun and 20 inches of rain a year.
There are three major climate zones where wine grapes are grown: continental (Eastern Washington), Mediterranean (Western Washington) and Maritime (anywhere near water).
Wine grapes are quite different from table grapes because of differences in skin, sugar, seeds and juice acids. In general wine grapes have thicker, tougher skins, higher sugar content, greater range of flavors and larger seeds.
Wine grapes need to be harvested when they are ripe, usually 110 to 220 days after flowering. A ton of grapes will produce 700 bottles of wine.
I have decided that since I don't have the time or energy to research all of this information in relation to how the grapes are grown for the wines that I choose to buy, I must rely upon the winemakers who have a reputation for creating award-winning wines.
I believe Ott & Murphy falls into that category, along with most of the Whidbey Island wineries. Aren't we lucky we live here (especially if you're a wine connoisseur)?
****************************************************************************************************************
March 23rd
Before I married Rich, my wine experience consisted of rosé wines and some sweet white wines.
My husband is a red wine drinker, so over the years I have advanced to drinking red wines. We usually have a glass of red wine with our dinner. However, I have virtually no knowledge of what I am drinking; I simply find myself liking some wines better than others.
Going to my first Wine Adventure session at Ott & Murphy, I learned that the first step in evaluating wines requires tuning into all of your senses: visual, olfactory, taste and overall experience. We were provided a detailed list called the "Systematic Approach to Tasting Wine" by the Wine & Spirit Education Trust.
Within these major categories are a myriad of descriptions. For example, "Appearance" involves clarity, intensity, color and other observations; "Nose" relates to condition, intensity, development and aroma characteristics; "Palate" expanded the category of taste to a whole range of descriptions including sweetness, acidity, tannin, alcohol, body, mousse, flavor intensity, flavor characteristics and length.
We tasted four glasses of wine, two whites and two reds. In each case, we went through our responses using all several of our senses. Before I came to this "Wine Adventure," I had no idea there were so many ways to evaluate a glass of wine.
Deb Stillwell explained that 80% of our wine information comes from how we interpret what we sniff. It is our quickest source of learning about our world. In fact, she added "The human nose can identify over 1,000 smells with practice."
So, I began sniffing more. Then, we looked at the appearance of the wine. After sniffing and looking, we were (finally) able to taste the wine. Of course, there were many things to notice when we did our tastings ("tannins" come from the skins and seeds of the grape; acidity makes our mouth water; and alcohol stimulates the throat, and much more).
Most surprising, despite people describing fruity tastes, or wood or floral tastes, it still is just grapes. However, where the grapes grow results in a huge range of tastes, in addition to all of the other characteristics of each wine created by each winemaker..
The bottom line, as Deb described it, is that "Wine is a perfect combination of science and magic." I'm sold on this.
I'm looking forward to learning more as I continue with the series.