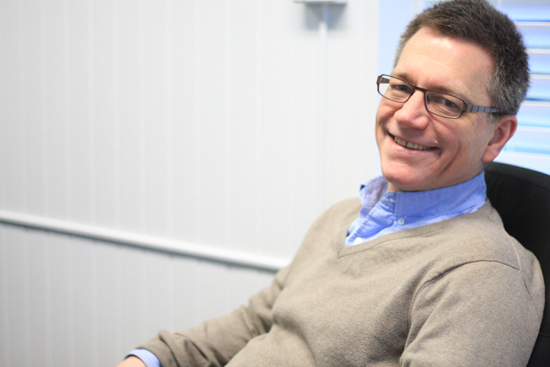 City planner Owen Dennison cracks a smile in City Hall on Monday, March 28. Photo Credit, Melanie Russell of the Snohomish County Tribune

SNOHOMISH — City planning director Owen Dennison, 57, is resigning to pursue an opportunity in Coupeville. His last day will be April 6. Dennison has been with the city for nearly 10 years.
Dennison has been looking at Coupeville on Whidbey Island as a long-term goal and the opportunity showed up.

He was resolved in his decision to leave Snohomish, citing the location and the need for more time as the main driving forces.

Dennison said while he liked Snohomish as a community and working with the staff, he wanted to have more free time because the last four years demanded a lot of hours and a higher workload volume.
"It's rarely a dull moment in planning," Dennison said. "There's always projects pending, and with Snoho-mish, I just hope my contributions in some small way helped the city. I was not looking for another position, but when someone asked me if I knew a planner who'd be interested in working in Coupeville, I decided it was time to lighten the load a bit."

The city of Coupeville has a population of about 1,900 people.

He informed city manager Larry Bauman of his resignation March 8.

The city will be seeking an interim planning director for the spring and part of the summer and the city is searching for a full-time replacement, Bauman said.

"Owen will be greatly missed here by our staff, City Council and Planning Commission," Bauman said.

Dennison started with the city of Snohomish as a senior planner in late 2006. In 2012, he was promoted to planning director.

Before coming to Snohomish, Dennison was a consultant for the Seattle-based planning and development firm AHBL for five years, and prior to that, he was a senior planner with the city of Renton for 10 years. Before becoming a planner, Dennison was a bartender at Seattle-area corporate clientele watering holes for 11 years. He went back to school at the University of Washington and finished his degree before he landed in Renton, beginning as an unpaid intern and working his way up.

"It's interesting because it involves working with and around people, and has the creativity and analysis part of it … rarely a dull moment," Dennison said of planning. "Communities evolve very slowly, typically. … Snohomish is an older, established community. The physical community is changing slowly."

"I think that there have been positive developments like the updated city comp-rehensive plan — a usable, relevant document available to the community for planning purposes — and the Pil-chuck District was, by local standards, fairly innovative and got a lot of community discussion," he said.

Dennison said he enjoyed collaborating and working here created great work productivity. He said he is leaving on a good note.
For his critics, Dennison said he fully knows a city planning director cannot be adored by all. He said he has worked with many people
and residents to seek solutions to problems and said these led to good collaborations.

"I certainly respect critics for their concern for the community and we certainly share a respect and better-
ment of the community," Dennison said. "I also acknowledge they, the detractors, don't really represent the entire Snoho-mish community. The Snohomish community goes much deeper, much broader and has many more perspectives. But I don't allow the detractors to define the community or my job satisfaction."

Bauman said Dennison leaving will slow down "some long-range planning projects, most notably the revisions to our Shorelines Management Act, which may not be actively worked on until we get a full-time replacement," he said.
Dennison said his departure was strictly for finding more time for family and to pursue hobbies.

"I'm leaving on good terms with the city and the staff and it is really, purely to regain my life," Dennison said. "I think there is some benefit to having new blood, new eyes, new experience brought in for the betterment of a community. This may be the time for someone else to come in and contribute."
Story reprint with permission from Snohomish County Tribune newspaper