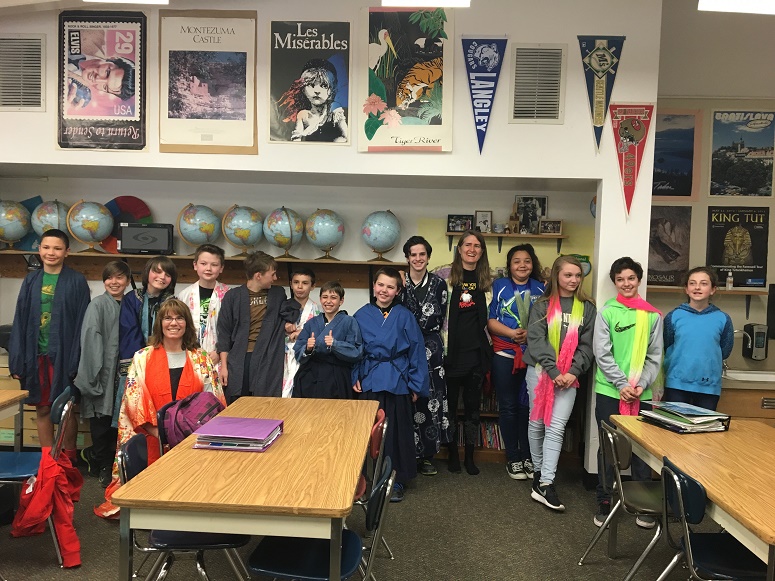 The Northwest Language and Cultural Center (NWLACC) right here in Langley is making waves with our children in unique and expansive ways!  The NWLACC was birthed 20 years ago with a primary focus on immersion art-based children's summer camp offerings, taught by Josette Hendrix, the founder and director.  Since then it has grown to enrich our community in a multitude of ways, through ongoing summer camps (for ages 2 to 12, with training for teen counselors), language immersion weekends, chat groups, language of food series, private and group language lessons, afterschool programs, peace education programs, special cultural celebrations, and even an annual gala.  With the onset of its 20th anniversary, a certain "Je ne sais quoi" is in the air and the magic is fueling NWLACC's commitment towards nurturing our children.
One dynamic way the NWLACC is tenderly inspiring and broadening the minds of students in our community is by getting involved with the local schools through a new program called Global Cultures.  This spring quarter, the program grew to work with 6th, 7th and 8th graders at Langley middle school during the students' flex period.  Each week a different culture is represented by presenters who are native to the culture of focus. Presenters come into the school and meet with the kids, face to face, and share about their languages, themselves and their cultures.  What takes place in these special intervals of time is a real stirring of inspiration and curiosity.  The dynamic between the presenters and the students is that of new friends meeting.  The children are not being evaluated by the presenter and they realize that.  In the sharing, the world becomes much more fascinating and grand, and at the same time much smaller, as they experience the common humanity in someone who comes from such a different way of living with a different mother tongue.  This spring the cultures/countries of focus are Japan, Brazil, Africa, Native America, and the Middle East.  The goal of the program is to enkindle cultural awareness and understanding in the children, so as to plant the seeds for global harmony.
A conversation that has been influenced by this program is around language and how languages affect the way that people think.  Children have so much to benefit from learning a new language and being exposed to a new culture.   While it has been established that the cognitive benefits from learning languages are wide-ranging - from problem solving skills, the ability to tap into a wellspring of creativity, and to an aptitude to communicate more fluently in one's first language or mother tongue - perhaps most importantly, learning a new language promotes examination and reflection from more than one perspective and multiple ways to view the world. 
"Learning a new language is like opening a door into a different perception and understanding of the cosmos. You learn to think differently!  Every language has its own thought forms, and certain concepts and idiomatic expressions are fundamentally untranslatable.  In English we say "you are right". The French say "tu a raison" - literally - you have "reason".  The Bulgarians say "prav see" - literally - straight, upright you are.  All these would be translated correctly to mean "you are right", yet they are each subtly different in connotation. Then, in French we say "penser à" - to think at - which is much more direct than the English "think about" - suggesting an examination from all around.  In Bulgarian we say "mislim za" - thinking for - the connotation being of a more purposeful or practical nature.  It becomes obvious that much more is lost in translation than is usually realized. There are countless examples like these, and the subtleties are delightful and intriguing."  Josette Hendrix, Director Northwest Language and Cultural Center.
With summer around the corner, at the NWLACC there is a buzz in the air for the onset of Summer Camp season!  In fact, July 2016 marks The NWLACC's 20th anniversary of the first Summer Camp offered.  The summer language camps hold a special place in the heart of the Center.  The camps are led by native speakers, and each one has a theme.  This year, for example, the French camp's theme is Lady Liberty and her 130th birthday!  The camps are designed around children having primary experiences with their learning.  The children are immersed in learning languages while cooking, engaging in art projects, while playing games outdoors, and finally putting on a play for their families, incorporating their new linguistic skills. As we move into fall, families can expect to see more afterschool language clubs/programs at NWLACC, as a means to carry on their summer learning momentum. 
At the Northwest Language and Cultural Center on Whidbey Island, it is their mission to inspire intercultural awareness and understanding so that each person contributes to a more peaceful and harmonious global community now.  NWLACC offers ongoing classes for people of all ages.  Through these opportunities, NWLACC works to preserve and honor diversity while building bridges of understanding and appreciation.