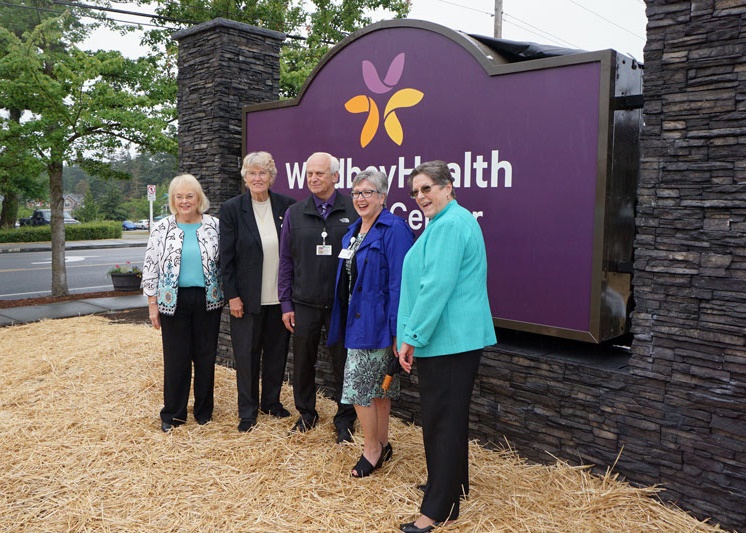 Coupeville, Wash. ─ On Monday, June 13, a crowd of approximately 30 dedicated supporters gathered in the rain to view the unveiling of the new WhidbeyHealth sign on Main Street in front of what is now officially named WhidbeyHealth Medical Center.
Outgoing board president Anne Tarrant spoke briefly about the history of the original hospital of 1970. Tarrant also recognized the significance of several people who were present to help with the unveiling, including 98-year-old Jean Sherman, whose children were born at the first Coupeville birthing facility operated by Polly Harpole, RN and for whom one of the first hospital guilds was named.
Significant, too, was the presence of Kristine Young, PA-C, who was born at Whidbey General Hospital more than 40 years ago and who now works as a physician's assistant at WhidbeyHealth Primary Care Cabot Drive in Oak Harbor. Also present were two WhidbeyHealth Family Birthplace babies and their families, including 10-month-old Piper Hedrick and Lucas Case, the youngest of the group at just seven days old.
WhidbeyHealth CEO Geri Forbes also spoke briefly, telling the crowd how appreciative she was to be a part of the future of healthcare on the island, where the health of everyone in the community was WhidbeyHealth's main goal.
"One of our biggest symbols of today is that we are unifying under the one name of WhidbeyHealth," Forbes said.
"Notice the word 'health' is front and center because we want to keep you the healthiest you can possibly be whether you are seven days old or 98 years young."
Tarrant then led the countdown and participants pulled the strings that peeled away a banner with the old name to reveal the new, large WhidbeyHealth Medical Center sign with its brightly colored logo, purple background and stone pedestal.
Photos were taken and the crowd moved inside to the West Wind Café, where refreshments were served.
Whidbey Island Public Hospital District, which owns and operates the medical center, eight clinics and 13 locations overall, now provides its healthcare services as WhidbeyHealth.
The medical center itself is in the midst of its fourth major expansion since 1970. Construction of a new 39-room inpatient wing is slated to be finished in mid-2017.