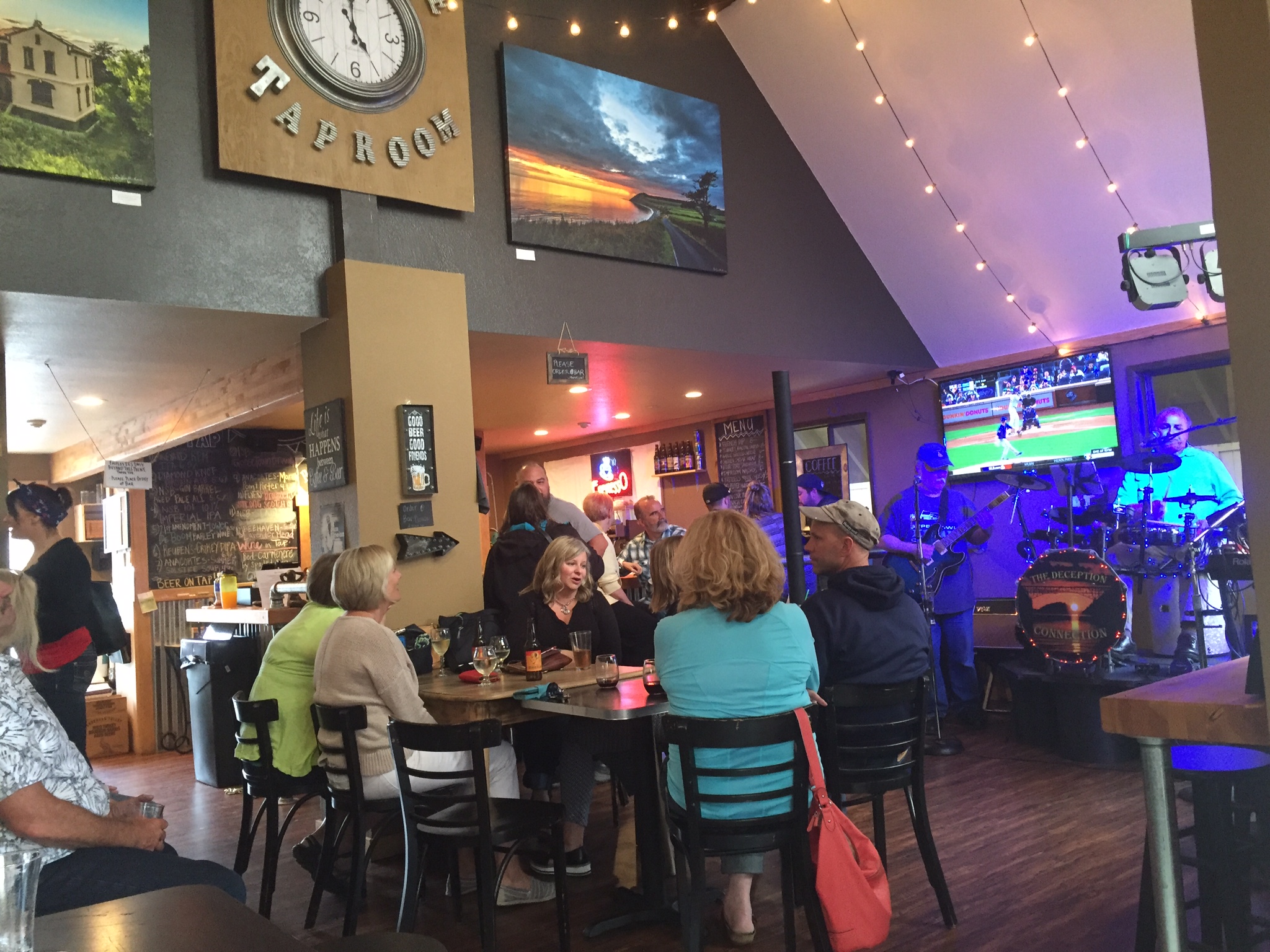 By Carolyn Tamler
When they were growing up on Whidbey Island, Mitch and Marc Aparicio talked about how great it would be to have a family business. Their conversation evolved to a fulfillment of their vision with the opening of the Penn Cove Taproom in Coupeville in March 2016.
The Tap Room features excellent craft beers, wine, mead, cider and coffee, and lunch and dinner specialties. In the future, the family has plans to expand their business with the opening of Penn Cove Brewing Company and Meadery.
The brothers are graduates of Coupeville High School and spent much of their early lives in the community. Marc retired from the Coast Guard last year and relocated to Coupeville. Mitch moved back to the island in 2000 when his daughters were going to elementary school. Both knew this is where they wanted to settle with their families. When Marc retired, the two brothers began talking about creating a brewing company; Mitch's wife, Tami, also wanted to be included in the planning for this new venture.

Marc became involved with brewing after he left college, and he continued to do his own home brewing during his Coast Guard travels. He was involved in many brew clubs and won awards for his home brews. He stayed involved in organizing festivals that featured his home brews for many years. He also traveled the world looking for the best beers. His desire for him and his staff is to become certified Cicerones (www.cicerone.org), a certification through an organization that "certifies and educates beer professionals in order to elevate the beer experience for consumers."
Mitch is a sales and marketing professional who knows the Pacific Northwest and Whidbey Island area industries well. Besides being a technology solution salesman, he is a rock star wannabe drummer and founded a local classic rock band called "Jacobs Road."
Three themes define Penn Cove Brewing Company.:
Craft: Creating a business that focuses on the local craft beer industry;
Community: An ethic that motivates them to give back to the community, with a superior product and with support for the local arts and crafts.
Collaboration: A goal to work with other Whidbey businesses, including local restaurants and other businesses to provide new jobs and opportunities
In addition to the great brews from local, national and international craft breweries, Penn Cove Taproom features performances by local musicians, Happy Hours, excellent food, and a congenial environment.
Current hours are Monday-Thursday: 7:30 a.m. – 10:00 p.m.; Friday and Saturday, 7:30 a.m. – 11:00 p.m.; and Sunday 11:00 a.m. – 8:00 p.m. Happy hour: 3:00 – 5:00 p.m. daily.
To schedule a Tuesday special event, contact them at info@penncovebrewing.com
For more information about Penn Cove Brewing Company, visit the website, http://www.penncovebrewing.com/about.html or their Facebook page Penn Cove Brewing Company