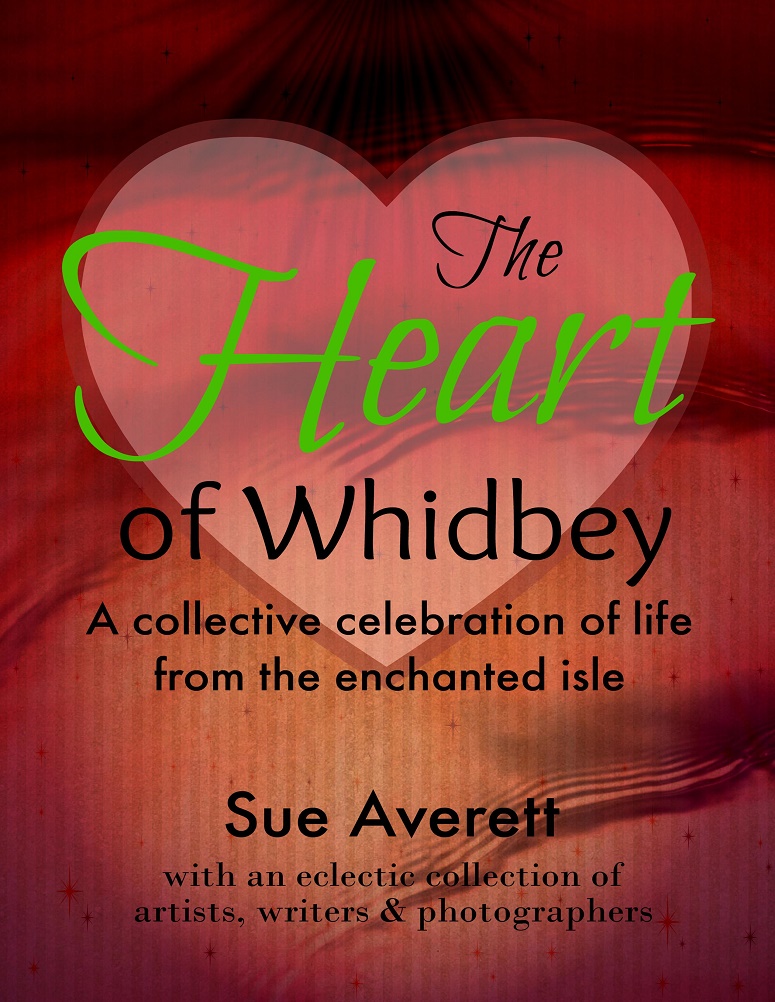 Dear Local Artists * Writers * Photographers ....
I'm embarking upon a creative project that needs YOU to make it a reality! I'm putting together a book called The Heart of Whidbey: A collective celebration of life from the enchanted isle. It will contain art, poems, stories, photos, collages….whatever you're inspired to submit that says something about what life on Whidbey Island is like for you. Something that captures a certain meaning, or essence of your experience here.
Submissions accepted now through October 15, 2016. The book is expected to be published sometime in 2017.
Submissions should either have Whidbey Island as a theme, or be works you have created that were inspired by living here. Think "celebration of life".... and see how your work can relate to/support that theme.
You may submit up to three (3) pieces for consideration.
Photos and art works must be submitted in jpeg format.
Short stories, prose and poetry must be submitted in MS Word, or a program compatible with Word, so that they can be formatted accordingly to fit the manuscript.
Mail submission to reiki4innerpeace@yahoo.com along with....
1) A short bio/blurb about you (up to 100 words).
2) A good quality head shot of you in jpeg format
3) Written permission for author/editor Sue Averett to include any/all of your submissions in the book "The Heart of Whidbey."
4) Include your name, phone number, email, and any website URLs you may have. Let me know if you wish any of these to be published in the book so that readers may contact you (or not). Include your age if you are 21 or under.
Please feel free to email me at reiki4innerpeace@yahoo.com with any questions.
Those who are featured in the book will be able to purchase up to 4 copies at my cost, and featured contributors age 21 and under will receive a free copy. The book will be available in local bookstores, coffee shops, gift shops and such, and online, as well.
I will strive to use as many quality submissions in the book as I can, as space allows. I reserve the right to select what is used in the book, and once all the submissions are received and I have a chance to review them, I'll be able to let folks know which of their pieces will be featured. If work is submitted that is not deemed suitable for the book I will contact you to discuss.
While I assume most submissions will come from adult writers, poets, artists and photographers, I am open to receiving works from teens or possibly younger children if they feel strongly inspired to participate.
Together we will define The Heart of Whidbey ... and see what is birthed from our collective effort. Right now I have no expectations or pre-conceived ideas, other than a draft of a cover design that will likely continue to evolve. I've received a number of submissions already and am inspired by the possibilities!
Can't wait to see what we come up together .... Thank you for your interest, and feel free to share this with others who may be inspired,
Sue Averett, editor/contributor, The Heart of Whidbey (expected publication 2017)
Whidbey Magic (co-created with Erick Westphal), 2012
The Ways of Spirit (visionary anthology; no longer in print), 2001
Light of the Spirit (poems & art from women's hearts; no longer in print), 2002