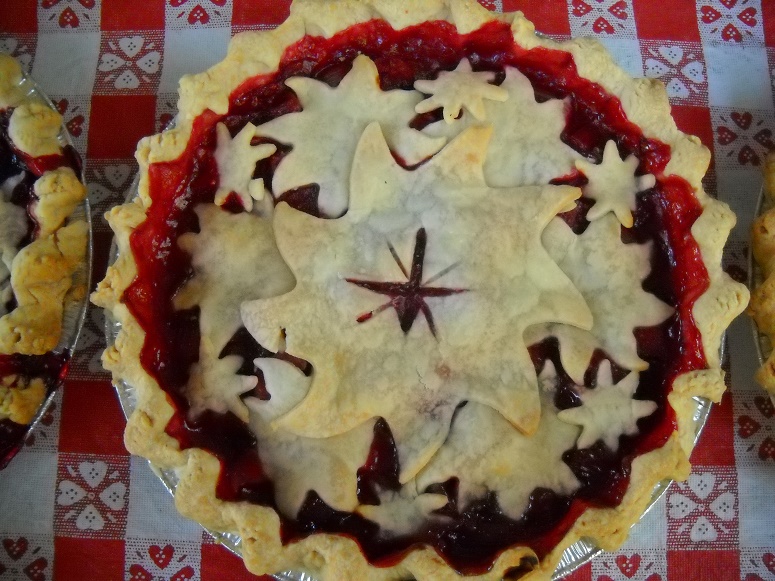 by Carolyn Tamler
Many people visit the Bayview Farmer's Market for the wonderful fresh produce, homemade food items and special crafts. But, for pie lovers, The Kitchen Door, with a large variety of homemade pies made by Shirlee Read, is a regular must stop.
The Kitchen Door has become a booming operation run by Shirlee from a commercial kitchen on her property. Her husband, Clyde, is her number one helper. New products are being added all the time. The booth at the Bayview Farmers' Market currently offers fruit pies, cream pies, frozen meat pies, quiches, granola and biscotti.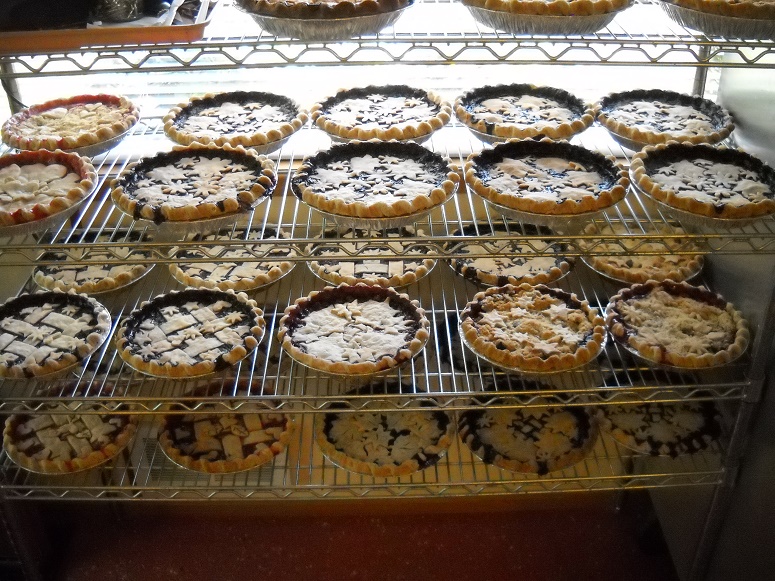 When Shirlee was growing up in Maple Valley, she had no idea she would live on Whidbey, let alone become a famous pie maker on the South end of the island. She moved to Whidbey in the early 70's after visiting a friend who lived on the island. Shirlee says, "I was a nomad at the time and had no intention of staying, but soon I met my husband, bought property and settled down." Now, many years later, Shirlee feels she was very lucky to find Whidbey.
When she first moved to Whidbey, Shirlee commuted off-island for work, but then decided she wanted to find local work. She had a variety of jobs – housecleaning, doctor's assistant, real estate sales, and then by chance she catered a friend's wedding and found herself with a new career direction. After 14 years in the catering business, she opened a cooking school called The Kitchen Door. But working hard, learning and having fun wasn't earning her a real living.
A friend, who had tasted Shirlee's pies suggested she might try selling them at the Bayview Farmer's Market for some extra cash, so she took a few pies to the market, and sold them all.

Fourteen years later, her pies are selling like…….well like fantastic pies. She makes and sells 100 pies every Saturday in the peak months. The Bayview Market runs from May through October and in December; and Shirlee takes orders for Thanksgiving pies.

Everything is made by hand, and she specializes in a crust recipe that is over 100 years old and uses both vinegar and egg to create a special flakiness. The fruit used in her pies is frozen or fresh, never canned, and comes from Washington and Oregon. The fruit pies are decorated with cookie cut-outs, making them both beautiful and fun to look at. She enjoys combining fruits to make interesting and different tastes.
Best of all, she is still having fun. Praise for her pies is constant. As one of her favorite customers says, "Without doubt she is the Michelangelo of pie."