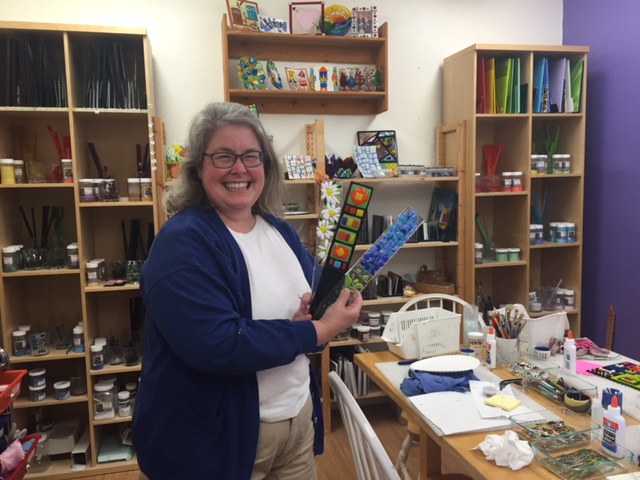 By Carolyn Tamler

Whidbey Art Escape is a contemporary art studio at 1664 E. Main Street in Freeland that allows all ages to explore their creative selves painting pottery, doing glass fusing or working in the clay studio. Business has been growing, mostly through word-of-mouth. Owner Tina Beard believes that the keys to her success are being excited about her business, staying open to new ideas, keeping prices reasonable, and, most importantly, being grateful for and enjoying the customers who come into the store.
One of the lures of Whidbey Art Escape is that it provides a time and place for socializing. "It's fun to be a part of people discovering their creativity," says Tina. "I love that people can be creative, make new friends, and that what we have here appeals to all ages."
The visitor to Tina's cheerful shop feels instantly at home in the cozy, brightly painted studio. "Customers can take their time here. There are no studio fees. I want my customers to be happy with what they're creating," says Tina. The price on an unpainted object includes painting, glazing, and firing in the kiln.

A new option at Whidbey Art Escape is glass fusing, which provides a colorful way to express creativity and is perfect for the person who likes to do puzzles. Tina is ready to teach how to use the tools and what to do to design something special.
The clay studio has six wheels, a slab roller and hand building areas. There are classes for all stages of experience from the beginner to the more experienced potter. All classes include studio membership to practice. For experienced potters, the clay membership options range from month-to-month to annual prices.
Whidbey Art Escape offers a creative haven for a variety of people. Tina welcomes school, Scout and 4-H groups, book clubs and families. Many people utilize Whidbey Art Escape's studio to make a special object commemorating life milestones—baby footprints, birthdays, holidays, family reunions, or anniversaries Whidbey Art Escape can also supply kits for groups that can't come into the studio, such as supplies for home birthday parties.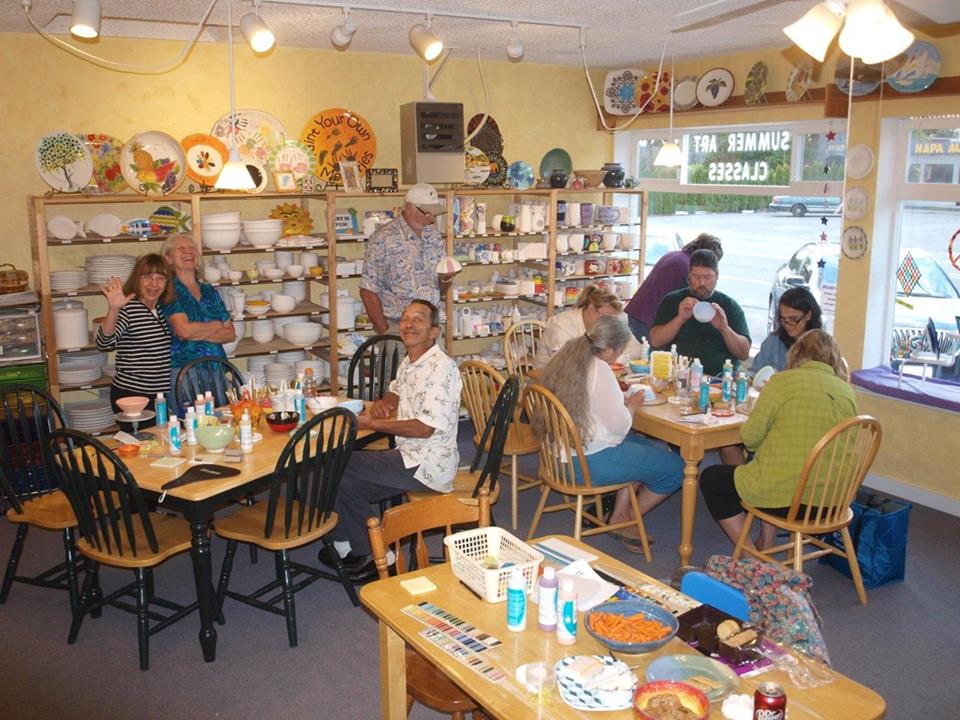 "Projects usually take 4-7 days to complete, including firing and cooling, so I do need some lead time if there's a deadline involved," Tina adds.
Drop-in customers are welcome during regular business hours, Monday through Saturday, 10 a.m. to 6 p.m., Sundays 12:30 to 5 p.m. On Wednesdays, it's Ladies Night, and Tina has a group of regulars and their friends who show up to paint and socialize until 9 p.m. Tina will accommodate groups of eight or more for after hours parties by appointment.
A current schedule of classes and more information about Whidbey Art Escape can be found on the web site: www.whidbeyartescape.com , or by calling the store at 360-331-3166. Tina Beard invites anyone to "Come create your own artistic memories."